Civic Agency in Governance: The Role of Legitimacy with Citizens vs. Donors
Open Access
Original Paper
Abstract
Civil society strengthening programs aim to foster democratic governance by supporting civil society organization (CSO) engagement in advocacy. However, critics claim that these programs foster apolitical and professional organizations that have weak political effects because they do not mobilize citizen participation. This literature focuses on how donor programs lead to low legitimacy of CSOs with citizens, limiting the means to develop agency toward the state. Here I investigate the influence of CSO legitimacy with donors and citizens on civic agency. Empirical research was conducted in Bosnia–Herzegovina on CSOs considered legitimate by donors, citizens, and both. I found that different forms of legitimacy were associated with different strategies and agency. CSOs with both forms of legitimacy, which have not received much attention until now, turned out to be of particular interest. These CSOs demonstrated agency as intermediaries between donors, government, and citizens, which enabled greater agency and broader outcomes.
Keywords
Civil society building 
Legitimacy 
Civic agency 
Bosnia–Herzegovina 
Introduction
International donor agencies frequently provide support to civil society (CS) because they expect that the result will be to foster democratic governance by enabling the representation of interests and holding elected officials accountable (Diamond 1994; Ottaway and Carothers 2000). The literature on these CS strengthening programs, however, has highlighted their rather weak effects on governance (Belloni 2001; Harriss 2001; Pouligny 2005; Suleiman 2012). A critique argues that the lack of theorized effects on governance is because donors are essentially looking in the wrong place; CS strengthening has focused on 'professional' non-governmental organizations (NGOs) while overlooking grassroots, traditional interest groups and non-formal forms of CS (Chahim and Prakash 2014; Howell and Pearce 2001; Kostovicova 2010). CSOs from the overlooked group, such as unions and cooperatives with a grassroots focus and membership base, are being crowded out by foreign-funded organizations (Chahim and Prakash 2014; Howell and Pearce 2000). The approach to change favored by donors is ineffective because it emphasizes foreign expertise over local knowledge (Fagan 2008; Pouligny 2005). Donor bias in favor of technocratic, professional, and apolitical NGOs is seen to have reduced CS to a technical exercise (Bebbington et al. 2008; Harriss 2001; Pouligny 2005) and to focus the supported organizations on rendering services rather than fostering society–state relations (Verkoren and van Leeuwen 2012).
The conclusion regarding the apolitical organizations that result from donor support is that do not engage in political approaches to achieving their goals. Based on this literature on CS strengthening programs, we expect that donor-supported civil society organizations (CSOs) would have limited 'civic agency' (Fowler and Biekart 2013) toward the state. By civic agency, I mean the capacity and actions to influence laws and policies on behalf of constituents.
The literature has increasingly addressed the issue of legitimacy in explaining that donor-supported CSOs do not typically engage in political approaches to achieve their goals because they lack the means. That is because donor-supported CSOs are often not accepted by citizens. A lack of legitimacy in the eyes of citizens reduces the ability of these CSOs to engage in political mobilization and citizen participation, even though such activities are a key theoretical mechanism for impacting democratic governance (Diamond 1994; Verkoren and van Leeuwen 2014; White 2004). The availability of donor funding leads to the creation of new CSOs with little local backing. These organizations are accountable primarily to donors, not citizens. In addition, initiatives in which citizens unite for social or political change either receive little assistance or 'NGO-ize' in order to become eligible for funding, leading to a growing distance from their constituency (Bebbington et al. 2008; Chahim and Prakash 2014; Hilhorst 2003; Suleiman 2012). The local legitimacy of CSOs is central to these arguments, focusing as they do on the weak connections of donor-supported CSOs to local constituencies.
The critique also draws conclusions about which CSOs are considered legitimate with donors, namely, those that are professional, technocratic, and apolitical. However, this existing research on CS strengthening emphasizes the CSOs supported by donors, while much less research has addressed the CSOs without donor support. Due to this selection bias, the ability of the existing research to draw conclusions about the impact of local versus donor legitimacy, or a lack thereof, is limited. This study addresses this gap by selecting CSOs with variations in their forms of legitimacy—those that have high legitimacy with donors but not citizens ('donor darlings'), those that have high legitimacy with citizens but not donors, and those that have high legitimacy with both citizens and donors. This provides a more solid base from which to understand the effects of both forms of legitimacy, as well as their combined effect (following Verba et al. 1994).
This article will thus address the research question 'How do CSO legitimacy with donors and citizens influence civic agency and outcomes in the presence of donor CS strengthening programs?' In order to do so, empirical research was conducted in Bosnia–Herzegovina (Bosnia). Bosnia is an instructive case because the recovery from the 1992–1995 war in the immediate aftermath of the cold war meant that it was a major focus of donor attention as few other countries in the world. CS strengthening formed a core of these efforts and the literature on Bosnian CS echoes key elements of the critiques of CS strengthening programs described above (Belloni 2001, 2007; Fagan 2005). Even more than 20 years later, Bosnia remains in fifth place among democracies for the most donor aid per capita (Center for Systemic Peace 2017; World Bank 2017). As a result, the effects of donor aid might be more pronounced, making Bosnia an extreme and, therefore, an instructive case regarding CS strengthening programs (Yin 2003).
By illuminating the separate and combined effects of both donors and citizens as sources of CSO legitimacy, the research adds empirical data to the literature on CS strengthening programs. I show how different types of CSO legitimacy can be used to help understand their civic agency or lack thereof. My findings suggest that the critiques articulated above need to be nuanced. For one thing, where other publications suggest that local and donor legitimacy are mutually exclusive, I detected CSOs that combine both forms of legitimacy, which appears to enhance their civic agency. Second, I found that, in contrast with Western CS literature, in a context like Bosnia, informal ties to political actors—which below will be called 'transactional capacities'—often lead to more civic agency than the ability to mobilize citizens—or 'participatory capacities.' Third, my findings suggest that some forms of expertise can be relevant for civic agency but that donors and politicians have quite different understandings of professionalism and expertise.
This article will first elaborate on the literature referred to above regarding CSO legitimacy and its influence on civic agency. Next, it will discuss the methodology that was used. Each of the three categories of CSOs, defined by variations in legitimacy with citizens and donors, will be described and illustrated with a case study. A final section makes the arguments introduced above based on the differences in civic agency between the legitimacy categories.
CSO Legitimacy and Its Influence on Advocacy Roles
This section will begin by defining CSO legitimacy and justifying the relevance of my approach to the study of donor and citizen legitimacy. Next, the literature on CSO legitimacy in Bosnia is examined. Then, civic agency is defined and operationalized, also in relation to the theoretical distinction between participatory capacity and transactional capacity. This section will conclude with a diagram of the concepts and relationships present in the research question.
Understanding CSO Legitimacy
Organizational legitimacy has been most elaborated in the neo-institutionalism school, according to which legitimacy derives from an organization's environment (Brinkerhoff 2005, p. 5). A CSO's legitimacy can be defined as 'a generalized perception or assumption that the actions of an entity are desirable, proper, or appropriate within some socially constructed system of norms, values, beliefs and definitions' (Suchman 1995, p. 574). Legitimacy arises via intersubjective processes of 'legitimation' in which CSOs make claims of legitimacy and come to be considered appropriate and trustworthy (Hilhorst 2003, p. 4). Although legitimacy is based in subjective perceptions, its consequences are tangible, generating material and other resources and affecting the functioning of organizations. The critiques of CS strengthening programs described earlier focus on the perspectives of citizens and donors as key actors whose perceptions can 'legitimate' an organization.
The literature on CS strengthening programs has frequently put donor-sponsored organizations in one category and grassroots and traditional organizations in another distinct and mutually exclusive category (Chahim and Prakash 2014; Pouligny 2005; Verkoren and van Leeuwen 2014). Some studies on Bosnia support the idea that organizations with local legitimacy are not the same as those considered legitimate by donors (Belloni 2001; Pupavac 2005). However, only a few studies exist regarding local opinions on CSOs. The findings of these studies are that citizens prefer organizations offering direct 'help', such as social services and humanitarian aid (Grødeland 2006; Pickering 2006). On the other hand, mobilization and 'political activities' are seen negatively (Helms 2014), probably because politics itself is tainted by conflict and corruption. Citizens also have critical opinions about donor programs. Citizens often assess donor programs based on whether they 'solve concrete problems', and their skepticism about donors' normative frameworks and results contribute to the dearth of CSOs enjoying legitimacy for both groups. However, earlier research by this author found that the combination of legitimacy with donors and citizens is possible (Puljek-Shank and Verkoren 2017). We will return to this below.
Civic Agency: Participatory or Transactional Capacities?
Civic agency is adopted here in order to consider whether and under what conditions CS actors do demonstrate the agency that is theoretically assigned to CS. This is agency with the ability to limit state power, provide alternative channels for representing interests, and strengthen state–society relations (Diamond 1994; White 2004). This is, after all, what CS strengthening programs have aimed to achieve. Civic agency in its simplest form is concerned with agency on behalf of groups toward the state. For the reproducibility and analytical clarity of this research, a precise definition of civic agency is needed. In fact, agency itself can be challenging to operationalize. As put by Long, 'Agency is usually recognized ex post facto through its acknowledged or presumed effects' (2001, p. 240). To address this difficulty, civic agency was defined as 'the perception of capacity, and action to create change for a common good', leading to operationalization based on the capacities and actions.
'Common good' describes the desired outcomes of civic agency on behalf of a group. The theory regarding the enhancing effect of CSOs as alternative channels for representing interests (Diamond 1994; White 2004), and facilitating and enhancing collective action (Ostrom 2015), concerns this ability of CSOs to achieve desired outcomes by representing a group of constituents vis-à-vis the state. A common good is thus not a partial or club good that only benefits its contributing members (Olson 1971; Welzel et al. 2005). Common goods are, however, public goods, subject to the 'free-rider problem' and the dynamics of individual collective action (Olson 1971). Common good is used rather than public good because public good refers to both those that 'can only be defined with respect to some specific group' as well as those available to all citizens (Olson 1971, p. 14). Common good is also used because CSOs representing their members' interests can also do so at the expense of the public good writ large (Gugerty and Reynolds 2010). Perceptions of capacities are included based on the idea that actors can only be said to have civic agency if they perceive that they can influence other actors in their environment. The following section will examine two distinct forms of capacity from theory and empirical research.
Because of their ability to politically mobilize citizens to a variety of actions under the rubric of participation, CSOs are frequently considered relevant for governance both in theory and by donors. A theoretical link between CSOs and their ability to mobilize political participation has a rich history leading back to de Tocqueville (2002) and the early wave of neo-Tocquevillian scholars (Diamond 1994; Putnam 1992; White 2004). This tradition identifies the effects of CSOs on democratic governance due to limiting state power and providing alternative non-electoral channels for representing interests (Diamond 1994). CSOs have also been found to facilitate and enhance collective action at a local scale (Ostrom 2015). Participatory democracy theory connects participation with greater levels of political efficacy (Montoute 2016). This is because participation increases citizens' political awareness, increases efficacy and empowerment, and promotes a more equal and more stable society (Hilmer 2010; Montoute 2016). However, many critiques of CS strengthening programs conclude that these outcomes rarely happen due to the low legitimacy of donor-supported CSOs with citizens. These debates regarding the participatory effects of CSOs on governance in democratizing polities are also reflected in the literature on the experiences of post-Communist Europe (Crotty 2003; Ost 2005; Raiser et al. 2001). Howard's (2003) study, for example, made the case that persistent low levels of CSO membership, an indicator of low legitimacy with citizens, were the cause of the 'weakness of civil society'.
The thesis that CSO impact derives primarily from its ability to mobilize participation, however, has been challenged by scholarship, which finds that these low levels of CSO membership and individual participation do not inherently limit CSO capacities and efficacy. This literature argues that individual participation or 'participatory activism' should be complemented by 'transactional activism', i.e., 'ties—enduring and temporary—among organized nonstate actors and between them and political parties, power holders, and other institutions' (Petrova and Tarrow 2007, p. 79). Participatory activism includes electoral and contentious politics, interest group activities, and—more broadly—individual and group participation in civic life. Transactional activism describes the observed salience of linkages to authorities that facilitate negotiation related to activists' goals. It is transactional in that strategic networking and problem-solving with authorities are used to achieve desired ends. Its proponents do not dispute the weakening effects of low CSO membership; rather they claim that the transactional character of activism merits attention due its implications for the potential of negotiation with the state and elites (Cox 2012; Petrova and Tarrow 2007; Puljek-Shank 2017). This literature sees the relevance in whether CSOs possess the 'resources and skills to gain a voice in the public sphere' (Rikmann and Keedus 2013, p. 161). Finally, a transactional approach is of interest because CSOs have been found to have influence to the extent that they bring resources lacking but sought by states (Fagan 2010, p. 73; Montoute 2016). As a result, these dynamics regarding capacities might have broader applicability regarding the impact of CS strengthening programs on governance in other democratizing polities. To summarize, there are reasons to consider the civic agency of CSOs from both participatory and transactional perspectives.
The concepts examined in this research are represented in Fig. 
1
. The civic agency of CSOs, positioned centrally, is the phenomenon being investigated. The diagram includes three types of actors—political actors, citizens, and donors. Transactional capacity is diagrammed with a dashed bi-directional arrow indicating the participation of both political actors and CSOs. Participatory capacity is diagrammed with a directional dashed arrow indicating the ability of CSOs to mobilize citizens. The independent variables are the two sources of legitimacy, legitimacy with donors and citizens. The remainder of the article will address the separate and combined effects of legitimacy with donors and citizens on capacities and civic agency.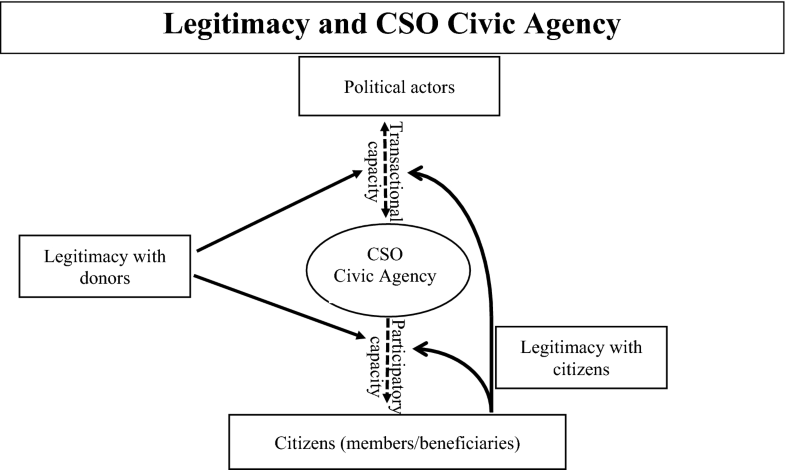 Conclusion
This article adopted civic agency as a theoretical framework in order to reexamine critiques of CS strengthening programs. Civic agency was analyzed in regards to the goals selected and whether CSOs use participatory capacities oriented toward mobilizing citizens or transactional capacities, based on ties to political actors. This contributes to better understanding of how CSOs engage in advocacy, going beyond the assumptions that guide both the CS strengthening programs as well as its critique. Finally, to examine the claims of the critiques, I examined the civic agency of CSOs with permutations of legitimacy for citizens and donors. This highlights the active role of citizens as those who grant or withhold legitimacy from particular CSOs, a role rather absent in the critiques. This contributes to a better understanding of CS strengthening programs and their unintended impacts on governance.
The research found that it is the combined effects of legitimacy for donors and citizens that provides insight into the political potential and limitations of CSO advocacy in the presence of CS strengthening programs. The most interesting category is those CSOs enjoying legitimacy with both donors and citizens; their civic agency is applied for broader policy changes, such as creating new participation opportunities. Although it is largely based on ties to political actors (i.e., transactional capacity), these CSOs are also engaged in strengthening participatory ties to other CSOs, including those with different kinds of legitimacy. This combination of capacities increases their ability to be intermediaries between donor and local interests and to persist in their goals, giving them the unrecognized long-term potential to influence governance.
The civic agency of CSOs that have legitimacy with citizens but not donors can be described as a representation of constituencies. These CSOs more readily engage in participation, including protest but also consultations. However, their lack of donor support limits their goals and civic agency. In contrast, the 'donor darlings' enjoying legitimacy with donors but not citizens most closely resemble the apolitical NGOs frequently described in the literature. However, they surprisingly apply expertise less frequently in their advocacy, which can be explained by the fact that the expertise that they offer is considered less relevant by the state.
The findings addressing the potential results of CSO civic agency paint a picture that is more complex and less absolute than that given by the critiques of CS strengthening programs. CSOs in the two categories that enjoy legitimacy with citizens ('intermediaries' and 'representatives') demonstrate persistent civic agency in their goals and actions, and these do lead to observable outcomes. The findings also have policy relevance because current multiyear policies in Bosnia respond to the critiques by their emphasis on representation, credibility, and autonomy as necessary contributing factors for strengthening CS advocacy roles (EU DG Enlargement 2013; USAID 2013). Making decisions based on these factors, however, requires a better understanding of the views of citizens and of how donor programs themselves shape the potential of civic agency. The implication, both for policy and for further scholarship, is to pay greater attention to those CSOs that enjoy both legitimacy with donors and with citizens because of their potential to play intermediary roles.
Footnotes
1.

As demonstrated by levels of employment (10.9% of youth ages 15–24 actively seeking employment and 22.7% of women vs. 31.7% of the total population) and 2011 CSO grant support for women's CSOs (0.7% of total), youth CSOs (2.8%), and social welfare categories that included disabled and drug dependency CSOs (5.1%) (Agency for Statistics of Bosnia and Herzegovina 2014; Center for Investigative Journalism 2011). In addition, 17% of Cantonal ministers and 22% of state ministers were women (Sarajevo Open Center 2015). Within social welfare, recommended CSOs provide assistance regarding development disabilities, life-threatening diseases, and children.

2.

Twenty-seven key informants from the following categories were included: political actors (4), religious CS (3), media and business (3), CS networks (5), international CS (2), CS Building projects (4), donors (4), and international political actors (2). Key informants were selected based on experience relating to CSOs in addition to their primary sectors, and their assessments regarded CSOs to which they did not have institutional ties to reduce potential bias.

3.

The Federation of Bosnia-Herzegovina and RS are sub-national entities established by the Dayton Peace Agreement with considerable autonomy regarding education, social policy, and policing.
Notes
Acknowledgements
The author would like to thank Fabio Andres Diaz, Ekaterina Ivanova, Steve Powell, Louis Monroy Santander, and the anonymous reviewers for their helpful comments. Thank you also to Marlies Glasius, Bertjan Verbeek and Willemijn Verkoren for all of your patient assistance and to Amela Puljek-Shank for your support.
Copyright information
© The Author(s) 2018
Open AccessThis article is distributed under the terms of the Creative Commons Attribution 4.0 International License (http://creativecommons.org/licenses/by/4.0/), which permits unrestricted use, distribution, and reproduction in any medium, provided you give appropriate credit to the original author(s) and the source, provide a link to the Creative Commons license, and indicate if changes were made.