Abstract
Purpose
In critically ill patients, acute kidney injury (AKI) is a devastating problem often associated with adverse outcomes. Depending on the conventional markers for diagnosis of AKI, an undesirable delay in the diagnosis and initiation of treatment has occurred. Thus, it is challenging to find a biomarker for early diagnosis of AKI. We sought to evaluate urinary YKL-40 as a biomarker for early diagnosis of AKI among critically ill patients compared with conventional markers and to assess its relation to the severity of AKI.
Methods
Thirty-six patients without AKI at the time of ICU admission who enrolled in this prospective cohort study had the following measured: serum creatinine as well as urine YKL-40 at admission and thereafter at 4 time intervals (0, 12, and 24 ± 48 h) (therefore, we studied 94 urine samples in 36 patients). Urine YKL-40 was quantified by enzyme-linked immunosorbent assay (ELISA). AKI was defined using the Kidney Disease Improving Global Outcomes (KDIGO) criteria, which include three stages (1, 2, and 3) of progressive renal dysfunction.
Results
In this study, 18 (50%) patients developed AKI within 48–72 h. Moreover, urine YKL-40 increased significantly within 12 h in patients who developed AKI (n = 18, 11.75 ± 1.94), but not in non-AKI patients (n = 18, 5.66 ± 3.42) ng/ml (P < 0.001) and, at the same time, we did not find any significant difference in the serum creatinine levels between the two groups. In addition, AKI group showed rising levels with KIDGO classes.
Conclusion
In this pilot study we found that urinary YKL-40 can be used as a valuable and noninvasive marker for early diagnosis of AKI among critically ill patients in ICU as compared to conventional markers and its level is increasing with the severity of AKI classes. However, the small sample size is important limitation. Therefore, large multicenter studies may be needed to confirm it.
This is a preview of subscription content, log in to check access.
Access options
Buy single article
Instant access to the full article PDF.
US$ 39.95
Price includes VAT for USA
Subscribe to journal
Immediate online access to all issues from 2019. Subscription will auto renew annually.
US$ 99
This is the net price. Taxes to be calculated in checkout.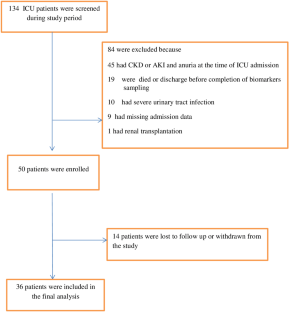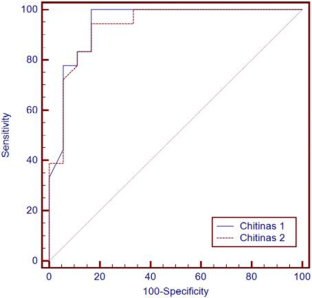 References
1.

Cooper C, Fenves AZ (2015) Before you call renal: acute kidney injury for hospitalists. J Hosp Med 10(6):403–408

2.

Kashani K, Cheungpasitporn W, Ronco C (2017) Biomarkers of acute kidney injury: the pathway from discovery to clinical adoption. Clin Chem Lab Med 55(8):1074–1089

3.

Devarajan P (2011) Biomarkers for the early detection of acute kidney injury. Curr Opin Pediatr 23(2):194–200

4.

Zhang W, Murao K, Zhang X, Matsumoto K, Diah S, Okada M, Miyake K, Kawai N, Fei Z, Tamiya T (2010) Resveratrol represses YKL-40 expression in human glioma U87 cells. BMC Cancer 10:593

5.

Coffman FD (2008) Chitinase 3-like-1 (CHI3L1): a putative disease marker at the interface of proteomics and glycomics. Crit Rev Clin Lab Sci 45(6):531–562

6.

Lee CG, Da Silva CA, Dela Cruz CS, Ahangari F, Ma B, Kang MJ, He CH, Takyar S, Elias JA (2011) Role of chitin and chitinase/chitinase-like proteins in inflammation, tissue remodeling, and injury. Annu Rev Physiol 73:479–501

7.

Lee CG, Hartl D, Lee GR, Koller B, Matsuura H, Da Silva CA, Sohn MH, Cohn L, Homer RJ, Kozhich AA, Humbles A, Kearley J, Coyle A, Chupp G, Reed J, Flavell RA, Elias JA (2009) Role of breast regression protein 39 (BRP-39)/chitinase 3-like-1 in Th2 and IL-13-induced tissue responses and apoptosis. J Exp Med 206(5):1149–1166

8.

Schmidt IM, Hall IE, Kale S, Lee S, He CH, Lee Y, Chupp GL, Moeckel GW, Lee CG, Elias JA, Parikh CR, Cantley LG (2013) Chitinase-like protein Brp-39/YKL-40 modulates the renal response to ischemic injury and predicts delayed allograft function. J Am Soc Nephrol 24(2):309–319

9.

Levy MM, Fink MP, Marshall JC, Abraham E, Angus D, Cook D, Cohen J, Opal SM, Vincent JL, Ramsay G (2003) 2001 SCCM/ESICM/ACCP/ATS/SIS international sepsis definitions conference. Crit Care Med 31(4):1250–1256

10.

Kellum JA, Lameire N, Aspelin P et al (2012) Kidney disease: improving global outcomes (KDIGO) acute kidney injury work group. KDIGO clinical practice guideline for acute kidney injury. Kidney Int Suppl 2:1–138

11.

De Rosa S, Samoni S, Ronco C (2016) Creatinine based definitions: from baseline creatinine to serum creatinine adjustment in intensive care. Crit Care 20:69

12.

Angeli P, Gines P, Wong F, Bernardi M, Boyer TD, Gerbes A et al (2015) Diagnosis and management of acute kidney injury in patients with cirrhosis: revised consensus recommendations of the International Club of Ascites. Gut 64:531–537

13.

Levey AS, Bosch JP, Lewis JB et al (1999) A more accurate method to estimate glomerular filtration rate from serum creatinine: a new prediction equation. Modification of Diet in Renal Disease Study Group. Ann Intern Med 130:461–470

14.

Fodor R, Grigorescu B, Veres M, Orlandea M, Badea J, Hlavathy K, Cioc A (2015) Plasma neutrophil gelatinase associated lipocalin (NGAL)—early biomarker for acute kidney injury in critically ill patients. J Crit Care Med 1(4):154–161. https://doi.org/10.1515/jccm-2015-0023

15.

De Loor J, Decruyenaere J, Demeyere K, Nuytinck L, Hoste EA, Meyer E (2016) Urinary chitinase 3-like protein 1 for early diagnosis of acute kidney injury: a prospective cohort study in adult critically ill patients. Crit Care 20:38–42. https://doi.org/10.1186/s13054-016-1192-x

16.

Mohamed OM, Abo Elleil HM, Hussein HS, Amin FMA (2017) Role of urinary chitinase 3 like protein 1 for early detection of acute kidney injury in adult critically ill patients. Egypt J Hosp Med 69(3):1978–1988

17.

Hall IE, Stern EP, Cantley LG, Elias JA, Parikh CR (2014) Urine YKL-40 is associated with progressive acute kidney injury or death in hospitalized patients. BMC Nephrol 15:133–139

18.

He CH, Lee CG, Dela Cruz CS, Lee CM, Zhou Y, Ahangari F, Elias JA (2013) Chitinase 3-like 1 regulates cellular and tissue responses via IL-13 receptor α2. Cell Rep 4(4):830–841. https://doi.org/10.1016/j.celrep.2013.07.032

19.

Maddens B, Ghesquière B, Vanholder R, Demon D, Vanmassenhove J, Gevaert K, Meyer E (2012) Chitinase-like proteins are candidate biomarkers for sepsis-induced acute kidney injury. Mol Cell Proteom MCP 11(6):111–124. https://doi.org/10.1074/mcp.M111.013094

20.

Nadkarni GN, Rao V, Ismail-Beigi F, Fonseca VA, Shah SV, Simonson MS, Cantley L, Devarajan P, Parikh CR, Coca SG (2016) Association of urinary biomarkers of inflammation, injury, and fibrosis with renal function decline: the ACCORD Trial. Clin J Am Soc Nephrol 11(8):1343–1352. https://doi.org/10.2215/CJN.12051115

21.

Luo X, Jiang L, Du B, Wen Y, Wang M, Xi X (2014) A comparison of different diagnostic criteria of acute kidney injury in critically ill patients. Crit Care 18(4):144–152
Ethics declarations
Conflict of interest
The authors declare that there is no conflict of interest regarding the publication of this article.
Ethical approval
All procedures were performed in accordance with the guidelines in the Declaration of Helsinki and approved by Research Ethics Committee of Faculty of Medicine for Girls, Al-Azhar University.
Informed consent
An informed consent was obtained from all individuals included in the study.
Additional information
Publisher's Note
Springer Nature remains neutral with regard to jurisdictional claims in published maps and institutional affiliations.
Electronic supplementary material
Below is the link to the electronic supplementary material.
About this article
Cite this article
Albeltagy, E.S., Abdul-Mohymen, A.M. & Taha, D.R.A. Early diagnosis of acute kidney injury by urinary YKL-40 in critically ill patients in ICU: a pilot study. Int Urol Nephrol 52, 351–361 (2020). https://doi.org/10.1007/s11255-019-02364-2
Received:

Accepted:

Published:

Issue Date:
Keywords
Acute kidney injury

Critical ill patients

ICU

YKL-40