Abstract
Purpose
To identify urodynamic factors associated with the mechanical stop test and immediate spontaneous voiding following transurethral resection of prostate (TURP).
Methods
We identified 90 men who underwent TURP over a 12-month period. Forty-three (mean age 68 years) underwent urodynamic evaluation prior to TURP. Isovolumetric detrusor contractile pressure (Piso) was obtained using the mechanical stop test during the voiding phase, and used to calculate detrusor contractile reserve (Pres = Piso − Pdet@Qmax). Primary outcome was spontaneous voiding after TURP.
Results
Preoperative catheter-free spontaneous voiding was present in 63% of men (27/43) with a urodynamic (mean ± SD): Qmax 6.2 ± 2.7 mL/s, Pdet@Qmax 102 ± 47 cmH2O, Piso 124 ± 49 cmH2O, Pres 22 ± 16 cmH2O, bladder outlet obstruction index (BOOI) 90 ± 49, and bladder contractility index (BCI) 132 ± 44. The remaining 16 catheter-dependent men demonstrated a urodynamic (mean ± SD): Qmax 3.6 ± 3.3 mL/s, Pdet@Qmax 87 ± 38 cmH2O, Piso 99 ± 51 cmH2O, Pres 10 ± 18 cmH2O, BOOI 82 ± 36, and BCI 106 ± 48. Following TURP, 67% of men voided spontaneously with their first void trial, and in receiver operator analysis of urodynamic measures (Pdet@Qmax, Piso, Pres, BOOI and BCI), only Pres was significantly associated with immediate spontaneous voiding after TURP (threshold Pres ≥ 9 cmH2O, AUC = 0.681, p = 0.035).
Conclusions
In men who underwent TURP, a Pres ≥ 9 cmH2O was associated with immediate spontaneous voiding and may be easily incorporated into the postoperative pathway.
This is a preview of subscription content, log in to check access.
Access options
Buy single article
Instant access to the full article PDF.
US$ 39.95
Price includes VAT for USA
Subscribe to journal
Immediate online access to all issues from 2019. Subscription will auto renew annually.
US$ 99
This is the net price. Taxes to be calculated in checkout.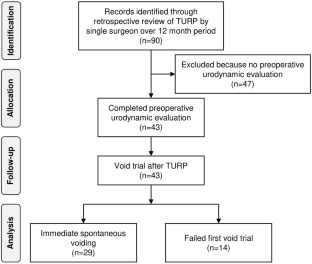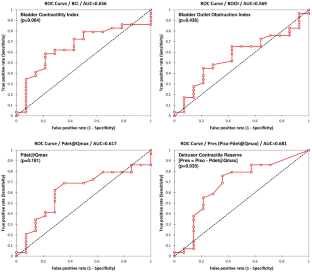 Abbreviations
BCI:

Bladder contractility index (BCI = Pdet@Qmax + 5 × Qmax)

BOOI:

Bladder outlet obstruction index (BOOI = Pdet@Qmax − 2 × Qmax)

Pdet@Qmax :

Detrusor pressure at maximum flow

P iso :

Isovolumetric detrusor contraction pressure

P res :

Detrusor contractile reserve pressure (Pres = Piso − Pdet@Qmax)

PVR:

Post-void residual

Q max :

Maximum flow rate

TURP:

Transurethral electrosurgical resection of prostate
References
1.

Wein AJ (1981) Classification of neurogenic voiding dysfunction. J Urol 125(5):605–609

2.

Gammie A, Clarkson B, Constantinou C, Damaser M, Drinnan M, Geleijnse G, Griffiths D, Rosier P, Schäfer W, Van Mastrigt R, International Continence Society Urodynamic Equipment Working Group (2014) International Continence Society guidelines on urodynamic equipment performance. Neurourol Urodyn. 33(4):370–379

3.

Winters JC, Dmochowski RR, Goldman HB, Herndon CDA, Kobashi KC, Kraus SR, Lemack GE, Nitti VW, Rovner ES, Wein AJ, American Urological Association, Society of Urodynamics, Female Pelvic Medicine & Urogenital Reconstruction (2012) Urodynamic studies in adults: AUA/SUFU guideline. J Urol. 188(6):2464–2472

4.

Abrams P (1999) Bladder outlet obstruction index, bladder contractility index and bladder voiding efficiency: three simple indices to define bladder voiding function. BJU Int. 84(1):14–15

5.

D'Ancona C, Haylen B, Oelke M, Abranches-Monteiro L, Arnold E, Goldman H, Hamid R, Homma Y, Marcelissen T, Rademakers K, Schizas A, Singla A, Soto I, Tse V, de Wachter S, Herschorn S, Standardisation Steering Committee ICS and the ICS Working Group on Terminology for Male Lower Urinary Tract & Pelvic Floor Symptoms and Dysfunction (2019) The International Continence Society (ICS) report on the terminology for adult male lower urinary tract and pelvic floor symptoms and dysfunction. Neurourol Urodyn. 38(2):433–477

6.

Griffiths CJ, Harding C, Blake C, McIntosh S, Drinnan MJ, Robson WA, Abrams P, Ramsden PD, Pickard RS (2005) A nomogram to classify men with lower urinary tract symptoms using urine flow and noninvasive measurement of bladder pressure. J Urol. 174(4 Pt 1):1323–1326 (discussion 1326; author reply 1326)

7.

Comiter CV, Sullivan MP, Schacterle RS, Yalla SV (1996) Prediction of prostatic obstruction with a combination of isometric detrusor contraction pressure and maximum urinary flow rate. Urology. 48(5):723–729 (discussion 729-730)

8.

Blake C, Abrams P (2004) Noninvasive techniques for the measurement of isovolumetric bladder pressure. J Urol 171(1):12–19

9.

Elliott CS, Comiter CV (2012) Maximum isometric detrusor pressure to measure bladder strength in men with postprostatectomy incontinence. Urology. 80(5):1111–1115

10.

Harris PA, Taylor R, Thielke R, Payne J, Gonzalez N, Conde JG (2009) Research electronic data capture (REDCap)—a metadata-driven methodology and workflow process for providing translational research informatics support. J Biomed Inform 42(2):377–381

11.

Harding CK, Robson W, Drinnan MJ, Ramsden PD, Griffiths C, Pickard RS (2006) Variation in invasive and noninvasive measurements of isovolumetric bladder pressure and categorization of obstruction according to bladder volume. J Urol 176(1):172–176

12.

Oelke M, Rademakers KLJ, van Koeveringe GA (2014) Detrusor contraction power parameters (BCI and W max) rise with increasing bladder outlet obstruction grade in men with lower urinary tract symptoms: results from a urodynamic database analysis. World J Urol 32(5):1177–1183

13.

Malde S, Nambiar AK, Umbach R, Lam TB, Bach T, Bachmann A, Drake MJ, Gacci M, Gratzke C, Madersbacher S, Mamoulakis C, Tikkinen KAO, Gravas S, European Association of Urology Non-neurogenic Male LUTS Guidelines Panel (2017) Systematic review of the performance of noninvasive tests in diagnosing bladder outlet obstruction in men with lower urinary tract symptoms. Eur Urol. 71(3):391–402

14.

Luo F, Sun H-H, Su Y-H, Zhang Z-H, Wang Y-S, Zhao Z, Li J (2017) Assessment of noninvasive predictors of bladder detrusor underactivity in BPH/LUTs patients. Int Urol Nephrol 49(5):787–792

15.

Dobberfuhl AD, Chen A, Alkaram AF, De EJB. Spontaneous voiding is surprisingly recoverable via outlet procedure in men with underactive bladder and documented detrusor underactivity on urodynamics. Neurourol Urodyn. 2019;20

16.

Andersson K-E, Yoshida M (2003) Antimuscarinics and the overactive detrusor–which is the main mechanism of action? Eur Urol 43(1):1–5

17.

Lightner DJ, Gomelsky A, Souter L, Vasavada SP (2019) Diagnosis and treatment of overactive bladder (non-neurogenic) in adults: AUA/SUFU guideline amendment 2019. J Urol 202(3):558–563

18.

Andersson K-E (2011) Antimuscarinic mechanisms and the overactive detrusor: an update. Eur Urol 59(3):377–386

19.

Ronchi P, Gravina GL, Galatioto GP, Costa AM, Martella O, Vicentini C (2009) Urodynamic parameters after solifenacin treatment in men with overactive bladder symptoms and detrusor underactivity. Neurourol Urodyn 28(1):52–57
Funding
This study was funded by author (ADD) support from the KL2 component of the Stanford Clinical Translational Science Award to Spectrum (NIH 5KL2TR001083-05) and NIH Extramural Loan Repayment Program for Clinical Researchers (NIH 1L30DK115056-01).
Ethics declarations
Conflicts of interest
Dr. Dobberfuhl has received research grants from the National Institutes of Health, SUFU Foundation Study of Chemodenervation, and Stanford Women's Health & Sex Differences in Medicine. Dr. Comiter has received research grants from the SUFU Foundation Study of Chemodenervation and is a consultant for Neuspera Medical Systems. The authors declare that they have no conflicts of interest in relation to the content of the manuscript.
Ethical approval
All procedures performed in studies involving human participants were in accordance with the ethical standards of the institutional and/or national research committee and with the 1964 Helsinki Declaration and its later amendments or comparable ethical standards.
Additional information
Publisher's Note
Springer Nature remains neutral with regard to jurisdictional claims in published maps and institutional affiliations.
About this article
Cite this article
Dobberfuhl, A.D., Zhang, X. & Comiter, C.V. The mechanical stop test and isovolumetric detrusor contractile reserve are associated with immediate spontaneous voiding after transurethral resection of prostate. Int Urol Nephrol 52, 239–246 (2020). https://doi.org/10.1007/s11255-019-02322-y
Received:

Accepted:

Published:

Issue Date:
Keywords
Follow-up studies

Male

Muscle contraction

Prostatic hyperplasia

Urologic surgical procedures