Abstract
Introduction
The aim of this study was to assess the feasibility of robotic assisted kidney transplantation in graft with multiple vessels.
Materials and methods
Eighteen patients underwent RAKT with grafts with multiple vessels (GMVs) from living donor performed by a single surgeon in single institution. The retrospective data obtained were compared to patients who underwent robotic assisted kidney transplant (RAKT) with single vessel and also open kidney transplant with GMVs.
Results
There were no significant differences in graft function outcome and perioperative parameters in all three groups. In comparison with OKT in GMVs we found that RAKT with GMVs had less pain score on post op 4th day. There was also a significant difference in mean analgesic requirement and incision length.
Conclusion
With increasing experience, grafts with challenging vascular anatomy can be taken up for RAKT and GMVs should not be considered as a contraindication for RAKT.
This is a preview of subscription content, log in to check access.
Access options
Buy single article
Instant access to the full article PDF.
US$ 39.95
Price includes VAT for USA
Subscribe to journal
Immediate online access to all issues from 2019. Subscription will auto renew annually.
US$ 99
This is the net price. Taxes to be calculated in checkout.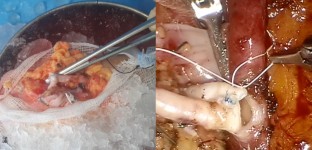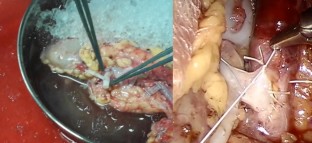 References
1.

Meyer F, Nichele SA, Adamy A et al (2012) Early outcomes of laparoscopic donor nephrectomy with multiple renal arteries. Int Braz J Urol 38:496–503

2.

Sezer TO, Solak I, Toz H et al (2012) Long-term outcomes of kidney transplants with multiple renal arteries: a retrospective study. Transplant Proc 44:1697–1699

3.

Yildirim M, Kucuk HF (2011) Outcomes of renal transplantations with multiple vessels. Transplant Proc 43:816–818

4.

Giulianotti P, Gorodner V, Sbrana F et al (2010) Robotic transabdominal kidney transplantation in a morbidly obese patient. Am J Transplant 10:1478–1482

5.

Siena G, Campi R, Decaestecker K, Tuğcu V et al (2018) Robot-assisted kidney transplantation with regional hypothermia using grafts with multiple vessels after extracorporeal vascular reconstruction: results from the European Association of Urology Robotic Urology Section Working Group. Eur Urol Focus 4:175–184

6.

Adiyat KT, Vinod KK, Vishnu R, Ramaprasad MK, Unni VN, John RP (2018) Robotic-assisted renal transplantation with total extraperitonealization of the graft: experience of 34 cases. J Robot Surg 12:535–540

7.

Karam G, Kälble T, Alcaraz A, et al. (2014) European Association of Urology (EAU) Guidelines on kidney transplantation. Version 2014. Available at http://uroweb.org/guideline/renal-transplantation/. Accessed 4 July 2019

8.

Benedetti E, Troppmann C, Gillingham K, Sutherland DE, Payne WD, Dunn DL et al (1995) Short-and long-term outcomes of kidney transplants with multiple renal arteries Ann Surg. 221:406

9.

Kumar A, Gupta RS, Srivastava A, Bansal P (2001) Sequential anastomosis of accessory renal artery to inferior epigastric artery in the management of multiple arteries in live related renal transplantation: a critical appraisal. Clin Transplant 15:131

10.

El-Sherbiny M, Abou-Elela A, Morsy A et al (2008) The use of the inferior epigastric artery for accessory lower polar artery revascularization in live donor renal transplantation. Int Urol Nephrol 40:283

11.

Chin JL, Stiller CR (1986) Microvascular surgery as an ad- junctive tool in renal transplantation. Can J Surg 29:263

12.

Novick AC (1984) Microvascular reconstruction of complex branch renal artery disease. Urol Clin N Am 11:465

13.

Oberholzer J, Giulianotti P, Danielson KK et al (2013) Minimally invasive robotic kidney transplantation for obese patients previously denied access to transplantation. Am J Transplant 13:721–728

14.

Spaggiari M, Lendacki FR, Di Bella C, Giulianotti PC, Benedetti E, Oberholzer J, Tzvetanov I (2018) Minimally invasive, robot-assisted procedure for kidney transplantation among morbidly obese: positive outcomes at 5 years post-transplant. Clin Transplant 32:e13404

15.

Wagenaar S, Nederhoed JH, Hoksbergen AWJ et al (2017) Minimally invasive, laparoscopic, and robotic-assisted techniques versus open techniques for kidney transplant recipients: a systematic review. Eur Urol 72:205–217

16.

Menon M, Abaza R, Sood A et al (2014) Robotic kidney transplantation with regional hypothermia: evolution of a novel procedure utilizing the IDEAL guidelines (IDEAL phase 0 and 1). Eur Urol 65:1001–1009

17.

Menon M, Sood A, Bhandari M et al (2014) Robotic kidney transplantation with regional hypothermia: a step-by-step description of the Vtikuti Urology Institute-Medanta technique (IDEAL phase 2a). Eur Urol 65:991–1000

18.

Sood A, Ghosh P, Jeong W et al (2015) Minimally invasive kidney transplantation: perioperative considerations and key 6-month outcomes. Transplantation 99:316–323
Ethics declarations
Conflict of interest
None of the authors have any conflict of interests.
Ethical approval
This article does not contain any studies with human participants or animals performed by any of the authors.
Additional information
Publisher's Note
Springer Nature remains neutral with regard to jurisdictional claims in published maps and institutional affiliations.
About this article
Cite this article
Kishore, T.A., Kuriakose, M.J., Pathrose, G. et al. Robotic assisted kidney transplantation in grafts with multiple vessels: single center experience. Int Urol Nephrol 52, 247–252 (2020). https://doi.org/10.1007/s11255-019-02305-z
Received:

Accepted:

Published:

Issue Date:
Keywords
Robotic Surgery

Kidney transplant

Robotic assisted kidney transplant

Graft with multiple vessels

Renal transplant