Abstract
Calf diarrhea causes severe economic losses in the cattle industry worldwide. This study investigated the prevalence of bovine coronavirus (BCoV), bovine norovirus (BNoV), bovine group A rotavirus (BoRVA), and bovine torovirus (BToV) in calves aged ≤ 60 days, regardless of diarrhea, across nine different regions in the Republic of Korea (ROK) and reported associations between these viruses and diarrhea. Fecal samples were collected rectally from 689 calves: normal (n = 360) and diarrheic (n = 329). BNoV (84/689, 12.2%) was the most prevalent regardless of diarrhea, followed by BCoV (37/689, 5.4%), BToV (15/689, 2.2%), and BoRVA (13/689, 1.9%). Although BCoV (P = 0.032) and BoRVA (P = 0.007) were significantly associated with diarrhea in pre-weaned calves, BNoV and BToV showed no association. Infection by the four pathogens had no relationship with calf age; BoRVA was detected only in calves aged < 30 days, but this finding was not statistically significant. Phylogenetic analysis revealed that BCoV isolates obtained in this study were distinct from the other known BCoVs, and all BNoV isolates belonged to GIII.2 genotype; genetic variations in BNoVs are present in the ROK. BoRVA isolates distributed in the ROK were assigned to G6P[5]. Within the P[5] genotype, our isolates were divided into two lineages: P[5]-III and P[5]-VIII. P[5]- VIII lineage was dominant in pre-weaned Korean native calves. Our BToV isolates were more closely related to a European isolate, B145, than to Japanese isolates. Here, BNoV was frequently identified in calves, suggesting its non-significant contribution to calf diarrhea, whereas BCoV and BoRVA were responsible for calf diarrhea in the ROK. Consequently, our results highlight the importance of rapid diagnosis against these viruses in calf diarrhea.
This is a preview of subscription content, log in to check access.
Access options
Buy single article
Instant unlimited access to the full article PDF.
US$ 39.95
Price includes VAT for USA
Subscribe to journal
Immediate online access to all issues from 2019. Subscription will auto renew annually.
US$ 99
This is the net price. Taxes to be calculated in checkout.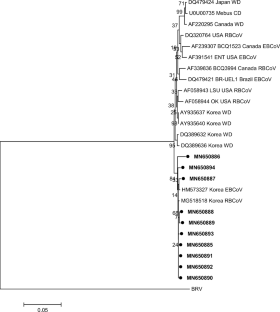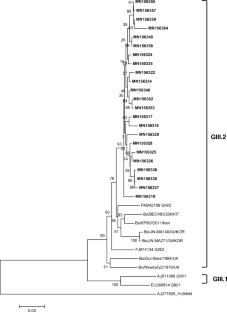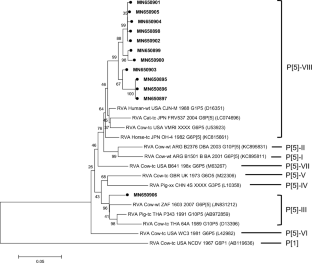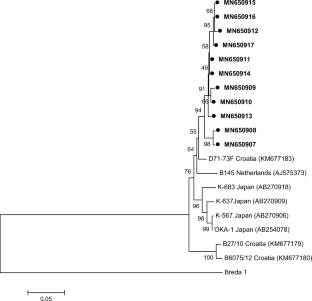 References
Aita, T., Kuwabara, M., Murayama, K., Sasagawa, Y., Yabe, S., Higuchi, R., Tamura, T., Miyazaki, A., Tsunemitsu, H., 2012. Characterization of epidemic diarrhea outbreaks associated with bovine torovirus in adult cows. Archives of Virology 157, 423–431.

Alfieri, A.F., Alfieri, A.A., Barreiros, M.A., Leite, J.P., Richtzenhain, L.J., 2004. G and P genotypes of group A rotavirus strains circulating in calves in Brazil, 1996-1999. Veterinay Microbiology 99, 167–173.

Ando, T., Noel, J.S., Fankhauser, R.L., 2000. Genetic classification of Norwalk-like viruses. Journal of Infectious Disease 181 Suppl 2, S336–348.

Athanassious, R., Marsolais, G., Assaf, R., Dea, S., Descoteaux, J.P., Dulude, S., Montpetit, C., 1994. Detection of bovine coronavirus and type A rotavirus in neonatal calf diarrhea and winter dysentery of cattle in Quebec: evaluation of three diagnostic methods. Canadian Veterinay Journal 35, 163–169.

Badaracco, A., Garaicoechea, L., Matthijnssens, J., Louge Uriarte, E., Odeon, A., Bilbao, G., Fernandez, F., Parra, G.I., Parreno, V., 2013. Phylogenetic analyses of typical bovine rotavirus genotypes G6, G10, P[5] and P[11] circulating in Argentinean beef and dairy herds. Infection, Genetics and Evolution 18, 18–30.

Bartels, C.J., Holzhauer, M., Jorritsma, R., Swart, W.A., Lam, T.J., 2010. Prevalence, prediction and risk factors of enteropathogens in normal and non-normal faeces of young Dutch dairy calves. Preventive Veterinary Medicine 93, 162–169.

Bendali, F., Sanaa, M., Bichet, H., Schelcher, F., 1999. Risk factors associated with diarrhoea in newborn calves. Veterinary Research 30, 509–522.

Bidokhti, M.R., Traven, M., Ohlson, A., Baule, C., Hakhverdyan, M., Belak, S., Liu, L., Alenius, S., 2012. Tracing the transmission of bovine coronavirus infections in cattle herds based on S gene diversity. Veterinay Journal 193, 386–390.

Cho, Y.I., Han, J.I., Wang, C., Cooper, V., Schwartz, K., Engelken, T., Yoon, K.J., 2013. Case-control study of microbiological etiology associated with calf diarrhea. Veterinay Microbiology 166, 375–385.

Clark, M.A., 1993. Bovine coronavirus. British Veterinay Journal 149, 51–70.

Collins, P.J., Mulherin, E., Cashman, O., Lennon, G., Gunn, L., O'Shea, H., Fanning, S., 2014. Detection and characterisation of bovine rotavirus in Ireland from 2006-2008. Irish Veterinary Journal 67, 13.

Di Martino, B., Di Profio, F., Di Felice, E., Melegari, I., Ceci, C., Mauroy, A., Thiry, E., Martella, V., Marsilio, F., 2014. Genetic heterogeneity of bovine noroviruses in Italy. Archives of Virology 159, 2717–2722.

Dian, Z., Wang, B., Fan, M., Dong, S., Feng, Y., Zhang, A.M., Liu, L., Niu, H., Li, Y., Xia, X., 2017. Completely genomic and evolutionary characteristics of human-dominant G9P[8] group A rotavirus strains in Yunnan, China. Journal of General Virology 98, 1163–1168.

Duckmanton, L., Carman, S., Nagy, E., Petric, M., 1998. Detection of bovine torovirus in fecal specimens of calves with diarrhea from Ontario farms. Journal of Clinical Microbiology 36, 1266–1270.

Estes, M.K., Cohen, J., 1989. Rotavirus gene structure and function. Microbiological Reviews 53, 410–449.

Ferragut, F., Vega, C.G., Mauroy, A., Conceicao-Neto, N., Zeller, M., Heylen, E., Uriarte, E.L., Bilbao, G., Bok, M., Matthijnssens, J., Thiry, E., Badaracco, A., Parreno, V., 2016. Molecular detection of bovine Noroviruses in Argentinean dairy calves: circulation of a tentative new genotype. Infection, Genetics and Evolution 40, 144–150.

Fukai, K., Onoda, H., Itou, T., Sato, M., Miura, Y., Sakai, T., 2004. Genetic and serological characterization of novel serotype G8 bovine group A rotavirus strains isolated in Japan. Journal of Veterinay Medical Science 66, 1413–1416.

Gebregiorgis, A., Tessema, T.S., 2016. Characterization of Escherichia coli isolated from calf diarrhea in and around Kombolcha, South Wollo, Amhara Region, Ethiopia. Tropical Animal Health and Production 48, 273–281.

Gulacti, I., Isidan, H., Sozdutmaz, I., 2014. Detection of bovine torovirus in fecal specimens from calves with diarrhea in Turkey. Archives of Virology 159, 1623–1627.

Gunther, H., Otto, P., 1987. [Diarrhea in young calves. 7. "Zackenvirus" (Jena agent 117/80)—a new diarrhea pathogen in calves]. Archiv fur Experimentelle Veterinarmedizin 41, 934–938.

Heckert, R.A., Saif, L.J., Hoblet, K.H., Agnes, A.G., 1990. A longitudinal study of bovine coronavirus enteric and respiratory infections in dairy calves in two herds in Ohio. Veterinary Microbiology 22, 187–201.

Hoet, A.E., Cho, K.O., Chang, K.O., Loerch, S.C., Wittum, T.E., Saif, L.J., 2002. Enteric and nasal shedding of bovine torovirus (Breda virus) in feedlot cattle. American Journal of Veterinary Research 63, 342–348.

Isegawa, Y., Nakagomi, O., Nakagomi, T., Ishida, S., Uesugi, S., Ueda, S., 1993. Determination of bovine rotavirus G and P serotypes by polymerase chain reaction. Molecular and Cellular Probes 7, 277–284.

Ito, M., Tsuchiaka, S., Naoi, Y., Otomaru, K., Sato, M., Masuda, T., Haga, K., Oka, T., Yamasato, H., Omatsu, T., Sugimura, S., Aoki, H., Furuya, T., Katayama, Y., Oba, M., Shirai, J., Katayama, K., Mizutani, T., Nagai, M., 2016. Whole genome analysis of Japanese bovine toroviruses reveals natural recombination between porcine and bovine toroviruses. Infection, Genetics and Evolution 38, 90–95.

Kirisawa, R., Takeyama, A., Koiwa, M., Iwai, H., 2007. Detection of bovine torovirus in fecal specimens of calves with diarrhea in Japan. Journal of Veterinary Medical Science 69, 471–476.

Koopmans, M., van Wuijckhuise-Sjouke, L., Schukken, Y.H., Cremers, H., Horzinek, M.C., 1991. Association of diarrhea in cattle with torovirus infections on farms. American Journal of Veterinary Research 52, 1769–1773.

Lojkic, I., Kresic, N., Simic, I., Bedekovic, T., 2015. Detection and molecular characterisation of bovine corona and toroviruses from Croatian cattle. BMC Veterinary Research 11, 202.

Lyoo, K.S., Jung, M.C., Yoon, S.W., Kim, H.K., Jeong, D.G., 2018. Identification of canine norovirus in dogs in South Korea. BMC Veterinary Research 14, 413.

Manuja, B.K., Prasad, M., Manuja, A., Gulati, B.R., Prasad, G., 2008. A novel genomic constellation (G10P[3]) of group A rotavirus detected from buffalo calves in northern India. Virus Research 138, 36–42.

Matthijnssens, J., Ciarlet, M., McDonald, S.M., Attoui, H., Banyai, K., Brister, J.R., Buesa, J., Esona, M.D., Estes, M.K., Gentsch, J.R., Iturriza-Gomara, M., Johne, R., Kirkwood, C.D., Martella, V., Mertens, P.P., Nakagomi, O., Parreno, V., Rahman, M., Ruggeri, F.M., Saif, L.J., Santos, N., Steyer, A., Taniguchi, K., Patton, J.T., Desselberger, U., Van Ranst, M., 2011. Uniformity of rotavirus strain nomenclature proposed by the Rotavirus Classification Working Group (RCWG). Archives of Virology 156, 1397–1413.

Meganck, V., Hoflack, G., Piepers, S., Opsomer, G., 2015. Evaluation of a protocol to reduce the incidence of neonatal calf diarrhoea on dairy herds. Preventive Veterinary Medicine 118, 64–70.

Midgley, S.E., Banyai, K., Buesa, J., Halaihel, N., Hjulsager, C.K., Jakab, F., Kaplon, J., Larsen, L.E., Monini, M., Poljsak-Prijatelj, M., Pothier, P., Ruggeri, F.M., Steyer, A., Koopmans, M., Bottiger, B., 2012. Diversity and zoonotic potential of rotaviruses in swine and cattle across Europe. Veterinary Microbiology 156, 238–245.

Mohamed, F.F., Mansour, S.M.G., El-Araby, I.E., Mor, S.K., Goyal, S.M., 2017. Molecular detection of enteric viruses from diarrheic calves in Egypt. Archives of Virology 162, 129–137.

Park, S.I., Jeong, C., Kim, H.H., Park, S.H., Park, S.J., Hyun, B.H., Yang, D.K., Kim, S.K., Kang, M.I., Cho, K.O., 2007a. Molecular epidemiology of bovine noroviruses in South Korea. Veterinary Microbiology 124, 125–133.

Park, S.J., Lim, G.K., Park, S.I., Kim, H.H., Koh, H.B., Cho, K.O., 2007b. Detection and molecular characterization of calf diarrhoea bovine coronaviruses circulating in South Korea during 2004-2005. Zoonoses Public Health 54, 223–230.

Park, S.J., Oh, E.H., Park, S.I., Kim, H.H., Jeong, Y.J., Lim, G.K., Hyun, B.H., Cho, K.O., 2008. Molecular epidemiology of bovine toroviruses circulating in South Korea. Veterinary Microbiology 126, 364–371.

Park, S.I., Jeong, Y.J., Kim, H.J., Park, J.G., Kang, S.Y., Woo, S.K., Kim, C.H., Jung, C.H., Kang, M.I., Cho, K.O., 2011. Genetically diverse group C rotaviruses cause sporadic infection in Korean calves. Journal of Veterinary Medical Science 73, 479–482.

Park, J., Han, D.G., Kim, S., Chae, J.B., Chae, J.S., Yu, D.H., Choi, K.S., 2018. Prevalence of coronavirus from diarrheic calves in the Republic of Korea. Asian Pacific Journal of Tropical Biomedicine 8, 1–6.

Pesavento, J.B., Crawford, S.E., Estes, M.K., Prasad, B.V., 2006. Rotavirus proteins: structure and assembly. Current Topics in Microbiology and Immunology 309, 189–219.

Pourasgari, F., Kaplon, J., Sanchooli, A., Fremy, C., Karimi-Naghlani, S., Otarod, V., Ambert-Balay, K., Mojgani, N., Pothier, P., 2018. Molecular prevalence of bovine noroviruses and neboviruses in newborn calves in Iran. Archives of Virology 163, 1271–1277.

Reynolds, D.J., Morgan, J.H., Chanter, N., Jones, P.W., Bridger, J.C., Debney, T.G., Bunch, K.J., 1986. Microbiology of calf diarrhoea in southern Britain. Veterinary Record 119, 34–39.

Ryu, J.H., Choi, K.S., 2019. Genetic analysis of bovine viral diarrhea virus in pre-weaned native Korean calves. Tropical Animal Health and Production. 2019 Apr 7. https://doi.org/10.1007/s11250-019-01882-6.

Saif, L.J., 1990. A review of evidence implicating bovine coronavirus in the etiology of winter dysentery in cows: an enigma resolved? The Cornell Veterinarian 80, 303–311.

Smiley, J.R., Hoet, A.E., Tråvén, M., Tsunemitsu, H., Saif, L.J., 2003. Reverse transcription-PCR assays for detection of bovine enteric caliciviruses (BEC) and analysis of the genetic relationships among BEC and human caliciviruses Journal of Clinical Microbiology 41, 3089–3099.

Snodgrass, D.R., 1986. Evaluation of a combined rotavirus and enterotoxigenic Escherichia coli vaccine in cattle. Veterinary Record 119, 39–42.

Spaan, W., Cavanagh, D., Horzinek, M.C., 1988. Coronaviruses: structure and genome expression. Journal of General Virology 69 (Pt 12), 2939–2952.

Thomas, C., Jung, K., Han, M.G., Hoet, A., Scheuer, K., Wang, Q., Saif, L.J., 2014. Retrospective serosurveillance of bovine norovirus (GIII.2) and nebovirus in cattle from selected feedlots and a veal calf farm in 1999 to 2001 in the United States. Archives of Virology 159, 83–90.

Torres-Medina, A., Schlafer, D.H., Mebus, C.A., 1985. Rotaviral and coronaviral diarrhea. Veterinary Clinics of North America: Food Animal Practice 1, 471–493.

Tsunemitsu, H., Smith, D.R., Saif, L.J., 1999. Experimental inoculation of adult dairy cows with bovine coronavirus and detection of coronavirus in feces by RT-PCR. Archives of Virology 144, 167–175.

Turan, T., Isidan, H., Atasoy, M.O., Irehan, B., 2018. Detection and Molecular Analysis of Bovine Enteric Norovirus and Nebovirus in Turkey. Journal of Veterinary Research 62, 129–135.

Uhde, F.L., Kaufmann, T., Sager, H., Albini, S., Zanoni, R., Schelling, E., Meylan, M., 2008. Prevalence of four enteropathogens in the faeces of young diarrhoeic dairy calves in Switzerland. Veterinary Record 163, 362–366.

van der Poel, W.H., van der Heide, R., Verschoor, F., Gelderblom, H., Vinje, J., Koopmans, M.P., 2003. Epidemiology of Norwalk-like virus infections in cattle in The Netherlands. Veterinary Microbiology 92, 297–309.

Vinje, J., 2015. Advances in laboratory methods for detection and typing of norovirus. Journal of Clinincal Microbiology 53, 373–381.

Woode, G.N., Reed, D.E., Runnels, P.L., Herrig, M.A., Hill, H.T., 1982. Studies with an unclassified virus isolated from diarrheic calves. Veterinary Microbiology 7, 221–240.
Acknowledgments
The authors would like to thank Mr. Jeong-Byoung Chae and Du-Gyeong Han for helping to collect feces.
Funding information
This research was supported by the National Research Foundation of Korea (NRF), funded by the Korea government (MSIP) (No. 2018R1D1A1B07048271).
Ethics declarations
This study was approved and performed in accordance with the ethics guidelines and procedures of the policy of the review to Kyungpook National University Animal Care and Use Committee. Each farmer also provided their written informed consent prior to inclusion in our study.
Conflict of interest
The authors declare that they have no conflict of interest.
Additional information
Publisher's note
Springer Nature remains neutral with regard to jurisdictional claims in published maps and institutional affiliations.
About this article
Cite this article
Ryu, J., Shin, S. & Choi, K. Molecular surveillance of viral pathogens associated with diarrhea in pre-weaned Korean native calves. Trop Anim Health Prod (2020). https://doi.org/10.1007/s11250-019-02181-w
Received:

Accepted:

Published:
Keywords
Calf diarrhea

Bovine coronavirus

Bovine norovirus

Bovine group a rotavirus

Bovine torovirus