Abstract
Abrasive wear is a common failure phenomenon that often limits the service life of seals. In this study, the abrasive wear test of acrylonitrile–butadiene rubber against steel was developed under conditions of lubrication contaminated with abrasives. The influence of particle size on coefficient of friction (COF) evolution, particle activities, wear morphologies, and damage mechanisms were discussed in detail. Results showed that the presence of abrasive particles dispersed in lubricated medium clearly deteriorates the tribological performance of the seal pairs. Two threshold values (approximately 7.5 and 75 μm) related to the "particle size effect" were obtained. And on this basis, the damage mechanism can be divided into three types. Several damage characteristics presented on respective worn surface, such as, cutting effect, rolling effect, the pinning effect of the "abrasive group," an alternated feature with "ridge–valley–ridge," or in the form of furrows and craters. In addition, the particles in the medium destroyed the lubricating film between the rubbing pairs and increased the COF and material removal capacity of tribo-pairs. Furthermore, the wear mode that clearly describes the wearing behavior of the seal pairs under abrasive-contained water lubrication conditions was identified. The results of this study enhanced our understanding of the wear degradation of rubber seal in all types of contaminated lubrication conditions.
This is a preview of subscription content, log in to check access.
Access options
Buy single article
Instant access to the full article PDF.
US$ 39.95
Price includes VAT for USA
Subscribe to journal
Immediate online access to all issues from 2019. Subscription will auto renew annually.
US$ 199
This is the net price. Taxes to be calculated in checkout.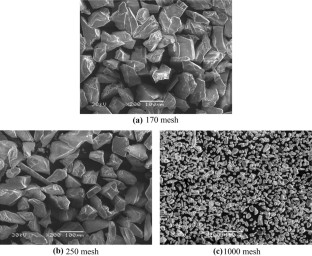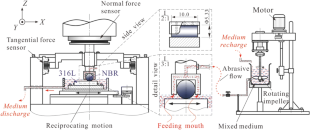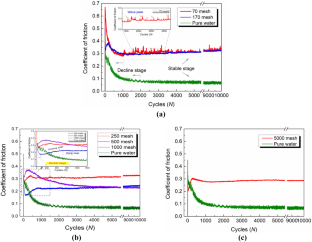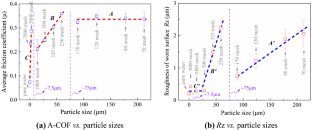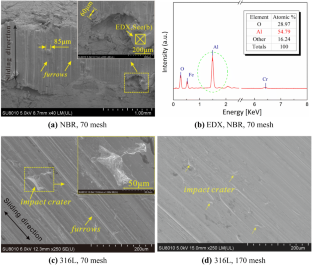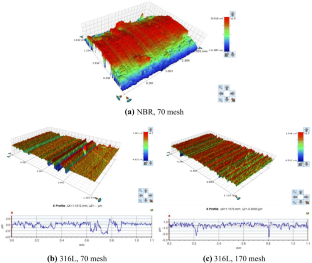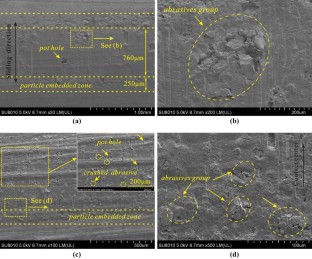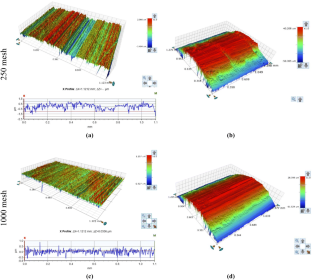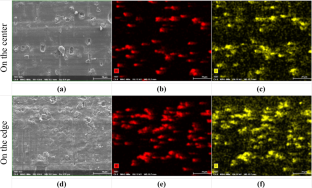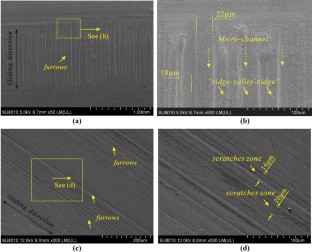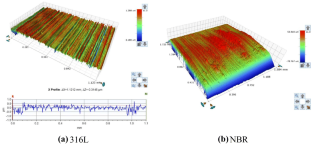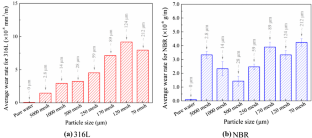 References
1.

Liu, X., Zhao, J., Yang, R., Iervolino, R., Barbera, S.: Effect of lubricating oil on thermal aging of nitrile rubber. Polym Degrad Stabil 151, 136–143 (2018)

2.

Likozar, B., Major, Z.: Morphology, mechanical, cross-linking, thermal, and tribological properties of nitrile and hydrogenated nitrile rubber/multi-walled carbon nanotubes composites prepared by melt compounding: the effect of acrylonitrile content and hydrogenation. Appl Surf Sci 257, 565–573 (2010)

3.

Degrange, J.M., Thomine, A., Kapsa, P., Pelletier, J.M., Chazeau, L., Vigier, G., et al.: Influence of viscoelasticity on the tribological behaviour of carbon black filled nitrile rubber (NBR) for lip seal application. Wear 259, 684–692 (2005)

4.

Guo, F., Jia, X., Wang, L., Wang, Y.: The effect of axial position of contact zone on the performance of radial lip seals with a texturing shaft surface. Tribol Int 97, 499–508 (2016)

5.

El Gadari, M., Fatu, A., Hajjam, M.: Effect of grooved shaft on the rotary lip seal performance in transient condition: Elasto-hydrodynamic simulations. Tribol Int 93, 411–418 (2016)

6.

Flitney, R.: Seals and sealing handbook, 6th edn. Elsevier, Amsterdam (2014)

7.

Hakami, F., Pramanik, A., Basak, A.K., Ridgway, N.: Elastomers' wear: comparison of theory with experiment. Tribol Int 135, 46–54 (2019)

8.

Zhang, S.W.: Tribology of elastomers. Elsevier, Amsterdam (2004)

9.

Schallamach, A.: How does rubber slide? Wear 17, 301–312 (1971)

10.

Liang, H., Fukahori, Y., Thomas, A.G., Busfield, J.J.C.: Rubber abrasion at steady state. Wear 266, 288–296 (2009)

11.

Yuan, C., Guo, Z., Tao, W., Dong, C., Bai, X.: Effects of different grain sized sands on wear behaviours of NBR/casting copper alloys. Wear 384–385, 185–191 (2017)

12.

Shen, M., Dong, F., Zhang, Z., Meng, X., Peng, X.: Effect of abrasive size on friction and wear characteristics of nitrile butadiene rubber (NBR) in two-body abrasion. Tribol Int 103, 1–11 (2016)

13.

Coronado, J.J.: Abrasive size effect on friction coefficient of AISI 1045 steel and 6061–T6 aluminium alloy in two-body abrasive wear. Tribol Lett 60, 40 (2015)

14.

Mills, R., Dwyer-Joyce, R.S., Loo-Morrey, M.: The mechanisms of pedestrian slip on flooring contaminated with solid particles. Tribol Int 42, 403–412 (2009)

15.

Persson, B.N.J., Tartaglino, U., Albohr, O., Tosatti, E.: Rubber friction on wet and dry road surfaces: the sealing effect. 71, 035428 (2005)

16.

Peng, Y., Xu, Y., Geng, J., Dearn, K.D., Hu, X.: Tribological assessment of coated piston ring-cylinder liner contacts under bio-oil lubricated conditions. Tribol Int 107, 283–293 (2017)

17.

Dong, C.L., Yuan, C.Q., Bai, X.Q., Yang, Y., Yan, X.P.: Study on wear behaviours for NBR/stainless steel under sand water-lubricated conditions. Wear 332–333, 1012–1020 (2015)

18.

Heshmat, H.: Wear reduction systems for coal-fueled diesel engines I. the basics of powder lubrication. Wear 162–164, 508–517 (1993)

19.

Hichri, Y., Cerezo, V., Do, M.T.: Effect of dry deposited particles on the tire/road friction. Wear 376–377, 1437–1449 (2017)

20.

Shen, M., Zheng, J., Meng, X., Li, X., Peng, X.: Influence of Al2O3 particles on the friction and wear behaviors of nitrile rubber against 316L stainless steel. J Zhejiang Univ-Sci A 16, 151–160 (2015)

21.

Molnar, W., Varga, M., Braun, P., Adam, K., Badisch, E.: Correlation of rubber based conveyor belt properties and abrasive wear rates under 2- and 3-body conditions. Wear 320, 1–6 (2014)

22.

Changarnier, S., Hichri, Y., Cerezo, V., Do, M., Salvatore, F., Zahouani, H.: Observations of dry particles behaviour at the tyre/road interface. Tribol Int 128, 291–301 (2018)

23.

Petrica, M., Katsich, C., Badisch, E., Kremsner, F.: Study of abrasive wear phenomena in dry and slurry 3-body conditions. Tribol Int 64, 196–203 (2013)

24.

Lee, S.H., Yoo, S.S., Kim, D.E., Kang, B.S., Kim, H.E.: Accelerated wear test of FKM elastomer for life prediction of seals. Polym Test 31, 993–1000 (2012)

25.

Farfán-Cabrera, L.I., Pascual-Francisco, J.B., Resendiz-Calderon, C.D., Rosa, C.S.D.L.: Experimental method for wear assessment of sealing elastomers. Polym Test 53, 116–121 (2016)
Acknowledgements
This work was supported by National Natural Science Foundation of China (Nos. 51775503 and 51965019), the Open Fund of Traction Power State Key Laboratory (TPL1906), Natural Science Foundation of Jiangxi Province (Nos. 20192BAB206026 and 20171BCD40009), and the China Postdoctoral Science Foundation (Nos. 2017M620152 and 2018T110392).
Additional information
Publisher's Note
Springer Nature remains neutral with regard to jurisdictional claims in published maps and institutional affiliations.
About this article
Cite this article
Shen, M., Li, B., Ji, D. et al. Effect of Particle Size on Tribological Properties of Rubber/Steel Seal Pairs Under Contaminated Water Lubrication Conditions. Tribol Lett 68, 40 (2020). https://doi.org/10.1007/s11249-020-1285-1
Received:

Accepted:

Published:
Keywords
Rubber seal

Abrasive wear

Al2O3 particle

Particle size effect

Tribological properties