Copper(II) complexes with pyridoxal dithiocarbazate and thiosemicarbazone ligands: crystal structure, spectroscopic analysis and cytotoxic activity
Abstract
The present study reports the synthesis and crystal structures of Cu(II) complexes with pyridoxal S-allyldithiocarbazate (H2L1) and pyridoxal thiosemicarbazones (H2L2 = pyridoxal-N4-phenyl-3-thiosemicarbazone and H2L3 = pyridoxal-N4-semicarbazone). The single-crystal X-ray study reveals that in all cases, the Schiff base coordinated tridentately through the ONS-donor atoms, resulting in distorted square planar coordination geometries with the copper atoms. The Cu(II) complexes with pyridoxal dithiocarbazate, [Cu(HL1)Cl]·H2O and [Cu(HL1)Br]·H2O, as well as three complexes with pyridoxal thiosemicarbazone, [Cu(HL2)Cl]·dmf, [Cu(HL2)Br]·H2O·dmf and [Cu(H2L3)Br]Br·H2O, were also characterized by spectroscopic and physical–chemical analyses. The cytotoxicity of the complexes toward two kinds of cancerous cells (Ehrlich and S-180 cells) was evaluated by an MTT assay. The complex [Cu(H2L3)Br]Br·H2O was selected to study both the cellular and molecular mechanisms underlying its promising cytotoxicity. The Hoechst 33342/PI dual-staining assay showed the typical apoptotic morphology of cancer cells, and the RT-qPCR analysis revealed that the expressions of Bax, Casp3, Casp8, Casp9 and TP53 were markedly increased in both the Ehrlich and S-180 cells exposed to 10 μM for 3 h. According to our results, this complex induces cell death through apoptosis, showing potential as a future drug against cancer.
Graphical abstract
Five stable copper(II) complexes with pyridoxal have been synthesized and their crystal structure has been studied. Spectroscopy experiments and cytotoxic assays against S-180 and Ehrlich cancer cell lines were performed and showed promising results as novel antitumor drugs.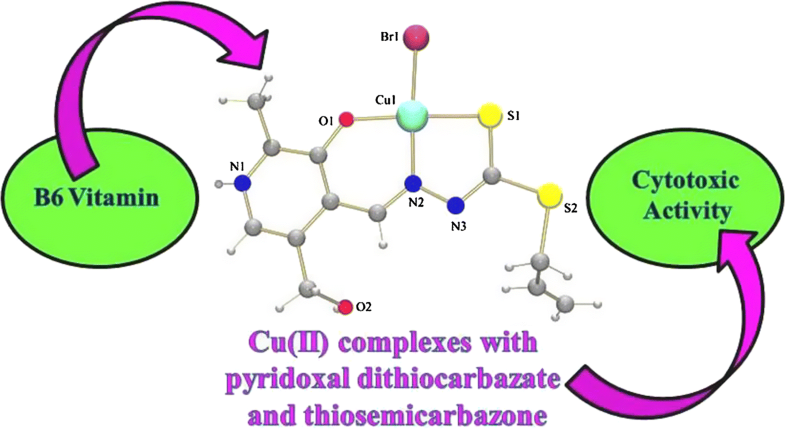 Notes
Acknowledgements
We gratefully acknowledge the financial support of FAPDF, CAPES, CNPq and FINEP/CTINFRA.
Funding
Funding was provided by Fundação de Apoio à Pesquisa do Distrito Federal Funda de Apoio? Pesquisa do Distrito Federal (Grant No. 0193.001545/2017).
Copyright information
© Springer Nature Switzerland AG 2019