Abstract
Chrysanthemum boreale (Asteraceae) is a wild flowering plant that has both ornamental and herbal uses. In the present study, colchicine was used as a chemical mutagen to induce polyploidy using in vitro shoots, which were cultured from C. boreale (2n = 2x = 18) nodal segments, and the efficacy of various colchicine concentrations and treatment durations were investigated. The results demonstrated that the induction of tetraploid plants by colchicine treatment were clearly successful. A total of 21 tetraploid and 110 chimera plants were identified using the chromosome counting method, and the colchicine concentrations of 200 ppm (48 h) and 300 ppm (12 and 24 h) were the most effective for inducing tetraploidy. Details about the successful induction, morphological characteristics, and cytology of the polyploids are described and compared with those of control plants. The tetraploid plants exhibited thicker and larger leaves, as well as larger and fewer stomata than the diploid plants.
Key Message
In this study, the polyploid plants of Chrysanthemum were induced successfully using colchicine treatment. This procedure contributed to the improvement of high-value species in the Chrysanthemum breeding program.
This is a preview of subscription content, log in to check access.
Access options
Buy single article
Instant access to the full article PDF.
US$ 39.95
Price includes VAT for USA
Subscribe to journal
Immediate online access to all issues from 2019. Subscription will auto renew annually.
US$ 199
This is the net price. Taxes to be calculated in checkout.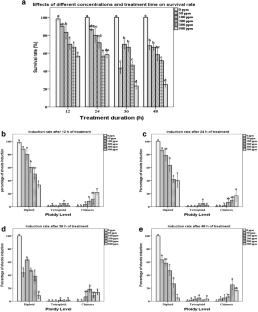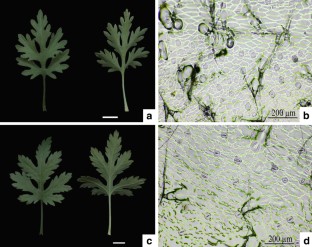 References
Alam H, Razaq M (2015) Induced polyploidy as a tool for increasing tea (Camellia sinensis L.) production. J Northeast Agric Univ 22(3):43–47. https://doi.org/10.1016/S1006-8104(16)30005-8

Caperta A, Delgado M, Ressurreição F, Meister A, Jones RN, Viegas W, Houben A (2006) Colchicine-induced polyploidization depends on tubulin polymerization in c-metaphase cells. Protoplasma 227(2–4):147–153. https://doi.org/10.1007/s00709-005-0137-z

Chandler SF, Sanchez C (2012) Genetic modification; the development of transgenic ornamental plant varieties. Plant Biotechnol J 10(8):891–903

Chen L-P, Wang Y-J, Zhao M (2006) In vitro induction and characterization of tetraploid Lychnis senno Siebold et Zucc. HortScience 41(3):759–761. https://doi.org/10.21273/HORTSCI.41.3.759

Downes R, Marshall D (1983) Colchicine-induced variants in sunflower. Euphytica 32(3):757–766. https://doi.org/10.1007/BF00042156

Doyle JJ, Flagel LE, Paterson AH, Rapp RA, Soltis DE, Soltis PS, Wendel JF (2008) Evolutionary genetics of genome merger and doubling in plants. Annu Rev Genet 42:443–461. https://doi.org/10.1146/annurev.genet.42.110807.091524

Frank MH, Chitwood DH (2016) Plant chimeras: the good, the bad, and the 'Bizzaria'. Dev Biol 419(1):41–53

Gao R, Wang H, Dong B, Yang X, Chen S, Jiang J, Zhang Z, Liu C, Zhao N, Chen F (2016) Morphological, genome and gene expression changes in newly induced autopolyploid Chrysanthemum lavandulifolium (fisch. Ex trautv.) makino. Int J Mol Sci 17(10):1690. https://doi.org/10.3390/ijms17101690

Gu Z, Steinmetz LM, Gu X, Scharfe C, Davis RW, Li W-H (2003) Role of duplicate genes in genetic robustness against null mutations. Nature 421(6918):63

Hansen A, Gertz A, Joersbo M, Andersen SB (1995) Short-duration colchicine treatment for in vitro chromosome doubling during ovule culture of Beta vulgaris L. Plant Breeding 114(6):515–519. https://doi.org/10.1111/j.1439-0523.1995.tb00847.x

He M, Gao W, Gao Y, Liu Y, Yang X, Jiao H, Zhou Y (2016) Polyploidy induced by colchicine in Dendranthema indicum var. Aromaticum, a scented chrysanthemum. Eur J Hortic Sci 81(4):219–226. https://doi.org/10.17660/eJHS.2016/81.4.5

Hirakawa H, Sumitomo K, Hisamatsu T, Nagano S, Shirasawa K, Higuchi Y, Kusaba M, Koshioka M, Nakano Y, Yagi M (2019) De novo whole-genome assembly in Chrysanthemum seticuspe, a model species of Chrysanthemums, and its application to genetic and gene discovery analysis. DNA Res 26(3):195–203. https://doi.org/10.1093/dnares/dsy048

Jadrná P, Plavcová O, Kobza F (2011) Morphological changes in colchicine-treated Pelargonium × hortorum LH Bailey greenhouse plants. Hortic Sci 37(1):27–33

Kang SS, Kim JS, Son KH, Lee CO, Kim YH (1996) Isolation of handelin from Chrysanthemum boreale. Arch Pharmacal Res 19(5):406. https://doi.org/10.1007/BF02976387

Kushwah K, Verma R, Patel S, Jain N (2018) Colchicine induced polyploidy in Chrysanthemum carinatum L. J Phylogenetics Evol Biol 6(193):2. https://doi.org/10.4172/2329-9002.1000193

Liu Z, Gao S (2007) Micropropagation and induction of autotetraploid plants of Chrysanthemum cinerariifolium (Trev.) Vis. Vitro Cell Dev Biol Plant 43(5):404–408. https://doi.org/10.1007/s11627-007-9085-y

Liu S, Chen S, Chen Y, Guan Z, Yin D, Chen F (2011) In vitro induced tetraploid of Dendranthema nankingense (Nakai) Tzvel. shows an improved level of abiotic stress tolerance. Sci Hortic 127(3):411–419. https://doi.org/10.1016/j.scienta.2010.10.012

Ma Y-P, Wei J-X, Yu Z-Y, Qin B, Dai S-L (2015) Characterization of ploidy levels in Chrysanthemum L. by flow cytometry. J For Res 26(3):771–775. https://doi.org/10.1007/s11676-015-0071-7

Majdi M, Karimzadeh G, Malboobi MA, Omidbaigi R, Mirzaghaderi G (2010) Induction of tetraploidy to feverfew (Tanacetum parthenium Schulz-Bip.): morphological, physiological, cytological, and phytochemical changes. HortScience 45(1):16–21. https://doi.org/10.21273/HORTSCI.45.1.16

Moore RC, Purugganan MD (2005) The evolutionary dynamics of plant duplicate genes. Curr Opin Plant Biol 8(2):122–128. https://doi.org/10.1016/j.pbi.2004.12.001

Niu Z, Jiang A, Abu Hammad W, Oladzadabbasabadi A, Xu SS, Mergoum M, Elias EM (2014) Review of doubled haploid production in durum and common wheat through wheat × maize hybridization. Plant Breeding 133(3):313–320. https://doi.org/10.1111/pbr.12162

Qi X, Wang H, Song A, Jiang J, Chen S, Chen F (2018) Genomic and transcriptomic alterations following intergeneric hybridization and polyploidization in the Chrysanthemum nankingense × Tanacetum vulgare hybrid and allopolyploid (Asteraceae). Hortic Res 5(1):5. https://doi.org/10.1038/s41438-017-0003-0

Renny-Byfield S, Wendel JF (2014) Doubling down on genomes: polyploidy and crop plants. Am J Bot 101(10):1711–1725. https://doi.org/10.3732/ajb.1400119

Satina S, Blakeslee AF (1941) Periclinal chimeras in Datura stramonium in relation to development of leaf and flower. Am J Bot 28(10):862–871. https://doi.org/10.1002/j.1537-2197.1941.tb11017.x

Sattler MC, Carvalho CR, Clarindo WR (2016) The polyploidy and its key role in plant breeding. Planta 243(2):281–296. https://doi.org/10.1007/s00425-015-2450-x

Singh B (2015) Plant breeding: principles and methods. Kalyani publishers, New Delhi

Su J, Jiang J, Zhang F, Liu Y, Ding L, Chen S, Chen F (2019) Current achievements and future prospects in the genetic breeding of chrysanthemum: a review. Hortic Res 6(1):1–19. https://doi.org/10.1038/s41438-019-0193-8

Trojak-Goluch A, Skomra U (2013) Artificially induced polyploidization in Humulus lupulus L. and its effect on morphological and chemical traits. Breed Sci 63(4):393–399. https://doi.org/10.1270/jsbbs.63.393

Tulay E, Unal M (2010) Production of colchicine induced tetraploids in Vicia villosa roth. Caryologia 63(3):292–303. https://doi.org/10.1080/00087114.2010.10589739

Vichiato MRDM, Vichiato M, Pasqual M, Rodrigues FA, Castro DMd (2014) Morphological effects of induced polyploidy in Dendrobium nobile Lindl. (Orchidaceae). Crop Breeding Appl Biotechnol 14(3):154–159. https://doi.org/10.1590/1984-70332014v14n3a23

Wang H, Dong B, Jiang J, Fang W, Guan Z, Liao Y, Chen S, Chen F (2014) Characterization of in vitro haploid and doubled haploid Chrysanthemum morifolium plants via unfertilized ovule culture for phenotypical traits and DNA methylation pattern. Front Plant Sci 5:738. https://doi.org/10.3389/fpls.2014.00738

Won SY, Jung J-A, Kim JS (2018) The complete chloroplast genome of Chrysanthemum boreale (Asteraceae). Mitochondrial DNA B 3(2):549–550. https://doi.org/10.1080/23802359.2018.1468225

Wu J-H, Ferguson AR, Murray BG, Jia Y, Datson PM, Zhang J (2011) Induced polyploidy dramatically increases the size and alters the shape of fruit in Actinidia chinensis. Ann Bot 109(1):169–179. https://doi.org/10.1093/aob/mcr256

Ye Y, Tong J, Shi X, Yuan W, Li G (2010) Morphological and cytological studies of diploid and colchicine-induced tetraploid lines of crape myrtle (Lagerstroemia indica L.). Sci Hortic 124(1):95–101. https://doi.org/10.1016/j.scienta.2009.12.016
Acknowledgement
This work was carried out with the support of Cooperative Research Program for Agriculture Science and Technology Development (Project No. PJ0117502020), Rural Development Administration, and Faculty Research Fund of Sejong University 2019, Republic of Korea.
Ethics declarations
Conflict of interests
We declare that the authors have no conflict of interests.
Additional information
Publisher's Note
Springer Nature remains neutral with regard to jurisdictional claims in published maps and institutional affiliations.
Communicated by M. I. Beruto.
Electronic supplementary material
Below is the link to the electronic supplementary material.
About this article
Cite this article
Hoang, T.K., Hwang, Y. & Lim, J. Chemical polyploidization of Chrysanthemum boreale. Plant Cell Tiss Organ Cult 140, 677–683 (2020). https://doi.org/10.1007/s11240-019-01761-w
Received:

Accepted:

Published:

Issue Date:
Keywords
Chrysanthemum

Colchicine treatment

In vitro culture

Plant breeding

Polyploidy