Abstract
Microvascular obstruction following percutaneous coronary intervention (PCI) is highly prevalent and independently associated with adverse clinical outcomes. Microvascular obstruction is determined by index of the microvascular resistance. We performed a systematic review with meta-analysis of all published randomized clinical trials (RCTs) studying the effect of intra-coronary thrombolysis with PCI as compared to standard treatment among patients with ST-segment elevated myocardial infarction. We included 6 RCTs summing up to 947 patients in the final analysis. Intra-coronary thrombolysis resulted in significantly lower index of microvascular resistance [standardized mean difference: − 13.74, 95% confidence interval (CI): − 16.74 to − 10.73, P value < 0.001, I2 = 0%]. There was no difference noted in the occurrence of major adverse cardiac events with intra-coronary thrombolysis as compared to standard treatment [Odds ratio:  0.71, 95% CI: 0.46–1.08, P value = 0.11,  I2 = 0%]. The absence of heterogeneity deferred us from using dose–response analysis to account for altering dose used across studies. The results of the present meta-analysis highlights the role of intra-coronary thrombolysis in reducing microvascular obstruction. No effect of intra-coronary thrombolysis was noted on the occurrence of major adverse cardiac events.
This is a preview of subscription content, log in to check access.
Access options
Buy single article
Instant access to the full article PDF.
US$ 39.95
Price includes VAT for USA
Subscribe to journal
Immediate online access to all issues from 2019. Subscription will auto renew annually.
US$ 99
This is the net price. Taxes to be calculated in checkout.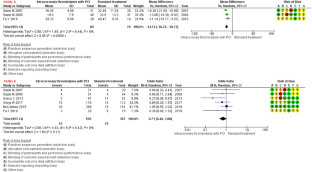 Additional information
Publisher's Note
Springer Nature remains neutral with regard to jurisdictional claims in published maps and institutional affiliations.
Electronic Supplementary Material
Below is the link to the electronic supplementary material
About this article
Cite this article
Kumar, A., Shariff, M. & Doshi, R. Index of microvascular resistance and outcomes following intra-coronary thrombolysis with percutaneous intervention in STEMI: a meta-analysis of randomized control trials. J Thromb Thrombolysis (2020). https://doi.org/10.1007/s11239-020-02063-1
Keywords
Intra-coronary thrombolysis

Microvascular obstruction

Index of microvascular resistance