Abstract
The anti-phospholipid syndrome (APS) is defined by the laboratory detection of at least one of three anti-phospholipid autoantibodies (lupus anticoagulant, or anti-cardiolipin or anti-β2-glycoprotein I antibodies) in the clinical setting of thrombosis or pregnancy morbidity in a patient. Recognising APS and administering appropriate secondary thromboprophylaxis is important to reduce risk of recurrent thrombosis and/or pregnancy morbidity. In some instances, patients having clinical manifestations highly suggestive of APS are persistently negative for these antibodies but instead have other autoantibodies. Autoantibodies directed against prothrombin (PT) have been associated with increased thrombotic risk and comprise anti-prothrombin (aPT) and anti-phosphatidylserine/prothrombin (aPS/PT) antibodies. Detection of aPT and aPS/PT may help stratify patients for more effective treatment, however, their prevalence among patients with unprovoked venous thromboembolism (VTE) is unknown and determination of their frequencies is the objective of this study. Sera from 148 patients with unprovoked VTE were analysed. Autoantibodies directed against PT collectively, aPT and aPS/PT were present in 24.3%, 14.9% and 13.5%, respectively. Prevalence of these autoantibodies in unprovoked VTE is much lower compared to cohorts comprising mainly patients with systemic autoimmune disorders. Detection of these autoantibodies in unprovoked VTE has potential therapeutic implications for patients including the duration of anticoagulation and administration, or otherwise, of direct oral anticoagulants. Data from this study will assist in the design of future clinical studies to estimate risk of recurrent VTE and to determine optimal management.
This is a preview of subscription content, log in to check access.
Access options
Buy single article
Instant access to the full article PDF.
US$ 39.95
Price includes VAT for USA
Subscribe to journal
Immediate online access to all issues from 2019. Subscription will auto renew annually.
US$ 99
This is the net price. Taxes to be calculated in checkout.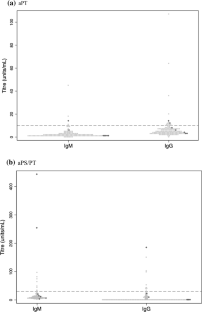 References
1.

Arachchillage DRJ, Laffan M (2017) Pathogenesis and management of antiphospholipid syndrome. Br J Haematol 178:181–195

2.

Keeling D, Mackie I, Moore GW, Greer IA, Greaves M, British Committee for Standards in Haematology (2012) Guidelines on the investigation and management of antiphospholipid syndrome. Br J Haematol 157:47–58

3.

Zohoury N, Bertolaccini ML, Rodriguez-Garcia JL, Shums Z, Ateka-Barrutia O, Sorice M, Norman GL, Khamashta M (2017) Closing the serological gap in the antiphospholipid syndrome: the value of "non-criteria" antiphospholipid antibodies. J Rheumatol 44:1597–1602

4.

Sciascia S, Sanna G, Murru V, Roccatello D, Khamashta MA, Bertolaccini ML (2014) Anti-prothrombin (aPT) and anti-phosphatidylserine/prothrombin (aPS/PT) antibodies and the risk of thrombosis in the antiphospholipid syndrome. A systematic review. Thromb Haemost 111:354–364

5.

Bertolaccini ML, Atsumi T, Koike T, Hughes GRV, Khamashta MA (2005) Antiprothrombin antibodies detected in two different assay systems. Prevalence and clinical significance in systemic lupus erythematosus. Thromb Haemost 93:289–297

6.

Shi H, Zheng H, Yin YF, Hu QY, Teng JL, Sun Y, Liu HL, Cheng XB, Ye JN, Su YT, Wu XY, Zhou JF, Norman GL, Gong HY, Shi XM, Peng YB, Wang XF, Yang CD (2018) Antiphosphatidylserine/prothrombin antibodies (aPS/PT) as potential diagnostic markers and risk predictors of venous thrombosis and obstetric complications in antiphospholipid syndrome. Clin Chem Lab Med 56:614–624

7.

Zhang S, Wu Z, Zhang W, Zhao J, Norman GL, Zeng X, Zhang F, Li Y (2018) Antibodies to phosphatidylserine/prothrombin (aPS/PT) enhanced the diagnostic performance in Chinese patients with antiphospholipid syndrome. Clin Chem Lab Med 56:939–946

8.

Sabatini L, Torricelli M, Scaccia V, Finsechi D, Pescaglini M, Gasparri L, Florio P, Petraglia F (2007) Increased plasma concentrations of antiprothrombin antibodies in women with recurrent spontaneous abortions. Clin Chem 53:228–232

9.

Žigon P, Perdan Pirkmajer K, Tomšič M, Kveder T, Božič B, Sodin Šemrl S, Čučnik S, Ambrožič A (2015) Anti-phosphatidylserine/prothrombin antibodies are associated with adverse pregnancy outcomes. J Immunol Res 2015:975704. https://doi.org/10.1155/2015/975704

10.

Ishikura K, Wada H, Kamikura Y, Hattori K, Fuzukawa T, Yamada N, Nakamura M, Nobori T, Nakano T (2004) High prevalence of anti-prothrombin antibody in patients with deep vein thrombosis. Am J Hematol 76:338–342

11.

Szodoray P, Tarr T, Tumpek J, Kappelmayer J, Lakos G, Poor G, Szegedi G, Kiss E (2009) Identification of rare anti-phospholipid/protein co-factor autoantibodies in patients with systemic lupus erythematosus. Autoimmunity 42:497–506

12.

Vlagea A, Gil A, Cuesta MV, Arribas F, Diez J, Lavilla P, Pascual-Salcedo D (2013) Antiphosphatidylserine/prothrombin antibodies (aPS/PT) as potential markers of antiphospholipid syndrome. Clin Appl Thromb Hemost 19:289–296

13.

Marchetti T, Ribi C, Perneger T, Trendelenburg M, Huynh-Do U, de Moerloose P, Chizzolini C (2018) Prevalence, persistence and clinical correlations of classic and novel antiphospholipid antibodies in systemic lupus erythematosus. Rheumatology 57:1350–1357

14.

Rodríguez-García V, Ioannou Y, Fernández-Nebro A, Isenberg DA, Giles IP (2015) Examining the prevalence of non-criteria anti-phospholipid antibodies in patients with anti-phospholipid syndrome: a systematic review. Rheumatology 54:2041–2050

15.

Hoxha A, Ruffatti A, Mattia E, Meneghel L, Tonello M, Salvan E, Pengo V, Punzi L (2015) Relationship between antiphosphatidylserine/prothrombin and conventional antiphospholipid antibodies in primary antiphospholipid syndrome. Clin Chem Lab Med 53:1265–1270

16.

Roldan V, Lecumberri R, Muñoz-Torrero JF, Vicente V, Rocha E, Brenner B, Monreal M, RIETE Investigators (2009) Thrombophilia testing in patients with venous thromboembolism. Findings from the RIETE registry. Thromb Res 124:174–177

17.

Cohen H, Efthymiou M, Isenberg DA (2018) Use of direct oral anticoagulants in antiphospholipid syndrome. J Thromb Haemost 16:1028–1039
Funding
Grant-in-aid of medical research from the Austin Medical Research Foundation (AMRF) which helped meet the cost of purchasing the test kits for the detection of autoantibodies directed against prothrombin.
Ethics declarations
Conflict of interest
All authors declare that they have no conflict of interest.
Additional information
Publisher's Note
Springer Nature remains neutral with regard to jurisdictional claims in published maps and institutional affiliations.
About this article
Cite this article
Ho, W.K., Rigano, J. Prevalence of autoantibodies directed against prothrombin in unprovoked venous thromboembolism. J Thromb Thrombolysis (2020). https://doi.org/10.1007/s11239-020-02053-3
Keywords
Anti-prothrombin antibody

Anti-phosphatidylserine/prothrombin antibody

'Non-criteria' antibodies

Anti-phospholipid syndrome

Unprovoked venous thromboembolism