Abstract
We report the case of a woman who presented with ST elevation and episodes of chest pain, mimicking an acute myocardial infarction. At coronary angiography no sign of coronary stenosis was found and ECG anomalies were related to asymmetric left ventricular hypertrophy and aortic stenosis.
This is a preview of subscription content, log in to check access.
Access options
Buy single article
Instant unlimited access to the full article PDF.
US$ 39.95
Price includes VAT for USA
Subscribe to journal
Immediate online access to all issues from 2019. Subscription will auto renew annually.
US$ 99
This is the net price. Taxes to be calculated in checkout.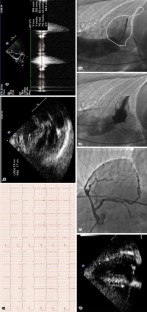 References
1.

Antman EM, Anbe DT, Armstrong PW, Bates ER, Green LA, Hand M, Hochman JS, Krumholz HM, Kushner FG, Lamas GA, Mullany CJ, Ornato JP, Pearle DL, Sloan MA, Smith SC Jr, American College of Cardiology, American Heart Association, Canadian Cardiovascular Society (2004) ACC/AHA guidelines for the management of patients with ST-elevation myocardial infarction—executive summary. A report of the American College of Cardiology/American Heart Association Task Force on Practice Guidelines (writing Committee to revise the 1999 guidelines for the management of patients with acute myocardial infarction). J Am Coll Cardiol 44:671–719

2.

Wang K, Asinger RW, Marriott HJ (2003) ST segment elevation in conditions other than acute myocardial infarction. N Engl J Med 349:2128

3.

Huang HD, Birnbaum Y (2011) ST elevation: differentiation between ST elevation myocardial infarction and nonischemic ST elevation. J Electrocardiol 44:494.e1–494.e12

4.

Jayroe JB, Spodick DH, Nikus K, Madias J, Fiol M, De Luna AB, Goldwasser D, Clemmensen P, Fu Y, Gorgels AP, Sclarovsky S, Kligfield PD, Wagner GS, Maynard C, Birnbaum Y (2009) Differentiating ST elevation myocardial infarction and nonischemic causes of ST elevation by analyzing the presenting electrocardiogram. Am J Cardiol 103:301

5.

Brunetti ND, Centola A, Campanale EG, Guaricci AI, Ieva R, Cuculo A, Ziccardi L, De Gennaro L, Di Biase M (2011) A worrisome 'normal' ECG: implementation of multislice coronary CT scan in an integrated approach to ST elevation suspected as not associated with acute coronary syndrome. J Cardiovasc Med 12:516–517

6.

Otto LA, Aufderheide TP (1994) Evaluation of ST segment elevation criteria for the prehospital electrocardiographic diagnosis of acute myocardial infarction. Ann Emerg Med 23:17–24

7.

Brady WJ, Perron AD, Martin ML, Beagle C, Aufderheide TP (2001) Cause of ST segment abnormality in ED chest pain patients. Am J Emerg Med 19(1):25–28

8.

Hiss RG, Lamb LE, Allen MF (1960) Electrocardiographic findings in 67,375 asymptomatic subjects. Am J Cardiol 6:200–231

9.

Surawicz B, Parikh SR (2002) Prevalence of male and female patterns of early ventricular repolarization in the normal ECG of males and females from childhood to old age. J Am Coll Cardiol 40:1870–1876

10.

Roukoz H, Wang K (2011) ST elevation and inverted T wave as another normal variant mimicking acute myocardial infarction: the prevalence, age, gender, and racial distribution. Ann Noninvasive Electrocardiol 16:64–69

11.

Bjørnstad H, Storstein L, Meen HD, Hals O (1991) Electrocardiographic findings in athletic students and sedentary controls. Cardiology 79:290–305

12.

Burger AJ, Al-Sergani H, Wrobleski D (2002) False positive ST segment elevation during dobutamine stress echocardiography due to left ventricular hypertrophy. Echocardiography 19:103–108

13.

Madias JE, Sinha A, Agarwal H, Ashtiani R (2001) ST segment elevation in leads V1–V3 in patients with LBBB. J Electrocardiol 34:87–88

14.

Sgarbossa EB, Pinski SL, Barbagelata A et al (1996) Electrocardiographic diagnosis of evolving acute myocardial infarction in the presence of left bundle-branch block. N Engl J Med 334:481–487

15.

Tingle LE, Molina D, Calvert CW (2007) Acute pericarditis. Am Fam Physician 76:1509–1514

16.

Dittrich KL, Walls RM (1986) Hyperkalemia: ECG manifestations and clinical considerations. J Emerg Med 4:449–455

17.

Diercks DB, Shumaik GM, Harrigan RA, Brady WJ, Chan TC (2004) Electrocardiographic manifestations: electrolyte abnormalities. J Emerg Med 27:153–160

18.

Wilde AA, Antzelevitch C, Borggrefe M, Brugada J, Brugada R, Brugada P, Corrado D, Hauer RN, Kass RS, Nademanee K, Priori SG, Study Group on the Molecular Basis of Arrhythmias of the European Society of Cardiology (2002) Proposed diagnostic criteria for the Brugada syndrome: consensus report. Circulation 106:2514–2519

19.

Veltmann C, Schimpf R, Echternach C, Eckardt L, Kuschyk J, Streitner F, Spehl S, Borggrefe M, Wolpert C (2006) A prospective study on spontaneous fluctuations between diagnostic and non-diagnostic ECGs in Brugada syndrome: implications for correct phenotyping and risk stratification. Eur Heart J 27:2544–2552

20.

Sreeram N, Cheriex EC, Smeets JL, Gorgels AP, Wellens HJ (1994) Value of the 12-lead electrocardiogram at hospital admission in the diagnosis of pulmonary embolism. Am J Cardiol 73:298–303
Conflict of interest
Authors have no potential conflict of interest to disclose
Electronic supplementary material
Below is the link to the electronic supplementary material.
Supplementary material 1 (WMV 791 kb)
About this article
Cite this article
Brunetti, N.D., Correale, M., Sai, R. et al. "Ischemic" ST elevation in a woman with left ventricular hypertrophy. J Thromb Thrombolysis 35, 123–126 (2013). https://doi.org/10.1007/s11239-012-0768-9
Keywords
ST elevation

Left ventricular hypertrophy

Aortic stenosis