Abstract
Two new species of Wallabinema Beveridge, 1983 are described from the sacculated fore-stomachs of macropodid marsupials in Australia. Wallabinema petrogale n. sp. from the rock wallabies Petrogale penicillata (J. Gray) and P. inornata Gould, from Queensland, differs from all congeners in having its four sub-median lips subdivided at the base. Wallabinema macropodis n. sp. from the black stripe wallaby Macropus dorsalis (J. Gray) and the red-necked pademelon Thylogale thetis (Lesson), also from Queensland, is most similar to congeners with the nerve-ring encircling the oesophageal isthmus (W. parvispiculare Beveridge, 1983, W. tasmaniense Beveridge, 1983 and W. thylogale Beveridge, 1983), but differs in the length of the spicules. Wallabinema gallardi (Johnston & Mawson, 1939) is redescribed from T. thetis in Queensland and New South Wales, with T. thetis considered to be the type-host.
This is a preview of subscription content, log in to check access.
Access options
Buy single article
Instant unlimited access to the full article PDF.
US$ 39.95
Price includes VAT for USA
Subscribe to journal
Immediate online access to all issues from 2019. Subscription will auto renew annually.
US$ 199
This is the net price. Taxes to be calculated in checkout.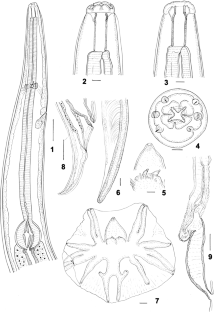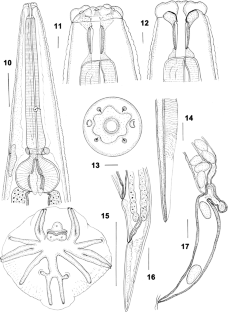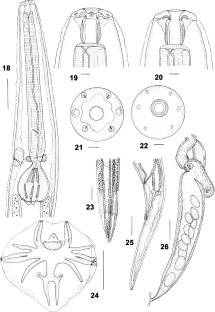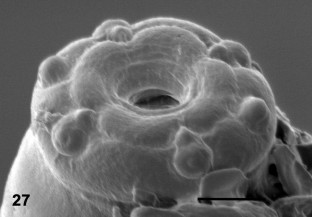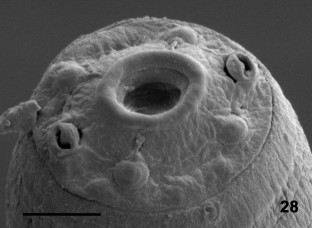 References
Begg, M., Beveridge, I., Chilton, N. B., Johnson, P. M., & O'Callaghan, M. G. (1995). Parasites of the Proserpine rock wallaby, Petrogale persephone (Marsupialia: Macropodidae). Australian Mammalogy, 18, 45–53

Beveridge, I. (1983). Taxonomic revision of the Zoniolaiminea (Popova) (Nematoda: Strongyloidea) from macropodid marsupials. Australian Journal of Zoology Supplementary Series,91, 1–88.

Beveridge, I., Chilton, N. B., Johnson, P. M., Smales, L. R., Speare, R., & Spratt, D. M. (1998). Helminth parasite communities of kangaroos and wallabies (Macropus spp. and Wallabia bicolor) from north and central Queensland. Australian Journal of Zoology,46, 473–495.

Beveridge, I., Speare, R., Johnson, P. M., & Spratt, D. M. (1992). Helminth parasite communities of macropodoid marsupials of the genera Hypsiprymnodon, Aepyprymnus, Thylogale, Onychogale, Lagorchestes and Dendrolagus from Queensland. Wildlife Research,19, 359–376.

Beveridge, I., Spratt, D. M., Close, R. L., Barker, S. C., & Sharman, G. B. (1989). Helminth parasites of rock wallabies, Petrogale spp. (Marsupialia) from Queensland. Australian Wildlife Research,16, 273–287.

Beveridge, I., Spratt, D. M., & Durette-Desset, M.-C. (2014). Order Strongylida (Railliet & Henry, 1913). In: Schmidt-Rhaesa, A. (Ed.), Handbook of Zoology. Gastrotricha, Cycloneuralia and Gnathifera. Volume 2: Nematoda. Berlin: De Gruyter, pp. 557–612.

Bradley, C., Beveridge, I., Chilton, N. B., & Johnson, P. M. (2000). Helminth parasites of the purple-necked rock wallaby, Petrogale lateralis purpureicollis, from Queensland. Transactions of the Royal Society of South Australia,124, 37–40.

Chilton, N. B., Huby-Chilton, F., Koehler, A., Gasser, R. B., & Beveridge, I. (2018). Phylogenetic relationships of three tribes of cloacinine nematodes (Strongylida: Chabertiidae) from macropodid marsupials. Journal of Helminthology,93, 487–493.

Griffith, J. E., Beveridge, I., Chilton, N. B., & Johnson, P. M. (2000). Helminth communities of pademelons, Thylogale stigmatica and T. thetis (Marsupialia: Macropodidae) from eastern Australia and Papua New Guinea. Journal of Helminthology,74, 307–314.

Jackson, S., & Groves, C. (2015). Taxonomy of Australian Mammals. Victoria: CSIRO Publishing, 529 pp.

Johnson, P. M. (2003). Kangaroos of Queensland. Brisbane Australia: Queensland Museum, 72 pp.

Johnson, P. M., & Vernes, K. (2008). Red-legged pademelon: Thylogale stigmatica (Gould, 1860). In: Van Dyck, S. & Strahan, R. (Eds), The mammals of Australia (3rd edn). Sydney Australia: Reed New Holland, pp. 397–400.

Johnston, T. H., & Mawson, P. M. (1939). Strongylate nematodes from marsupials in New South Wales. Proceedings of the Linnean Society of New South Wales,64, 513–536.

Spratt, D. M., & Beveridge, I. (2016). Helminth parasites of Australasian marsupials and monotremes. Zootaxa,4123, 1–198.
Acknowledgements
This study was supported financially by the Australian Biological Resources Study (217-06). Sincere thanks are due to Dr Allison van de Meene of the Biosciences Microscopy Unit, University of Melbourne, for the provision of access to and assistance with the scanning electron microscopy.
Ethics declarations
Conflict of interest
The author declares no conflict of interest.
Ethical approval
Not applicable for a study based on museum specimens.
Additional information
Publisher's Note
Springer Nature remains neutral with regard to jurisdictional claims in published maps and institutional affiliations.
This article was registered in the Official Register of Zoological Nomenclature (ZooBank) as urn:lsid:zoobank.org:pub:2A33595B-E259-450C-93C1-B834F6A62D3F. This article was published as an Online First article on the online publication date shown on this page. The article should be cited by using the doi number. This is the Version of Record.
This article is part of the Topical Collection Nematoda.
About this article
Cite this article
Beveridge, I. New species of Wallabinema Beveridge, 1983 (Nematoda: Strongyloidea) and a redescription of W. gallardi (Johnston & Mawson, 1939) from Australian macropodid marsupials. Syst Parasitol (2020) doi:10.1007/s11230-019-09897-1
Received:

Accepted:

Published: