Abstract
Changes often occur in organizational systems due to the technology, new methods, new understandings and emerging needs. This study examined the reasons, components, roles of the people involved and results of the systemic change process at a university preparatory department by using a self-initiated, prescriptive, and planned systemic change process. The aim of the study is to investigate how the planned systemic change initiative was processed and implemented. Data were collected over a two-year period. Data sources included documents, field notes based on observations, focus group interviews with alumni, and semi-structured interviews with stakeholders within the institution. Systems and systemic change conceptual frameworks guided the interpretative analysis of data. Findings showed that the system requires powerful reasons for change and there needs to be change in the components of the system such as organization, curriculum, communication and assessment. The analysis also highlighted the crucial role individuals play in the systemic change process. In this systemic change inquiry, a transformational pattern within the organizational and instructional domains emerged. The five main themes that relate to this process were: motivation, standards, structural change, whole school involvement and leadership.
This is a preview of subscription content, log in to check access.
Access options
Buy single article
Instant unlimited access to the full article PDF.
US$ 39.95
Price includes VAT for USA
Subscribe to journal
Immediate online access to all issues from 2019. Subscription will auto renew annually.
US$ 99
This is the net price. Taxes to be calculated in checkout.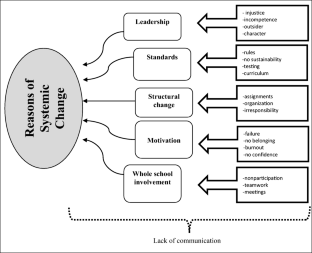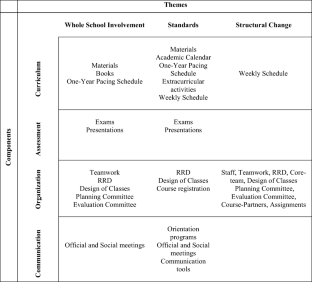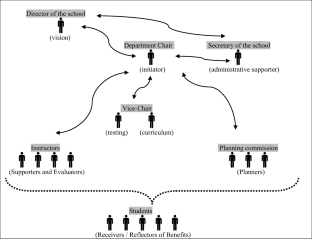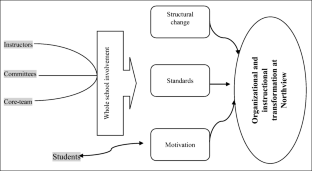 Notes
1.

We developed this article based on the research we conducted for the doctoral dissertation submitted to the Graduate School of Social Sciences at the Middle East Technical University (İpek 2017).
References
Adams KM, Hester PT (2012) Errors in systems approaches. International Journal of System of Systems Engineering 3(3–4):233–242

Akpur U, Alcı B, Karataş H (2016) Evaluation of the curriculum of English preparatory classes at Yildiz Technical University using CIPP model. Educational Research and Reviews 11(7):466–473

Akşit N (2007) Educational reform in Turkey. International Journal of Educational Development 27(2):129–137

Albrecht DL (2015) An exploratory model of ESL program leadership. INTESOL Journal 12(2): 86-107

Angrosino M (2007) Doing ethnographic and observational research. Sage, London

Banathy BH (1991) Systems design of education: a journey to create the future. Educational Technology Publications. New Jersey, USA

Banathy BH (1995) Developing a systems view of education. Educational Technology 35(3):53–57

Banathy BH, Jenlink PM (2013) Systems inquiry and its application in education. In: Jonassen DH, Harris P (eds) Handbook of research on educational communications and technology. Erlbaum, Mahwah, 37–57

Berends H, Boersma K, Weggeman M (2003) The structuration of organizational learning. Human Relations 56(9):1035–1056

British Council (2015) Türkiyede yüksek öğretim kurumlarındaki ingilizce eğitimi. TEPAV. Ankara

Cao G, McHugh M (2005) A systemic view of change management and its conceptual underpinnings. Systemic Practice and Action Research 18(5):475-490

Creswell JW (2014) Research design: qualitative, quantitative, and mixed methods approaches. Sage, USA

deSegovia LP, Hardison DM (2009) Implementing education reform: EFL teachers' perspectives. ELT Journal 63(2):154–162

Duffy FM, Chance PL, Reigeluth CM, Watson SL, Adcock A (2010) 2009 AECT international convention committee, division and society reports. TechTrends 54(2):28-39

Flood RL (2010) The relationship of 'systems thinking' to action research. Systemic Practice and Action Research 23(4):269–284

Frick TW, Reigeluth CM (1999) Formative research: A methodology for improving design theories. In C. M. Reigeluth (Ed.), Instructional-Design Theories and Models: A New Paradigm of Instructional Theory (Volume II). Hillsdale, NJ: Lawrence Erlbaum Associates, 633–652

Fullan M (2000) The return of large-scale reform. Journal of Educational Change 1(1):5–27

Fullan M (2009) Large-scale reform comes of age. Journal of Educatioanal Change 10(2-3):101–113

Gergen KJ (1999) An invitation to social construction. Sage, London

Gudz NA (2004) Implementing the sustainable development policy at the University of British Columbia: an analysis of the implications for organizational learning. International Journal of Sustainability in Higher Education 5(2):156–168

Hall GE, Hord SM (2015) Implementing change: patterns, principles, and polothes. Pearson/Allyn Bacon, Boston

Harris A (2010) Leading system transformation. School Leaders Management 30(3):197–207

Hines EM, Moore III J L, Mayes RD, Harris P C, Vega D, Robinson DV, Jackson CE (2017) Making student achievement a priority: the role of school counselors in turnaround schools. Urban Education 55(2):216-237

Holmes K, Clement J, Albright J (2013) The complex task of leading educational change in schools. School Leaders Management 33(3):270–283

İpek ÖF (2017) Investigation of systemic change at a university preparatory language department: The northview case. (Unpublished doctoral dissertation). Ankara, Turkey: Middle East Technical University

James M, Card K (2012) Factors contributing to institutions achieving environmental sustainability. International Journal of Sustainability in Higher Education 13(2):166–176

Jenkins B (2009) What it takes to be an instructional leader. Principal 88(3):34–37

Jenlink PM, Reigeluth CM, Carr AA, Nelson LM (1996) An expedition for change: facilitating the systemic change process in school districts. TechTrends 41(1):21–30

Joseph R (2003) Formative research on a design theory to facilitate systemic change in public school districts. (Dissertation). Indiana State University, Missouri, USA

Joseph R, Reigeluth CM (2010) The systemic change process in education: a conceptual framework. Contemporary Educational Technology 1(2):97–117

Jun L, Liangrong X (2011) A new model in English language teaching in China: the case of Shantou University. Chinese Journal of Applied Linguistiscs 34(3):39–53

Karaman AC (2010) Systems thinking for studying international professional program participants' thoughts. Syst Pract Action Res 23(3):203–220

Karip E, Köksal K (1996) Etkili eğitim sistemlerinin geliştirilmesi. Kuram ve Uygulamada Egitim Yönetimi Dergisi 2(2): 245–257

Kasa B, Ersöz Y (2016) Pros and cons: compulsory 12 year education reform in Turkey. South African Journal of Education 36(2):1-10

Laing K, Todd L (eds) (2015) Theory-based methodology: using theories of change in educational development, research and evaluation. Research Centre for Learning and Teaching, Newcastle University, Newcastle

Lincoln YS, Guba EG (1985) Naturalistic inquiry (Vol. 75). Sage, London

McKeown J (2016) From "sage on the stage to guide on the side": a case study of a transition to flipped English language learning in a higher education setting in Turkey. ELT Research Journal 5(2):145-154

Mink OG, Mink BP, Downes EA, Owen KQ (1994) Open organizations: A model for effectiveness,renewal, and intelligent change. Jossey-Bass, San Francisco

Mirici IH, Saka FO (2004) Dissemination of a proposed English prepartory class model for the Black Sea region countries through internet. Turkish Online Journal of Distant Education 5(2):33-39

Morrison K (1998) Management theories for educational change. Sage, London

Naicker SR, Mestry R (2016) Leadership development: a lever for system-wide educational change. South African Journal of Education 36(4):1–12

Noriko S (2010) Black ships- the management of change in English language education in a Tokyo elementary school. (Dissertation) International Christian University, Tokyo, Japan

Öztürk M (2015) Modular EFL curriculum in higher education: The case of Hacettepe University. IJCIS 4(8):113-128

Reigeluth CM (2016) Instructional theory and technology for the new paradigm of education. Revista de Educación a Distancia 50(1):1-17

Reigeluth CM, Garfinkle RJ (1994) Systemic Change in Education. Englewood Cliffs, NJ: Educational Technology Publications. 

Reigeluth C, Watson SL, Watson W (2008) Roles for technology in the information-age paradigm of education: Learning management systems. Educational Technology 48(6):32–39

Saldana J (2009) An introduction to codes and coding. The Coding Manual For Qualitative Researchers. Thousands Oaks, CA: Sage

Schwandt T (1994) Constructivist, Interpretivist approaches to human inquiry. In: Denzin NK, Lincoln YS (eds) Handbook of qualitative research. Sage, London, 118–137

Tanner A (2004) Early implementation of state-level special education systemic change: an exploratory journey into unmapped terrain. (Dissertation). University of North Carolina at Chapel Hill, North Carolina, USA

Watson SL, Reigeluth C (2008) Learner-centered paradigm of education. Educational Technology 48(5): 42-48

Watson WR, Watson SL (2013) Exploding the ivory tower: systemic change for higher education. TechTrends 57(5):42–46

Webster N, McKechnie JL (1973) Webster's new twentieth century dictionary of the English language. New York, NY: World Publishing Co.

Yin RK (2011) Case study research: design and methods. Sage, California 
Additional information
Publisher's Note
Springer Nature remains neutral with regard to jurisdictional claims in published maps and institutional affiliations.
About this article
Cite this article
İpek, Ö.F., Karaman, A.C. Systemic Change in a Higher Education Institution: Inquiring into Organizational and Instructional Transformation. Syst Pract Action Res (2020) doi:10.1007/s11213-019-09516-6
Keywords
Systemic change

Organizational change

Higher education

English language education institutions