Approaches and Alternatives to the Wealth Index to Measure Socioeconomic Status Using Survey Data: A Critical Interpretive Synthesis
Abstract
Monitoring progress towards the Sustainable Development Goals by 2030 requires the global community to disaggregate targets along socio-economic lines, but little has been published critically analyzing the appropriateness of wealth indices to measure socioeconomic status in low- and middle-income countries. This critical interpretive synthesis analyzes the appropriateness of wealth indices for measuring social health inequalities and provides an overview of alternative methods to calculate wealth indices using data captured in standardized household surveys. Our aggregation of all published associations of wealth indices indicates a mean Spearman's rho of 0.42 and 0.55 with income and consumption, respectively. Context-specific factors such as country development level may affect the concordance of health and educational outcomes with wealth indices and urban–rural disparities can be more pronounced using wealth indices compared to income or consumption. Synthesis of potential future uses of wealth indices suggests that it is possible to quantify wealth inequality using household assets, that the index can be used to study SES across national boundaries, and that technological innovations may soon change how asset wealth is measured. Finally, a review of alternative approaches to constructing household asset indices suggests lack of evidence of superiority for count measures, item response theory, and Mokken scale analysis, but points to evidence-based advantages for multiple correspondence analysis, polychoric PCA and predicted income. In sum, wealth indices are an equally valid, but distinct measure of household SES from income and consumption measures, and more research is needed into their potential applications for international health inequality measurement.
Keywords
Wealth index 
Principal components analysis 
Demographic and health surveys 
Socioeconomic status 
Critical interpretive synthesis 
Low- and middle-income countries 
1

Introduction

To evaluate global progress in achieving the Sustainable Development Goals (SDG) by 2030, there is a need to disaggregate key indicators according to the socioeconomic status (SES) of households. Goals of ending poverty in all its forms everywhere and of reducing income inequality within and among countries take aim at SES directly, while several goals targeting health and education outcomes now aim to reduce socioeconomic inequalities (United Nations 2015). Nevertheless, in many countries, and especially among neglected populations and low- and middle-income countries (LMICs), reliable and timely data on income and consumption1 are not always available. In addition to missing data, there are challenges in using income or consumption measures in many LMICs, since income can be highly variable from month to month or difficult to accurately measure (Bollen et al. 2002). Alternatively, consumption data, such as that measured by the Living Standards and Measurement Studies, can be extremely time consuming and expensive to collect (Sahn and Stifel 2003).

Given the challenges in measuring SES with income and consumption, proxy indicators have been developed. In global health, the key proxy measure is the wealth index. Wealth indices use information about household durable assets, such as housing materials, toilet or latrine access, phone ownership, or agricultural land and livestock, which are regularly collected in most household surveys to create an index of household wealth. Their use has become widespread in large part because of the pre-existing availability of data measuring household durable assets in key standardized household surveys which span decades and cover nearly all LMICs of the world, such as the Demographic and Health Survey (DHS) and Multiple Indicator Cluster Surveys (MICS). Despite the near ubiquity of use of the wealth index in global health research, debates over which calculation method results in the best proxy for income or consumption, and even whether wealth indices should be considered as SES measures that are fundamentally distinct from income or consumption remain open questions (Howe et al. 2009; Sahn and Stifel 2003).

Hundreds of manuscripts have used the wealth index to examine topics ranging from malnutrition (Mohsena et al. 2010; Sahn and Stifel 2003), educational attainment (Booysen et al. 2008; Nwaru et al. 2012), malaria transmission (Chuma and Molyneux 2009; Rohner et al. 2012), and poverty (Harttgen and Vollmer 2013; Zeller et al. 2006). For fifteen years, the overwhelming majority of researchers creating these indices have followed the method developed by Filmer and Pritchett (2001) that summarizes multi-dimensional information on ownership of various household assets using principal components analysis (PCA) (Filmer and Scott 2012). This innovative application of PCA to the measurement of household wealth using DHS surveys allowed researchers to convert a series of ownership variables, many of which were binary (yes/no) or categorical (roof material, e.g.), into a continuous SES gradient (Rutstein 2008).

The PCA approach provides a way to go beyond simple sums of asset ownership by orthogonally layering linear combinations of the variables with maximum variation. More precisely stated, the covariance matrix underlying the structure of the data is used to solve for coefficient vectors for each independent variable such that each layer (or principal component) produces the direction of greatest variance. Other applications of PCA, such as factor reduction techniques, make use of several of these layered combinations ordered by the degree of underlying data variance (i.e. eigenvalues), sometimes visually inspecting a scree plot for changes in slope to decide how many components to keep. In calculating asset wealth, however, only the first principal component (which extracts the largest amount of information from the underlying asset data) is typically used as a measure of the "size" of the underlying structure of SES and ordinal data is often recoded as several binary dummy variables (Kolenikov and Angeles 2009).

Since the publication of Filmer and Pritchett's (2001) foundational study, many researchers have focused on proving the utility and improving the process of this original method, while others have proposed alternative methods of wealth index construction. The only systematic review yet published on the topic of whether wealth indices function as effective proxies for household consumption found only weak to moderate association between the two measures (Howe et al. 2009). Other studies have compared different methods of calculating wealth indices in isolation (Filmer and Scott 2012; Kolenikov and Angeles 2009), but have not extended findings of strength of association between different SES measures to the theoretical questions of what exactly wealth indices are measuring and under what conditions they are appropriate measures. In sum, there has been no comprehensive synthesis of the evidence and debates surrounding the method which continues to be the standard for constructing a proxy for household SES in lieu of consumption or income data.

This study systematically collected and synthesized information from the diverse bodies of literature examining wealth indices to evaluate two primary research questions. First, under what conditions is the use of wealth indices appropriate when measuring health inequalities using household surveys in LMICs? Second, what alternative methods of calculating wealth indices are available and how do they compare to the most commonly used wealth index calculation method? This study does not aim to rank the various methods used to measure SES or select a method that dominates the others under all circumstances, but does aim to map these tools to normative choices and values. The findings of this study should be of particular interest to global health researchers, who should be aware that there is no gold standard for measuring household SES and that the choices they make regarding how to measure this latent and disputed concept have significant implications for the research they conduct, the policies they inform, and ultimately, the SDGs we aim to achieve.
2

Methods

This critical interpretive synthesis (CIS) integrates the diverse literatures informing the theoretical foundations of the wealth index, the appropriateness of its use in the field, and alternative methods of wealth index calculation. Since many of the constructs underpinning this research have yet to achieve universal definitions and the relevant literature is dispersed throughout field-specific journals of economics, demography, epidemiology, global health, and sociology; a systematic review is neither ideal or appropriate (Gough et al. 2017; Higgins and Green 2011). This is because asset wealth is defined and calculated in a multitude of ways, the "gold standard" it is evaluated against is highly field-dependent, and even when the same methodology and comparator are used, methods used to evaluate performance can be incomparable from study to study. In other words, what is needed is an interpretive synthesis rather than an aggregative synthesis. Because of these challenges, CIS—a method created to assemble findings from a complex body of evidence to inform policy in a theoretically grounded manner (Dixon-Woods et al. 2005, 2006)—was used following established norms within the health policy literature (Ako-Arrey et al. 2016; Boyko et al. 2012; Ellen et al. 2018; Moat et al. 2013).

The compass questions guiding the initial search and article evaluation were whether the standard DHS wealth index should retain its status as the primary method for estimating asset wealth in LMICs and whether the different contexts in which it is used affect its concordance with alternative SES measures. Constant reflexivity in the search and evaluation process resulted in the incorporation of several emerging themes, including delving into the ways in which wealth indices differ from income and consumption measures, a specific focus on how the urban–rural divide affects the choice of SES measure, and the possibilities, challenges, and advances in the effort to extend the use of wealth indices to the study of international health inequalities.

Guided by these compass questions, an initial search strategy broadly targeted articles comparing different methodologies for constructing wealth indices—especially as they related to the DHS wealth index. Specifically, initial searches of EconLit, Database of Abstracts of Reviews of Effects, PubMed, and Google Scholar in September 2015 focused on terms of "wealth index" "asset index" "principal components analysis", "survey", and "wealth" restricting searches to years following the publication of Filmer and Pritchett's foundational article in 2001. Articles focused on the use of PCA in clinical research, imaging research, and any other unrelated applications were excluded from the review. In addition, applied studies that use wealth indices without comparing results with at least one other measure of SES were excluded. After evaluating titles and abstracts for relevance, bibliographies were combed for any studies that were not identified through database searches.

This stage of literature search was followed by a first stage of synthesis, workshopping of initial findings at the McMaster University Centre for Health Economics and Policy Analysis (CHEPA), and consulting with content experts. Following this stage of article evaluation, a second systematic search was conducted in September 2018 following the search strategy outlined in Fig. 

1

and the same inclusion and exclusion criteria as the first search. A comprehensive screen of titles and abstracts was possible for each database except for Google Scholar, which was screened until saturation was reached and article titles were no longer relevant. This resulted in a total of 53 articles included for synthesis, of which 11 articles could be used for the quantitative comparison of wealth indices, income, and consumption. Detailed information from each article, including SES measures investigated, countries of study, academic discipline, key themes, and evidenced used for synthesis were extracted into a table presented in Appendix Table 

3

.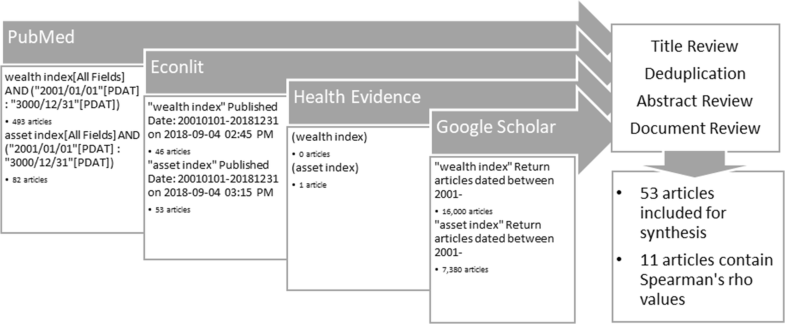 2.1

Analysis

The data gathered through the systematic search strategy were analyzed through a multistage process. Specifically, measures of SES, discipline, study design, countries of study, key ideas, and specific contributions to CIS were first extracted into Appendix Table 3, and then organized and synthesized according to emergent themes. These emergent themes led to the division of results into four sections—the utility of the wealth index as a proxy for income and consumption, the performance of the wealth index as a measure of social welfare, the appropriateness of use of wealth indices in the field, and alternative methods of constructing wealth indices. Within each of these sections, the extracted information is presented according to established CIS practices in a format that was originally adapted from meta-ethnographic review (Ako-Arrey et al. 2016; Boyko et al. 2012; Dixon-Woods et al. 2005, 2006; Ellen et al. 2018; Moat et al. 2013). Key themes and concepts for each subsection are presented (reciprocal translational analysis), then contradictions between studies are examined (refutational synthesis), and finally, a general interpretation of findings grounded in the literature is proposed (lines-of-argument synthesis). In practice, this means synthesizing key introductory information, presenting qualitative data supporting and opposing the concept under study, and proposing an overall interpretation of the state of published research for each subsection. The content of the study data extracted was also continually evaluated against the credibility of each study, as determined by the strength of supporting data, methods used to generate results, and appropriateness of conclusions with regards to the results.

In order to synthesize data on alternatives to the standard PCA approach of calculating asset indices, the merits of alternative asset indices were evaluated for their statistical validity, ease of calculation, and validity of results; all of which had to be supported by empirical research in a diversity of settings. Statistical validity examined issues such as the statistical assumptions underlying each method and issues that categorical, ordinal, and interval variables could have on the calculation of the index. Ease of calculation evaluated how much training was necessary to begin using the method, how dependent the method was on human judgement, and whether the method was supported by statistical packages. Validity of results do not rely on any one gold standard, but rather synthesize information from alternative SES measures, health outcomes, and contextual social factors. This resulted in an evaluation framework that could be consistently applied to asset index calculation methods, despite some methods having more published evaluations than others.

The results of the CIS are presented according to the themes that emerged from this analysis. The complex relation of wealth indices with income and consumption measures is discussed first, including the most complete compilation of quantitative comparisons of these three SES measures yet assembled. Once wealth indices' relation to these traditional measures of household SES is established, a synthesis of studies evaluating the performance of the wealth index as a measure of social welfare is presented. This is followed by a discussion of the appropriateness of use of wealth indices with a special focus on urban–rural issues (i.e. are wealth indices applicable across the urban–rural divide?), alterations to the standard approach, extension to the study of multiple countries, and emerging trends and opportunities for future research. The final section then evaluates all major alternatives to the DHS wealth index, with a critical interpretation of the merits and weaknesses of each method.
4

Conclusion

The construction of a wealth index using household survey data must be conducted with an awareness that the methodology chosen to quantify SES using assets contained in the survey data has a significant effect on the results. More straightforward alternatives to constructing asset indices like count measures offer simplicity but may overly depend on context and analyst expertise. While more complex methods of MCA, IRT, MSA, polychoric PCA, and predicted income offer varying degrees of improvement of statistical validity, they may do so at the expense of simplicity with only marginal improvement in outcomes compared to the standard DHS wealth index. Taking all published alternatives and evidence into account, analysts striving for an alternative to constructing a wealth index from household survey data can consider polychoric PCA as a method which meets the standards of statistical validity, ease of calculation, and validity of results, with MCA as another valid alternative. If wealth rankings in a meaningful scale are needed, the predicted income approach based on either the DHS wealth index or any comparable alternative offers great promise but must also be investigated in a greater diversity of settings and applications.

Evidence gathered in this review lends support to the idea that wealth indices represents a related, but distinct measure of latent SES from consumption or income measures. There is robust evidence linking the wealth index to health and educational outcomes at least as strongly as household consumption and income throughout the world. However, interpreting wealth indices as having a causal effect on health and educational outcomes cannot be taken as a given; especially with the knowledge that wealth indices, income, and consumption measures take aim at entirely separate models of SES. Long-known vulnerabilities to urban–rural distortions or changes in the asset mix included in surveys should always be considered, but with proper care, these vulnerabilities can be seen as ultimately informative rather than confounding. Future applications to inequality research, large-scale international studies, and the use of new technologies are promising prospects for which the groundwork has yet to be fully laid.

The main limitations of these conclusions stem from the paucity of research designed to answer these methodological issues specifically, rather than as a secondary research question dispersed throughout many fields. We are further limited by highly variable and sometimes inconsistent definitions of key concepts, which in many cases such as asset wealth, even lack a commonly agreed-upon name. These limitations can only be overcome with greater research intensity and debate. Because of these limitations, a critical interpretive synthesis was the most appropriate choice to present the debates surrounding this methodology in all its complexity. This presentation of key concepts, exploration of contradictions in the literature, and proposal of lines-of-argument synthesis aims to promote a shared understanding of an emerging field of study across the multitude of disciplines that are involved in its development. Further strengths of the study include our inclusion and synthesis of more studies than any prior work on wealth indices, and the first systematic search and compilation of Spearman correlation coefficients between wealth indices and both consumption and income.

The implications of these findings to measuring progress in achieving the SDGs cannot be understated. Developing countries and neglected populations which lack consumption and income data will necessarily be studied using wealth indices as a proxy for SES. If we are to adequately measure progress in achieving equity-focused SDGs around the world for these populations, we must acknowledge the challenges in developing reproducible, rigorous, and easily implemented methodologies for constructing asset indices using household surveys. However, we can also look to the many strengths of the method, not the least of which is the increasingly real possibility of worldwide comparability of SES among all populations of the world. Further study of this possibility must account for the many potential pitfalls in conducting research across national boundaries. Finally, it is remarkable that with the hundreds of studies using the wealth indices to measure health and social welfare outcomes, no study has yet systematically examined whether inequalities in health or social outcomes are larger in magnitude than would be measured using income or consumption in more than one country. Wealth indices have become the dominant method to measure SES in LMICs in the field of global health. Researchers using the method to develop surveys, analyze data, or interpret data for policymakers must understand its strengths, its limitations, the normative choices associated with the tool, and the potential to improve and extend the method to new areas of research.
Notes
Acknowledgements
I gratefully acknowledge Dr. Emmanuel Guindon for helpful comments in the formulation and review of this research, members of the Centre for Health Economics and Policy Analysis (CHEPA) at McMaster University for contributions to the design of the study, and Dr. Michelle Dion for her insightful revisions.
Copyright information
© The Author(s) 2019
Open AccessThis article is distributed under the terms of the Creative Commons Attribution 4.0 International License (http://creativecommons.org/licenses/by/4.0/), which permits unrestricted use, distribution, and reproduction in any medium, provided you give appropriate credit to the original author(s) and the source, provide a link to the Creative Commons license, and indicate if changes were made.