Direct dimethyl ether synthesis over mesoporous Cu–Al2O3 catalyst via CO hydrogenation
Abstract
Syngas conversion to dimethyl ether (DME) is an important reaction (STD) in C1 chemistry since DME not only possesses high value but also can be used as a vital chemical intermediate. Here, we design a Cu-based mesoporous alumina catalyst to realize the DME synthesis reaction. It exhibits high catalytic activity in terms of CO conversion of 21.2% and DME selectivity of 95.9% according to its synergistic effect between the Cu and alumina. In the Cu-based alumina catalyst, the Cu–Cu bond is for converting CO to methanol and the Cu–Al bond is for the formed methanol dehydration to DME. Therefore, the well-dispersed Cu nanoparticles provide amounts of active sites for methanol synthesizing, at the same time as the strong metal–support interaction between the Cu nanoparticles and mesoporous alumina offering Cu–Al active sites for methanol quick dehydration to DME. In addition, the mesopores supplied by alumina support also accelerate the mass transfer and diffusion, boosting the CO activation. This study points out the real active phase for DME synthesis, which plays an important guiding role in design of related catalysts for DME synthesis.
Graphic abstract
The process of syngas conversion to DME over Cu-based mesoporous alumina catalyst.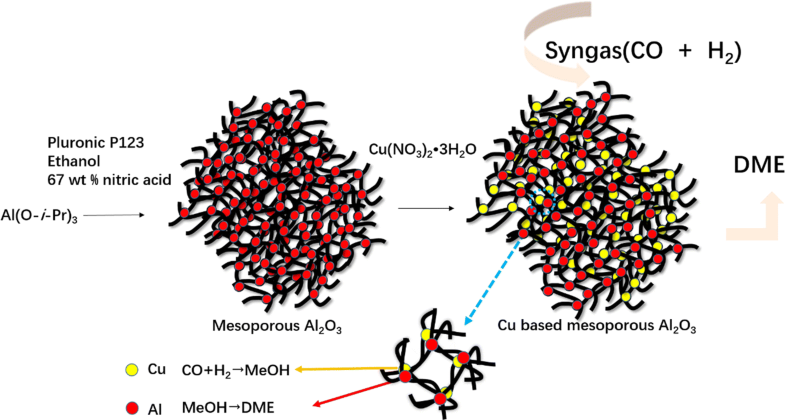 Keywords
Syngas conversion 
Dimethyl ether synthesis 
Copper 
Mesoporous material 
Notes
Acknowledgements
This work is financially supported by the National Natural Science Foundation of China (21902029) and Foundation of State Key Laboratory of Coal Conversion (No. J19-20-612).
Copyright information
© Springer Nature B.V. 2019