Novel SO3H-functionalized phenanthrolinum-phosphotungstate ionic liquid for highly promoted three-component synthesis of 2H-indazolo[2,1-b]phthalazine-triones
Abstract
A novel heteropolyanion-based Brønsted acidic ionic liquid material [PhBS]3PW12O40, butane mono-sulfoacid-functionalized phenanthrolinum salt of phosphortungstate catalyst (PhBS-PW), was synthesized and well characterized with FTIR, 1H and 13C NMR, electro-spray ionization mass spectrometry (ESI-MS), EDX and TG analysis techniques. The new prepared catalyst was used for the efficient one-pot synthesis of 2H-indazolo[2,1-b]phthalazine-trione derivatives from a three-component condensation reaction between aromatic aldehydes, dimedone, and phthalhydrazide in H2O under thermal conditions. This green approach has several advantages such as short reaction times, clean reaction profiles, and simple experimental and workup procedures. Moreover, the catalyst can be easily recovered and reused at least nine times with only slight reduction in its catalytic activity with no leaching amount of catalyst into the reaction mixture. These economical factors (time, cost, waste, etc.) for this three-component reaction hold promise for the future of organic synthesis.
Graphic abstract
In this work we introduced a new efficient Brønsted acidic ionic liquid (BAIL) and then its catalytic activities have been considered in the three-component synthesis of 2
H
-indazolo[2,1-
b
]phthalazine-triones via the domino Knoevenagel condensation/Michael addition/intramolecular cyclodehydration sequence in water under reflux condition.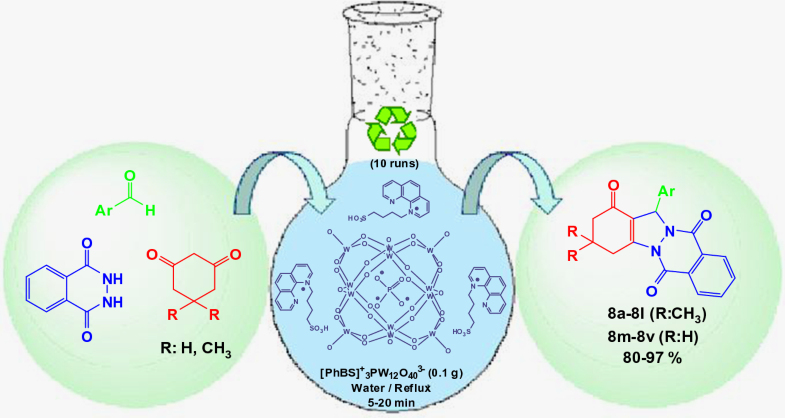 Keywords
1,10-Phenanthroline 
Butane sultone 
Heteropoly acid 
Ionic liquid catalyst 
2H-indazolo[2,1-b]phthalazine-trione 
Reusable catalyst 
Notes
Acknowledgements
The authors gratefully acknowledge to the Gachsaran branch, Islamic Azad University and the Research Council of Yasouj University for financial support of this work.
Copyright information
© Springer Nature B.V. 2019