Magnetic calcined oyster shell functionalized with taurine immobilized on β-cyclodextrin (Fe3O4/COS@β-CD-SO3H NPs) as green and magnetically reusable nanocatalyst for efficient and rapid synthesis of spirooxindoles
Abstract
Magnetic calcined oyster shell functionalized with taurine immobilized on β-cyclodextrin (Fe3O4/COS@β-CD-SO3H NPs) was prepared as a new stable, long-lived, highly efficient, and exceptional reusable magnetic nanostructured catalyst. The as-prepared solid acidic catalyst was characterized by various spectroscopic and microscopic techniques such as Fourier-transform infrared (FT-IR) spectroscopy, X-ray diffraction (XRD) analysis, scanning electron microscopy (SEM), energy-dispersive X-ray (EDX) spectroscopy, transmission electron microscopy (TEM), vibrating-sample magnetometry (VSM), thermogravimetric analysis (TGA)/differential thermogravimetry (DTG), and elemental (CHNS) analysis. The results clearly showed that the synthesized superparamagnetic catalyst existed as uniform spheres with average particle size of 16–25 nm. The new magnetic nanocatalyst (Fe3O4/COS@β-CD-SO3H NPs) was found to be very effective in one-pot multi-component reaction of isatin, active methylene component, and 1,3-dicarbonyl compounds for rapid preparation of spirooxindoles with fused chromenes in water in excellent yield. The most promising features of the presented approach are the short reaction time (15–22 min), magnetic separation of the nanostructured catalyst, simple work-up procedure, reusability of the catalyst for at least eight successive runs without any appreciable loss of activity, and high product yields (about 94–98%). Surprisingly, the present methodology proved to be environmentally sustainable, low cost, and industrially profitable for scale-up and commercialization.
Graphical abstract
A novel and green approach for synthesis of spirooxindoles using a green, inexpensive, and efficient nanocatalyst was investigated.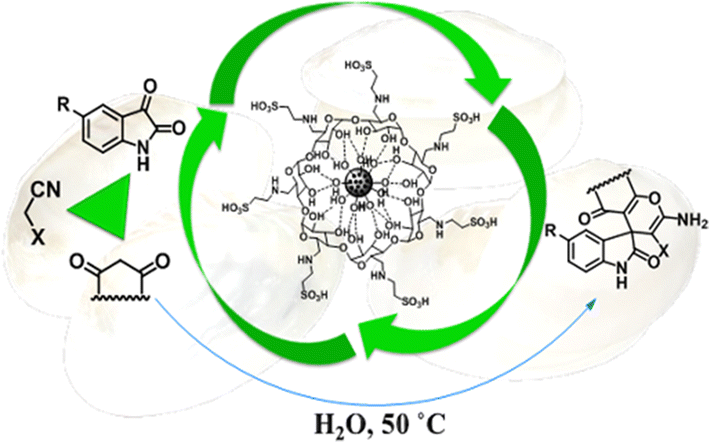 Keywords
Spirooxindoles 
Nanocatalyst 
Taurine 
Fe3O4 /COS@β-CD-SO3H NPs 
Notes
Acknowledgements
The authors gratefully acknowledge partial support of this study by Ferdowsi University of Mashhad Research Council (Grant no. 3/43388).
Copyright information
© Springer Nature B.V. 2019