Selective vapour phase dehydrogenation of biomass-derived 1,4-butanediol to gamma butyrolactone over Cu/ZrO2 catalysts: influence of La2O3 promotor
Abstract
A series of Cu/ZrO2–La2O3 catalysts with various La2O3 loadings were prepared by coprecipitation method and tested for the synthesis of γ-butyrolactone by dehydrogenation of 1,4-butanediol. The catalysts were characterized by XRD, TPR, FT-IR, TPD of NH3 and CO2, SEM, HRTEM and N2O pulse chemisorption studies. The results revealed that the specific surface area, dispersity of Cu species and metallic Cu surface area were increased by the addition of La2O3 but also prevented the agglomeration of metal particles and acidity of the catalysts. The 5 wt.% La2O3/Cu/ZrO2 exhibited excellent yield (96%) of γ-butyrolactone compared to Cu/ZrO2 and 3 wt.% La2O3/Cu/ZrO2 catalysts and it has shown consistent activity and selectivity during 15 h on stream study.
Graphical Abstract
Dehydrogenation of biomass-derived 1,4-butanediol to γ-butyrolactone with high yield over La
2
O
3
-modified Cu/ZrO
2
catalysts at atmospheric pressure in a continuous process was achieved.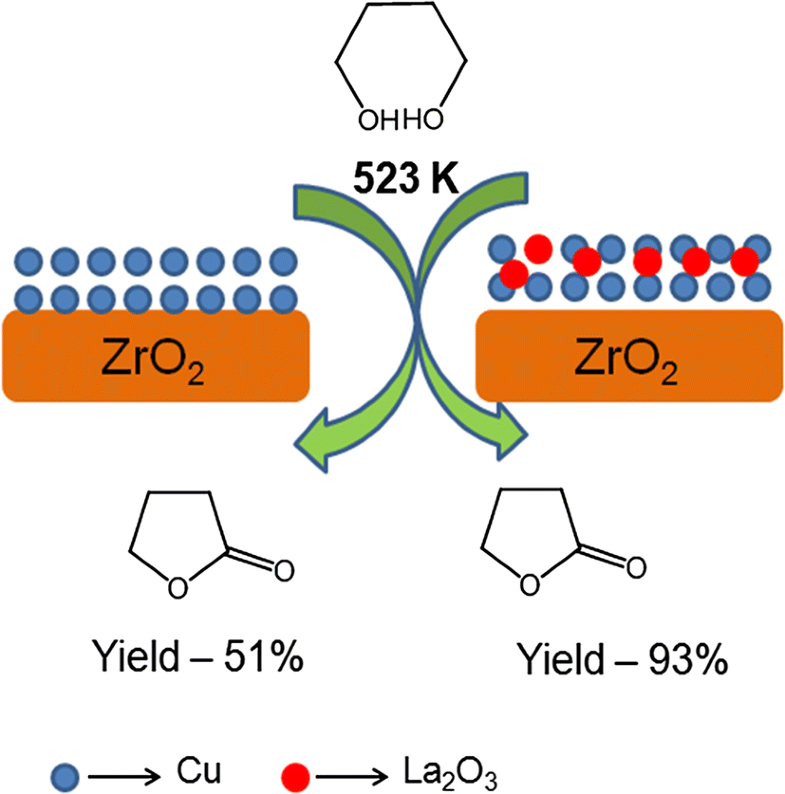 Keywords
1,4-Butanediol 
Cu/ZrO2 
γ-Butyrolactone 
Dehydrogenation 
Lanthanum oxide 
Notes
Acknowledgements
The authors P.N., M.V. and K.T. gratefully thank University Grant Commission, New Delhi, for financial support and CSIR, New Delhi.
Funding
Funding was provided by University Grants Commission (grant nos. 23/06/2013(i)EU-V, 17-06/2012(i)EU-V, 17-06/2012(i)EU-V).
Copyright information
© Springer Science+Business Media B.V., part of Springer Nature 2018