"Growing together": A Latvian retrospective of learning opportunities created in the cooperation among Nordic and Baltic adult educators
Abstract
This article tells the extraordinary story of the cooperation among adult educators in five Nordic and three Baltic countries (NB8) which began in 1991 – the year when Latvia regained its independence. According to individuals who experienced the evolution of this cooperation from the beginning and were actively involved in the process of developing contemporary theories, policies and practices of adult education in Latvia, this cooperation resulted in the creation of a range of unique opportunities for learning and development. Latvian adult educators were engaged in many activities; they learned themselves, taught others, did research on adult education and developed a new system of adult education. What had started out as a "donorship" grew into a "partnership". With hardly any published information about this cooperation to rely on, the authors of this article build their case using (1) their own memories of participation; (2) the information gained through interviews with key experts; and (3) a number of largely unpublished documents indicated in these interviews. Tracing the evolution of this cooperation, their study seeks to understand how learning opportunities were created and how they were used by adult educators in Latvia. Adopting an ecological (in terms of learning environment, relationships, agency, motivation and identity) sociocultural perspective on learning and learning opportunities, the authors analyse the quality of the learning opportunities created in the context of Nordic-Baltic cooperation, aiming to identify what makes international cooperation successful.
Keywords
adult education 
lifelong learning 
Nordic-Baltic cooperation 
Latvia 
learning opportunities 
sociocultural ecology 
Résumé
« Grandir ensemble » : rétrospective lettonne des opportunités d'apprentissage créées via une coopération entre éducateurs d'adultes nordiques et baltes – Cet article relate l'histoire exceptionnelle d'une coopération entre éducateurs d'adultes de cinq pays nordiques et trois pays baltes (NB8) entamée en 1991, année où la Lettonie a recouvré son indépendance. Selon des personnes ayant vécu depuis le début l'évolution de cette coopération et participé activement à la conception pour la Lettonie de théories, politiques et pratiques contemporaines en éducation des adultes, cette coopération a engendré la création d'une gamme d'opportunités uniques d'apprentissage et de développement. Les éducateurs d'adultes lettons ont participé à de nombreuses activités, été eux-mêmes apprenants, enseigné à d'autres, mené des recherches sur l'éducation des adultes, et conçu un nouveau système d'éducation des adultes. Ce qui avait débuté par un parrainage s'est transformé en partenariat. Ne pouvant puiser que dans de rares publications sur cette coopération, les auteurs ont construit leur étude à partir de trois types de données : leurs souvenirs de leur propre participation, l'information collectée lors d'interviews auprès d'experts clés, enfin un certain nombre de documents essentiellement inédits signalés lors de ces interviews. Retraçant l'évolution de cette coopération, leur étude cherche à cerner la manière dont les opportunités d'apprentissage ont été créées et dont les éducateurs d'adultes lettons les ont utilisées. Dans une perspective socio-culturelle et écologique (en termes de : conditions d'apprentissage, relations, agentivité, motivation et identité) de l'apprentissage et des opportunités d'apprentissage, les auteurs analysent la qualité de ces opportunités créées dans le contexte de la coopération nordique-baltique, en vue de cerner les facteurs de succès d'une coopération internationale.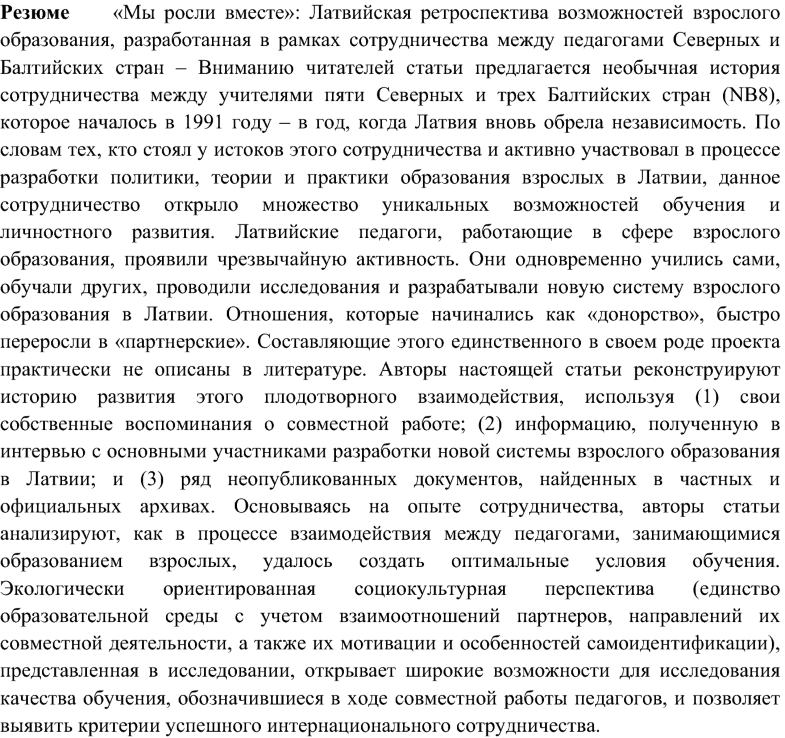 Copyright information
© Springer Nature B.V., and UNESCO Institute for Lifelong Learning 2018