Development of the profession and qualifications of adult educators in Lithuania in the context of reforms of adult education
Abstract
The Baltic countries regained their independence from the Soviet Union in the early 1990s and joined the European Union in 2004. This article seeks to explore institutional development and reforms of adult education and lifelong learning in Lithuania with respect to the processes, the actors and the context of socioeconomic change over the past 20 years. It also looks at the implications of these processes for the professionalisation of adult educators, referred to here as "adult learning teachers" (ALTs). The authors begin with an analysis of the historical-institutional and political-economical aspects of the development of adult education and lifelong learning by providing a retrospective of institutional change in Lithuania. They then move on to analyse the existing institutional and legal arrangements of adult education which shape and institutionalise the profession and qualifications of ALTs. Their empirical research reveals the opinions of Lithuanian ALTs on their current professional occupational profile and its future development.
Keywords
Adult educators 
Formal, non-formal and informal adult education 
Lifelong learning 
Institutional development 
Post-Communist transition reforms 
Neoliberal approach 
Social dialogue 
Eurointegration 
Résumé
Développement de la profession et des qualifications des éducateurs d'adultes en Lituanie dans le contexte des réformes afférentes – Les pays baltes ont retrouvé leur indépendance de l'Union soviétique au début des années 1990 et ont rejoint l'Union européenne en 2004. Le présent article tente d'explorer le développement institutionnel et les réformes en matière d'éducation des adultes et d'apprentissage tout au long de la vie en Lituanie par rapport aux processus, aux acteurs et au contexte de l'évolution socio-économique des vingt dernières années. Les auteures examinent en outre les implications de ces processus sur la professionnalisation des éducateurs d'adultes, désignés ici comme « formateurs d'adultes ». Ils procèdent tout d'abord à une analyse des aspects relatifs à l'histoire des institutions et aux politiques économiques au cours du développement de l'éducation des adultes et de l'apprentissage tout au long de la vie, à travers une rétrospective du développement institutionnel en Lituanie. Ils étudient ensuite les structures institutionnelles et juridiques actuelles en matière d'éducation des adultes, qui façonnent et institutionnalisent la profession et les qualifications des formateurs d'adultes. Leur recherche empirique dévoile les opinions des formateurs d'adultes lituaniens sur leur profil professionnel actuel et son évolution future.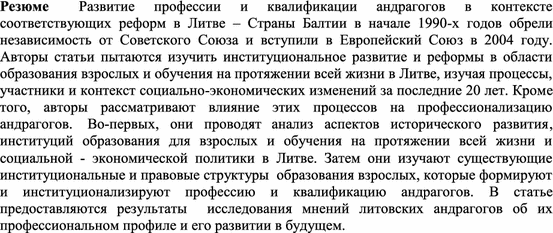 Copyright information
© Springer Science+Business Media B.V., part of Springer Nature, and UNESCO Institute for Lifelong Learning 2018