Nordic-Baltic cooperation in adult education: A collective story of Estonian adult educators
Abstract
Adult Education has many values, including experiences and co-operation among people, and the fact that adult education is full of stories from adult educators, which can help to understand trends in the past and developments in the present. Established in 1991 as part of a more general regional cooperation among five Nordic and three Baltic countries (NB8), Nordic-Baltic cooperation in adult education has been mutually enriching and has resulted in the growth of a professional network. The cooperation has led participants through a time of new sources of values, knowledge and contacts, socialisation and transformation, inspiration and challenges, which has influenced their experiences and professional identities. This paper is based on the results of a study entitled "Nordic-Baltic cooperation in adult education: Experience and stories" and focuses on the experiences and professional identities of two generations of Estonian adult educators. The empirical data for the study were collected using narrative-biographical interviews. The paper discusses two research questions: (1) What is the perception and influence of experiences for adult educators? and (2) How have their experiences influenced the professional identity of adult educators?
Keywords
Nordic-Baltic cooperation in adult education 
adult educator 
life course 
experience 
professional identity 
narrative-biographical interviews 
Résumé
La coopération nordico-balte pour l'éducation des adultes: Un récit collectif des formateurs d'adultes estoniens – Les valeurs de l'éducation des adultes sont nombreuses: elles reposent non seulement sur des expériences et des coopérations, mais aussi sur les innombrables récits des formateurs pour adultes, qui peuvent aider à comprendre les tendances passées et les développements actuels du secteur. Fondée en 1991, dans le cadre d'une coopération régionale plus large entre cinq pays nordiques et trois baltes (NB8), la coopération nordico-balte pour l'éducation des adultes a été mutuellement enrichissante et a donné lieu au développement d'un réseau professionnel. Cette coopération a conduit ses participants vers de nouvelles sources de valeurs, de connaissances et de contacts, de socialisation et de transformation, d'inspiration et de nouveaux défis, qui ont influencé leurs expériences et leurs identités professionnelles. Cet article, fondé sur les résultats d'une étude intitulée « La coopération nordico-balte pour l'éducation des adultes: expérience et récits de vie », retrace les expériences et les identités professionnelles de deux générations de formateurs d'adultes estoniens. Les données empiriques de cette étude ont été rassemblées au cours d'entretiens biographiques narratifs. L'article traite de deux questions de recherche: (1) Comment les formateurs d'adultes  perçoivent-ils leurs expériences et se laissent-ils influencer par celles-ci ? et (2) Comment ces expériences ont-elles influencé l'identité professionnelle des formateurs d'adultes ?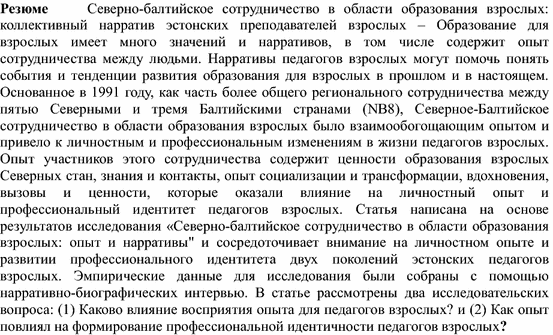 Notes
Acknowledgment
Our appreciation goes to Janusz Peters and to those adult educators who agreed to be part of our research. Our thanks go to the Estonian Non-Formal Adult Education Association and to the School of Educational Sciences of Tallinn University, who supported us with research funds. We are also grateful to the reviewers for their thoughtful and thorough questions and comments.
Copyright information
© Springer Science+Business Media Dordrecht and UNESCO Institute for Lifelong Learning 2017