Abstract
Alumina and phosphorus-alumina with different morphologies were synthesized by the sol–gel method. The morphology, structure, size, phase composition, acidic properties, and thermal behavior were examined by FESEM, TEM, XRD, FT-IR, BET, EDS, NH3-TPD, and TGA-DTA, respectively. It can be found that the morphology of alumina can change from worm-like to spherical by using acetonitrile/2-octanol solvent mixture and by modifying the synthesis steps. Also, the semi-crystalline structure of γ-alumina was changed to amorphous with improved surface area (from 150 to 229 m2 g−1). The addition of phosphorus pentoxide to amorphous alumina with the ratios of 1:9, 2:8 and 1:1 reduced the surface area of the catalyst after calcination from 229 to 129, 16 and 39 m2  g−1, respectively. With the increase of phosphorus/aluminum ratio and an increase in calcination temperature, the structure of phosphorus-alumina transformed from amorphous to crystalline. The reactivity and selectivity of 2-octanol over these composites were monitored using GC and GC-mass analyses.
This is a preview of subscription content, log in to check access.
Access options
Buy single article
Instant access to the full article PDF.
US$ 39.95
Price includes VAT for USA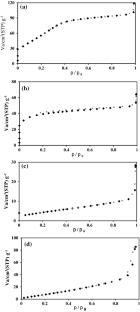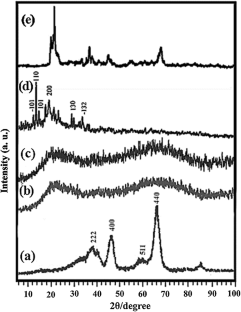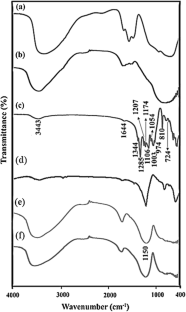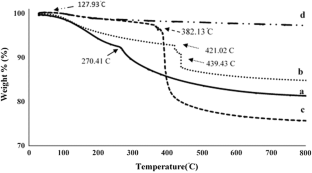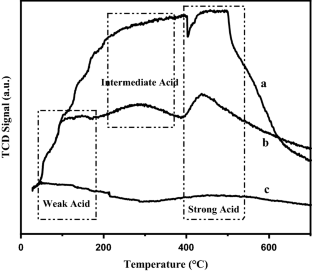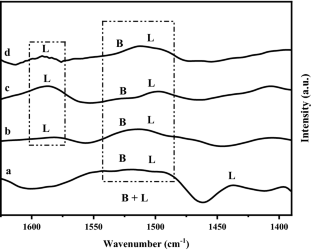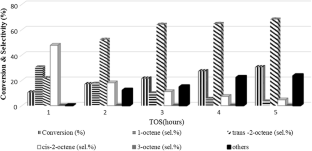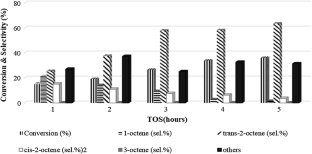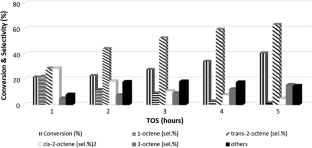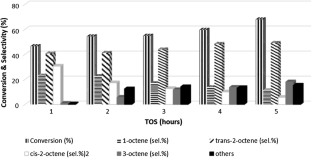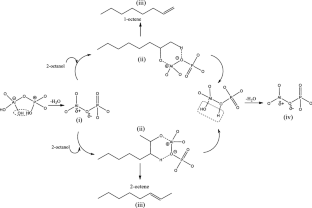 References
1.

Samain L, Jaworski A, Edén M, Ladd DM, Seo DK, Garcia-Garcia FJ, Häussermann U (2014) J Solid State Chem 217:1–8

2.

Naeimi H, Salimi F, Rabiei K (2006) J Mol Catal A 260:100–104

3.

Kabalka GW, Pagni RM (1997) Tetrahedron 53:7999–8065

4.

Yu J, Bai H, Wang J, Li Z, Jiao C, Liu Q, Zhang M, Liu L (2013) N J Chem 37:366–372

5.

Srivastava V, Weng CH, Singh VK, Sharma YC (2011) J Chem Eng Data 56:1414–1422

6.

Sanchez-Valente J, Bokhimi X, Toledo JA (2004) Appl Catal A 264:175–181

7.

Maggi R, Ballini R, Sartori G, Sartorio R (2004) Tetrahedron Lett 45:2297–2299

8.

Siahpoosh SM, Salahi E, Hessari FA, Mobasherpour I (2017) Sigma J Eng Natl Sci 35:441

9.

Chen X, Zheng Y, Huang F, Xiao Y, Cai G, Zhang Y, Zheng Y, Jiang L (2018) ACS Catal 8:11016–11028

10.

Shen M, Song L, Wang J, Wang X (2012) Catal Commun 22:28–33

11.

Digne M, Sautet P, Raybaud P, Euzen P, Toulhoat H (2004) J Catal 226:54–68

12.

Chen C, Feng B, Hu S, Zhang Y, Li S, Gao L (2018) Yu K. Ceram Int 44:216–224

13.

Wang J, Wang Y, Wen J, Shen M, Wang W (2009) Microporous Mesoporous Mater 121:208–218

14.

Gishti K, Iannibello A, Marengo S, Morellili G, Tittarelli P (1984) Appl Catal 12:381–393

15.

Decanio EC, Edwards JC, Scalzo TR, Storm DA, Bruno JW (1991) J Catal 132:498–511

16.

Morterra C, Magnacca G, Demaestri PP (1995) J Catal 152:384–395

17.

ChandraKishore S, Pandurangan A (2013) Chem Eng J 222:472–477

18.

Lei SHI, Zhang ZH, Qiu ZG, Fang GUO, Zhang W, Zhao LF (2015) J Fuel Chem Technol 43:74–80

19.

Mekhemer GA, Nohman AK, Fouad NE, Khalaf HA (2000) Colloid Surf A 161:439–446

20.

Labalme V, Béguin B, Gaillard F, Primet M (2000) Appl Catal A 192:307–316

21.

Blanco A, Campelo JM, Garcia A, Luna D, Marinas JM, Moreno MS (1989) Appl Catal 53:135–156

22.

Petrakis DE, Pomonis PJ, Sdoukos AT (1991) J Chem Soc Faraday Trans 87:1439–1445

23.

Busca G, Ramis G, Lorenzelli V, Rossi PF, La Ginestra A, Patrono P (1989) Langmuir 5:911–916

24.

Ramis G, Rossi PF, Busca G, Lorenzelli V, La Ginestra A, Patrono P (1989) Langmuir 5:917–923

25.

Quartararo J, Guelton M, Rigole M, Amoureux JP, Fernandez C, Grimblot J (1999) J Mater Chem 9:2637–2646

26.

Gu W, Shen M, Chang X, Wang Y, Wang (2007) J Alloys Compd 441:311–316

27.

Li J, Ma H, Sun Q, Ying W, Fang D (2015) Fuel Process Technol 134:32–38

28.

Drüppel K, Hösch A, Franz G (2007) Am Miner 92:1695–1703

29.

Takahashi R, Sato S, Sodesawa T, Arai K, Yabuki M (2005) J Catal 229:24–29

30.

Shi BC, Davis BH (1995) J Catal 157:359–367

31.

Roy S, Mpourmpakis G, Hong DY, Vlachos DG, Bhan A, Gorte RJ (2012) ACS Catal 2:1846–1853

32.

Suhas DP, Aminabhavi TM, Raghu AV (2014) Polym Eng Sci 54:1774–1782

33.

Kwak JH, Mei D, Peden CH, Rousseau R, Szanyi J (2011) J Catal Lett 141:649–655

34.

Dabbagh HA, Zamani M (2011) Appl Catal A 404:141–148

35.

Rouquerol J, Avnir D, Fairbridge CW, Everett DH, Haynes JM, Pernicone N, Ramsay JD, Sing KS, Unger KK (1994) Pure Appl Chem 66:1739–1758

36.

Zdravkov BD, Čermák JJ, Šefara M, Janků J (2007) Cent Eur J Chem 5:385–395

37.

Echaroj S, Santikunaporn M, Chavadej S (2015) React Kinet Mech Cat 114:75–91

38.

Yang W, Hu J (2013) J Nanopart Res 15:1786

39.

Sarkar D, Mohapatra D, Ray S, Bhattacharyya S, Adak S, Mitra N (2007) J Mater Sci 42:1847–1855

40.

Yung SW, Chiang HY, Lai YS, Wu FB, Fu C, Lee YM (2015) Ceram Int 41:877–888

41.

Parida KM, Pradhan AC, Das J, Sahu N (2009) Mater Chem Phys 113:244–248

42.

Colomban PH (1988) J Mater Sci Lett 7:1324–1326

43.

Ahsan MR, Uddin MA, Mortuza MG (2005) J Pure Appl Phys 43:89

44.

Selasteen FD, Raj SAC, Moses AA, Prince FE, Getsy RE, Elakkiya R (2016) J Cryst Process Technol 6:11

45.

Mtalsi K, Jei T, Montes M, Tayane S (2001) J Chem Technol Biotechnol 76:128–138

46.

Gao Q, Chen J, Li S, Xu R (1996) Microporous Mater 7:219–223

47.

Li X, Zhang W, Liu G, Jiang L, Zhu X, Pan C, Jiang D, Tang A (2003) React Kinet Catal Lett 79:365–371

48.

Wang X, Liang F, Huang C, Li Y, Chen B (2016) Catal Sci Technol 6:6551–6560

49.

Rosseto R, dos Santos ÁC, Galembeck F (2006) J Braz Chem Soc 17:1465–1472

50.

Kostestkyy P, Yu J, Gorte RJ, Mpourmpakis G (2014) Catal Sci Technol 4:3861–3869
Acknowledgements
This project was financially supported by the Isfahan University of Technology Council, and College of Pardis, Chemistry Section, Isfahan University of Technology, Isfahan which the authors gratefully acknowledge.
Additional information
Publisher's Note
Springer Nature remains neutral with regard to jurisdictional claims in published maps and institutional affiliations.
Electronic supplementary material
Below is the link to the electronic supplementary material.
About this article
Cite this article
Nazer, S., Dabbagh, H.A., Najafi Chermahini, A. et al. Surface modification of alumina with P2O5 and its application in 2-octanol dehydration. Reac Kinet Mech Cat 129, 265–282 (2020). https://doi.org/10.1007/s11144-019-01717-3
Received:

Accepted:

Published:

Issue Date:
Keywords
Alumina-phosphate catalyst

Surface modification

2-octanol dehydration

Catalyst

Selectivity