Abstract
NiMoW/P-Al2O3 catalysts were synthesized with a different ratio of Mo:W (W-free sample, Mo:W = 2:1, Mo:W = 1:1, Mo:W = 1:2 and Mo-free sample) and various P2O5 contents in the carrier (up to 5 wt%). The surface of the sulfide phase of the samples was investigated by means of high-resolution transmission electron microscopy (HR TEM) and X-ray photoelectron spectroscopy (XPS). The catalytic activity of patterns was estimated in the reactions of hydrodesulfurization of dibenzothiophene (DBT) and hydrogenation of naphthalene. The results are presented in the form of three-dimensional diagrams "P2O5 content—ratio Mo/W—catalytic activity" or "P2O5 content—ratio Mo/W—property". The influence of the phosphorus content on the maximum peak position of the binding energy S2p/1 of the S2− atomic group for the investigated systems is shown. Comparison of the shape of the curve of changes in the binding energy with the previously presented results on the catalytic activity of the samples in the HDS of a vacuum gas oil allows us to conclude that phosphorus is able to change the electronic state of the active phase of the catalysts, which leads to a change in their catalytic activity in the reactions of HDS.
This is a preview of subscription content, log in to check access.
Access options
Buy single article
Instant access to the full article PDF.
US$ 39.95
Price includes VAT for USA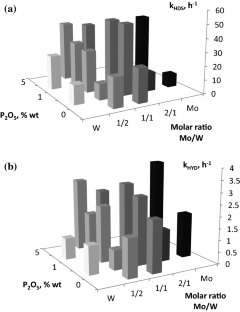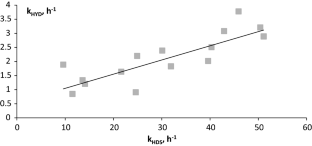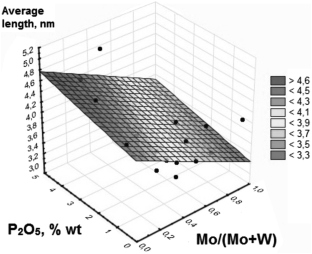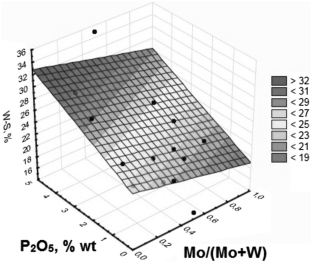 Acknowledgements
The work was supported by the Government of the Russian Federation. Decision no. 220 of April 9, 2010. Grant 14.Z50.31.0038 of February 20, 2017. The authors thank Dr. A.V. Mozhaev (Samara State Technical University) for sulfiding the samples, Dr. K.I. Maslakov (Moscow State University) and Dr. P.A. Nikul'shin (Samara State Technical University) for recording and processing of the XPS spectra.
Additional information
Publisher's Note
Springer Nature remains neutral with regard to jurisdictional claims in published maps and institutional affiliations.
Electronic supplementary material
Below is the link to the electronic supplementary material.
About this article
Cite this article
Solmanov, P.S., Maximov, N.M., Tomina, N.N. et al. NiMoW/P-Al2O3 four-component catalysts with different Mo:W molar ratios and P2O5 contents: the effect of the composition and active phase morphology on the catalytic activity. Reac Kinet Mech Cat 129, 253–264 (2020). https://doi.org/10.1007/s11144-019-01702-w
Received:

Accepted:

Published:

Issue Date:
Keywords
Hydrodesulfurization

Hydrogenation

NiMoW/P-Al2O3 catalysts

P-modified carrier