Abstract
Natural clay, attapulgite was successfully employed to prepare reusable heterogeneous catalyst of ATP–APTES–Pd through simple and green steps. The catalyst was characterized by ICP, IR, XRD, XPS, SEM, and TG. The novel complex exhibited excellent activity for a wide scope of Suzuki and Heck cross-coupling reactions without phosphine ligand, respectively. Remarkably, the catalyst is easy to separate, stable and can be reused several times in good activity without any additional activation treatment.
This is a preview of subscription content, log in to check access.
Access options
Buy single article
Instant access to the full article PDF.
US$ 39.95
Price includes VAT for USA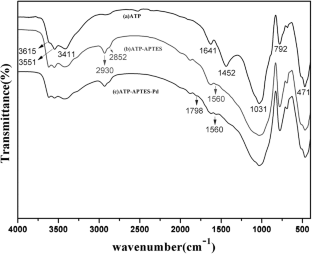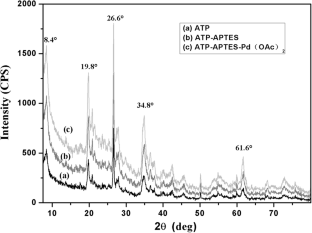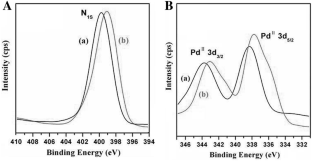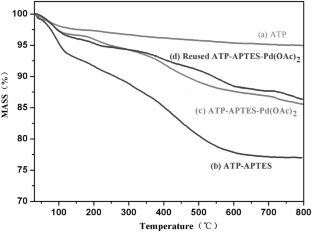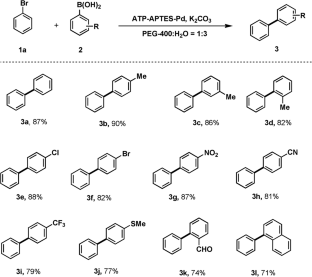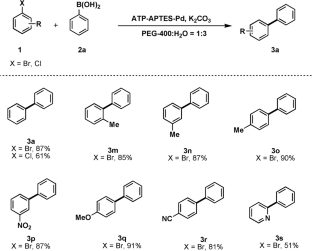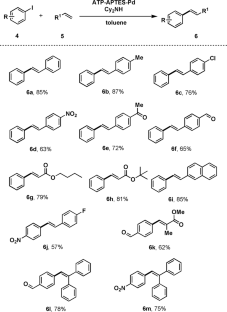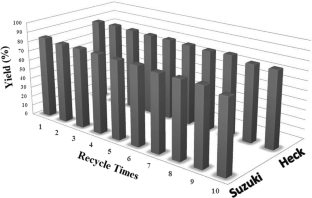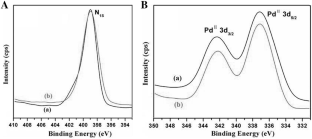 References
1.

Yi CY, Hua RM (2006) Catal Comm 7:377–379

2.

Jin L, Qian J, Sun N, Hu B, Shen Z, Hu X (2018) Chem Commun 54:5752–5755

3.

Wang C, Xiao G, Guo T, Ding Y, Wu X, Loh TP (2018) J Am Chem Soc 140:9332–9336

4.

Michalik J, Narayana M, Kevan L (1985) J Phys Chem 89:4553–4560

5.

Sachtler WMH, Cavalcanti FAP, Zhang Z (1991) Catal Lett 9:261–271

6.

Arun V, Sridevi N, Robinson PP, Manju S, Yusuff KKM (2009) J Mol Catal A: Chem 4:191–198

7.

Borah BJ, Dutta DK (2013) J Mol Catal A 366:202–209

8.

Fang M, Fan G, Li F (2014) Catal Lett 144:142–150

9.

Ranjbar-Mohammadi M, Hajir Bahrami S, Arami M (2013) J Appl Polym Sci 129:707–713

10.

Wu S, Ma HC, Jia XJ, Zhong YM, Lei ZQ (2011) Tetrahedron 67:250–256

11.

Ma HC, Cao W, Bao ZK, Lei ZQ (2012) Catal Sci Technol 2:2291–2296

12.

Cotugno P, Casiello M, Nacci A, Mastrorilli P, Monopoli A (2014) J Organomet Chem 752:1–5

13.

Cirtiu CM, Dunlop-Briere AF, Moores A (2011) Green Chem 13:288–293

14.

Kim MJ, Jung MJ, Kim YJ, Sung HK, Lee JY, Ham SJ, Park CP (2018) Tetrahedron Lett 59:2989–2993

15.

Indra A, Gopinath CS, Bhaduri S, Lahiri GK (2013) Catal Sci Technol 3:1625–1633

16.

Massaro M, Riela S, Cavallaro G, Gruttadauria M, Milioto S, Noto R, Lazzara G (2014) J Org Chem 749:410–415

17.

Arundhathi R, Damodara D, Mohan KV, Kantam ML, Likhar PR (2013) Adv Synth Catal 355:751–756

18.

Xu W, Sun HM, Yu B, Zhang GF, Zhang WF, Gao ZW (2014) ACS Appl Mater Interfaces 6:20261–20268

19.

Liu P, Wei G, He H, Liang X, Chen H, Xie Y, Zhu J (2019) Appl Surf Sci 464:287–293

20.

Yu X, Han P, Li Y (2018) RSC Adv 8:17938–17943

21.

Yang ZW, Zhao X, Li TJ, Chen WL, Kang QX, Xu XQ, Liang XX, Feng Y, Duan HH, Lei ZQ (2015) Catal Comm 65:34–40

22.

Wu S, Ma HC, Lei ZQ (2010) Synlett 18:2818–2822

23.

Augsburger MS, Strasser E, Perino E, Mercader RC, Pedregosa JC (1998) Phys Chem Solids 59:175–180

24.

Wang C, Zou X, Liu H, Chen T, Suib SL, Chen D, Xie J, Li M, Sun F (2019) Appl Surf Sci 486:420–430

25.

Lycourghiotis S, Kordouli E, Sygellou L, Bourikas K, Kordulis C (2019) Appl Catal B: Environ 259:118059

26.

Charisiou ND, Sebastian V, Hinder SJ, Baker MA, Polychronopoulou K, Goula MA (2019) Catalysts 9:650

27.

Lakbita O, Rhouta B, Maury F, Senocq F, Amjoud M, Daoudi L (2019) Appl Clay Sci 172:123–134

28.

Zhu X, Zhai L, Zhang L, Zhang J, Liu X, Song J (2018) Appl Clay Sci 166:200–206

29.

Wang F, Zhang J, Liu C, Liu J (2015) Appl Clay Sci 105–106:150–155

30.

Wang F, Zhang J, Liu C, Liu JH (2014) Appl Clay Sci 12:1–6

31.

Zhu R, Chen Q, Zhou Q, Xi Y, Zhu J, He H (2016) App Clay Sci 123:239–258

32.

Zhou L, Chen H, Jiang X, Lu F, Zhou Y, Yin W, Ji X (2009) J Colloid Interface Sci 332:16–21
Acknowledgements
We gratefully acknowledge the financial support from the Outstanding Young Talents Training Project for university-level Research Funds of Lanzhou University of Arts and Sciences (2019 JCQN02), the service of local economic and Social Development Project for university-level Research Funds of Lanzhou University of Arts and Sciences (2019FWDF01), the National Natural Science Foundation of China (Nos. 21962017, 51563022, 21464013, 21968032), and the Research Funds for the colleges and universities of Gansu province (No. 2014A-130).
Additional information
Publisher's Note
Springer Nature remains neutral with regard to jurisdictional claims in published maps and institutional affiliations.
Electronic supplementary material
Below is the link to the electronic supplementary material.
About this article
Cite this article
Yang, Q., Wu, H., Zhan, H. et al. Attapulgite-anchored Pd complex catalyst: a highly active and reusable catalyst for C–C coupling reactions. Reac Kinet Mech Cat 129, 283–295 (2020). https://doi.org/10.1007/s11144-019-01698-3
Received:

Accepted:

Published:

Issue Date:
Keywords
Heterogeneous catalyst

Attapulgite

Suzuki coupling reaction

Heck coupling reaction

Palladium

Atp–aptes–pd catalyst