Abstract
The consumption of loquat fruits is highly appreciated for their carotenoid content and valuable sensory notes, but it is limited due to the low shelf-life. An on-line temperature controlled microwave system based on infrared thermography was used to dry three different loquat cultivar at 60 °C. The time to reach the target value of 23% moisture content was about 105 min in Claudia fruits and 162 min in Virticchiara and Peluche. Seven carotenoids were identified in loquat fruits, among these the major were all-trans-β-carotene in Virticchiara and Claudia. Virticchiara had the major total carotenoid content (206 μg/g dry basis), followed by Peluche (158 μg/g d.b.) and Claudia (41 μg/g d.b.). The loss of carotenoids after drying ranged between 24% (Peluche) and 41% (Claudia). Carotenoids that showed a higher loss were on average: lutein (70%) and zeaxhantin (51%). Thirty-five volatile compounds were identified in fresh and dried loquats: the aldehydes were the most abundant class. After drying, aldehydes declined slightly, with alcohols falling more sharply. The shortened times by using temperature-controlled microwave heating with infrared thermography have guaranteed a fair quality of the dried loquats from the nutritional and sensory point of view, variable among the three cultivars.
This is a preview of subscription content, log in to check access.
Access options
Buy single article
Instant access to the full article PDF.
US$ 39.95
Price includes VAT for USA
Subscribe to journal
Immediate online access to all issues from 2019. Subscription will auto renew annually.
US$ 99
This is the net price. Taxes to be calculated in checkout.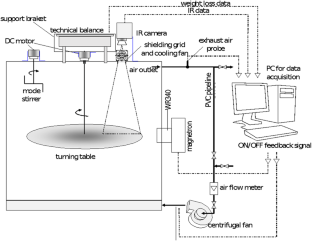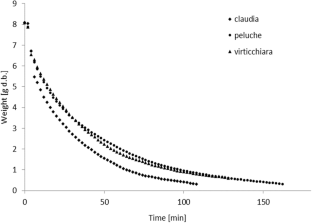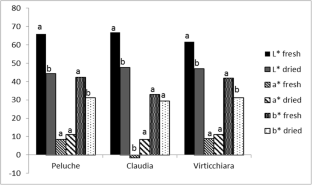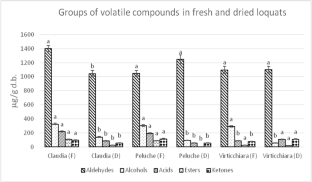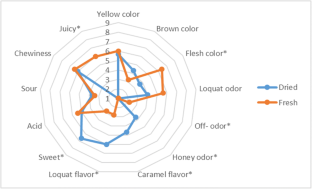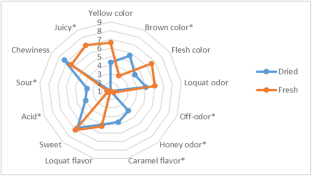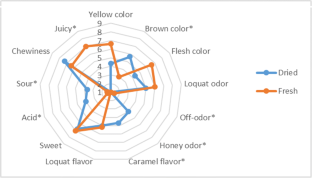 References
1.

Gentile C, Reig C, Corona O, Todaro A, Mazzaglia A, Perrone A, Gianguzzi G, Agusti M, Farina V (2016) Pomological traits, sensory profile and nutraceutical properties of nine cultivars of loquat (Eriobotrya japonica Lindl.) fruits grown in Mediterranean area. Plant Foods Hum Nutr 71:330–338

2.

Tian S, Li B, Ding Z (2007) Physiological properties and storage technologies of loquat fruit. Fresh produce ©2007 Global Science Books 1:76-81

3.

Siddiq M, Uebersax MA (2012) Jujube and loquat. In: Tropical and subtropical fruits: postharvest physiology, processing and packaging. Editor: Muhammad Siddiq PhD, John Wiley & Sons, Inc

4.

Kamiloglu S, Toydemir G, Boyacioglu D, Beekwilder J, Hall RD, Capanoglu E (2016) A review on the effect of drying on antioxidant potential of fruits and vegetables. Crit Rev Food Sci Nutr 56:S110–S129

5.

Samia El-Safy F (2014) Drying characteristics of loquat slices using different dehydration methods by comparative evaluation. World J Dairy Food Sci 9:272–284

6.

Ullaha F, Kang Mina K, Khan Khattakc M et al (2018) Effects of different drying methods on some physical and chemical properties of loquat (Eriobotrya japonica). Int J Fruit Sci 4:345–354

7.

Cuccurullo G, Sorrentino G, Cinquanta L (2007) A procedure to achieve fine control in MW processing of foods. Infrared Phys Technol 49:292–296

8.

Cuccurullo G, Giordano L, Metallo A, Cinquanta L (2017) Influence of mode stirrer and air renewal on controlled microwave drying of sliced zucchini. Biosyst Eng 158:95–101

9.

Albanese D, Cinquanta L, Cuccurullo G, Di Matteo M (2013) Effects of microwave and hot-air drying methods on colour, beta-carotene and radical scavenging activity of apricots. J Food Sci Technol 48:1327–1333

10.

Cuccurullo G, Metallo AL, Corona O, Cinquanta L (2019) Comparing different processing methods in apple slices drying. Part 1. Performances of microwave, hot air and hybrid methods at constant temperatures. Biosyst Eng 188:331–344

11.

Slinkard K, Singleton VL (1977) Total phenol analyses: automation and comparison with manual methods. Am J Enol Vitic 2:49–55

12.

UNI 10957 (2003) Sensory analysis: method for establishing a sensory profile in foodstuffs and beverages. standards library. HIS Engineering 360

13.

Lawless HT, Heymann H (2010) Descriptive analysis. In: Sensory evaluation of food:principles and practices. Springer, New York, pp 227–253. https://doi.org/10.1007/978-1-4419-6488-5

14.

Farina V, Barone F, Mazzaglia A, Lanza CM (2011) Evaluation of fruit quality in loquat using both chemical and sensory analyses. Acta Hortic 887:345–349

15.

Corona O (2010) Wine-making with protection of must against oxidation in a warm, semi-arid terroir. S Afr J Enol Vitic 31:58–63

16.

Martorana A, Alfonzo A, Settanni L, Corona O, La Croce F, Caruso T, Moschetti G, Francesca N (2016) Effect of the mechanical harvest of drupes on the quality characteristics of green fermented table olives. J Sci Food Agric 96:2004–2017

17.

Fratianni A, Albanese D, Mignogna R, Cinquanta L, Panfili G, Di Matteo M (2013) Degradation of carotenoids in apricot (Prunus armeniaca L.) during drying process. Plant Foods Hum Nutr 68:241–246

18.

Saberian H, Amooi M, Hamidi-Esfahani Z (2014) Modeling of vacuum drying of loquat fruit. Nutr Food Sci 44:24–31

19.

Morales FJ, Perez SJ (2001) Free radical scavenging capacity of Maillard reaction products as related to colour and fluoresence. Food Chem 72:119–125

20.

Zhou CH, Xu CJ, Sun CD, Li X, Chen KSJ (2007) Carotenoids in white- and red-fleshed loquat fruits. J Agric Food Chem 55:7822–7830

21.

de Faria AF, Hasegawa PN, Chagas EA, Pio R, Purgatto E, Mercadante AZ (2009) Cultivar influence on carotenoid composition of loquats from Brazil. J Food Comp Anal 22:196–203

22.

Fratianni A, Niro S, Messia MC, Cinquanta L, Panfili G, Albanese D, Di Matteo M (2017) Kinetics of carotenoids degradation and furosine formation in dried apricots (Prunus armeniaca L.). Food Res Int 99:862–867

23.

Regulation (EU) No 1169/2011 of the European Parliament and of the Council of 25 October 2011 on the provision of food information to consumers amending Regulations (EC) No 1924/2006 and (EC) No 1925/2006 of the European Parliament and of the Council, and repealing Commission Directive 87/250/EEC, Council Directive 90/496/EEC, Commission Directive 1999/10/EC, Directive 2000/13/EC of the European Parliament and of the Council, Commission Directives 2002/67/EC and 2008/5/EC and Commission Regulation (EC) No 608/2004 (Text with EEA relevance)

24.

Fratianni A, Niro S, Alam MDR, Cinquanta L, Di Matteo M, Adiletta G, Panfili G (2018) Effect of a physical pre-treatment and drying on carotenoids of goji berries (Lycium barbarum L.). LWT-Food Sci Technol 9:318–323

25.

Meléndez-Martínez AJ, Paulino M, Stinco CM, Mapelli-Brahm P, Wang XD (2014) Study of the time-course of cis/trans (Z/E) isomerization of lycopene, phytoene, and phytofluene from tomato. J Agric Food Chem 62:12399–12406

26.

Ibarz A, Pagan J, Garza S (1999) Kinetic models for colour changes in pear puree during heating at relatively high temperatures. J Food Eng 39:415–422

27.

Chen FX, Lui XH, Chen LS, Zheng SX (2011) The determination of volatile constituents of loquat fruit and leaf by gas chromatography–mass spectrometry coupled with solid phase micro extraction. Acta Hortic 887:369–372

28.

Sultan MZ (2018) Loquat (Eriobotrya japonica Lindl.). In: Elhadi M (ed) Fruit and vegetable phytochemicals: chemistry and human health. 2 ed, Vol. I. Yahia Wiley, pp 1118-1119
Ethics declarations
Conflict of interest
The authors declare that they have no conflict of interest.
Additional information
Publisher's Note
Springer Nature remains neutral with regard to jurisdictional claims in published maps and institutional affiliations.
Electronic supplementary material
About this article
Cite this article
Farina, V., Cinquanta, L., Vella, F. et al. Evolution of Carotenoids, Sensory Profiles and Volatile Compounds in Microwave-Dried Fruits of Three Different Loquat Cultivars (Eriobotrya japonica Lindl.). Plant Foods Hum Nutr (2020). https://doi.org/10.1007/s11130-020-00801-7
Keywords
Eriobotrya japonica

Carotenoids

Drying

Microwave

Volatile compounds