Abstract
Increasing attention has been paid to the nutritional values and pharmacological effects of Ziziphus jujuba. Therefore, in this study, four phenolic and flavonoid fractions of 16 jujube cultivars from different geographic regions of China were separated and quantified. In addition, the antioxidant activity was evaluated using the 2,2-diphenyl-1-picrylhydrazyl (DPPH·) scavenging method and the ferric reducing antioxidant power (FRAP) assay. The total phenols and flavonoids contents ranged from 253.4 to 494.9 mg GAE/100 g and 125.3 to 425.4 mg rutin/100 g, respectively. Subsquently, a total of 10 phenolic acids and two flavonoids were identified, and most quantified phenolic acids with antioxidant activity were mainly present in the glycosided and insoluble-bound phenolic fractions. The results of this study indicate that some jujube cultivars, especially Zanghuang Z. jujuba, Leling Z. jujuba, and Jiaxian Z. jujuba could be selected to promote a healthy diet due to their more plentiful nutritional and phytochemical beneficial effects.
This is a preview of subscription content, log in to check access.
Access options
Buy single article
Instant access to the full article PDF.
US$ 39.95
Price includes VAT for USA
Subscribe to journal
Immediate online access to all issues from 2019. Subscription will auto renew annually.
US$ 99
This is the net price. Taxes to be calculated in checkout.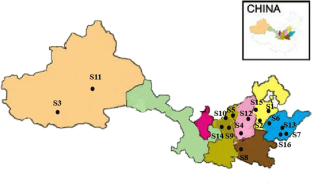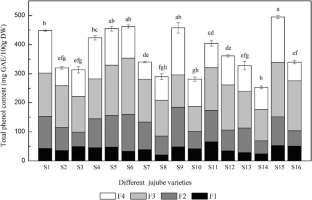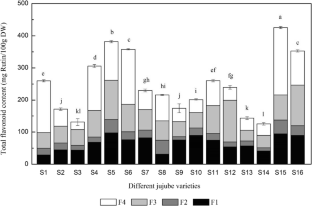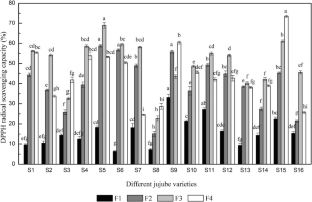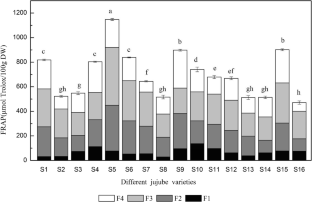 References
1.

San B, Yildirim AN (2010) Phenolic, alpha-tocopherol, beta-carotene and fatty acid composition of four promising jujube (Ziziphus jujuba Miller) selections. J Food Compos A 23:706–710

2.

Plastina P, Bonofiglio D, Vizza D, Fazio A, Rovito D, Giordano C et al (2012) Identification of bioactive constituents of Ziziphus jujube fruit extracts exerting antiproliferative and apoptotic effects in human breast cancer cells. J Ethnopharmacol 140(2):325–332

3.

Zhao Z, Liu M, Tu P (2008) Characterization of water soluble polysaccharides from organs of Chinese jujube (Ziziphus jujuba Mill. cv. Dongzao). Eur Food Res Technol 26(5):985–989

4.

FAO (2013) Jujube http://www.fao.org/docrep/007/ae017e/ae017-12.htm

5.

Gao QH, Wu CS, Yu JG, Wang M, Ma YJ, Li CL (2012) Textural characteristic, antioxidant activity, sugar, organic acid, and phenolic profiles of 10 promising jujube (Ziziphus jujuba Mill.) selections. J Food Sci 77:1218–1225

6.

Du LJ, Gao QH, Ji XL, Ma YJ, Xu FY, Wang M (2013) Comparison of flavonoids, phenolic acids, and antioxidant activity of explosion-puffed and sun-dried jujubes (Ziziphus jujuba Mill.). J Agric Food Chem 61:11840–11847

7.

Chen Q, Bi J, Wu X, Yi J, Zhou L, Zhou Y (2015) Drying kinetics and quality attributes of jujube (Zizyphus jujuba Miller) slices dried by hot-air and short and medium-wave infrared radiation. LWT-Food Sci Technol 64:759–766

8.

Guil-guerrero J L, Diaz Delgado A, Matallana Gonzalez M C, Torija isasa M E (2004) Fatty acids and carotenes in some ber (Ziziphus jujuba Mill) varieties. Plant Foods Hum Nutr 59: 23–27

9.

Pareek S (2013) Nutritional composition of jujube fruit. Emir J Food Agric 25:463–470

10.

Wang BN, Cao W, Gao H, Fan MT, Zheng JB (2010) Simultaneous determination of six phenolic compounds in jujube by LC-ECD. Chromatographia 71:703–707

11.

Collado-González J, Cruz ZN, Rodriguez P, Galindo A, Diaz-Baños FG, Garcia de la Torre J, Gil-Izquierdo A (2013) Effect of water deficit and domestic storage on the procyanidin profile, size, and aggregation process in pear-jujube (Z. jujuba) fruits. J Agric Food Chem 61:6187–6197

12.

Gao QH, Wu CS, Wang M (2013) The jujube (Ziziphus jujuba Mill.) fruit: a review of current knowledge of fruit composition and health benefits. J Agric Food Chem 61:3351–3363

13.

Choi SH, Ahn JB, Kozukue N, Levin CE, Friedman M (2011) Distribution of free amino acids, flavonoids, total phenolics, and antioxidative activities of jujube (Ziziphus jujuba) fruits and seeds harvested from plants grown in Korea. J Agric Food Chem 59:6594–6604

14.

Nazni P, Mythili A (2013) Formulation and optimization of vitamin-C rich beverage prepared from ziziphus jujube. Int J Food Sci Nutr 2(2):54–61

15.

Sroka Z, Cisowski W (2003) Hydrogen peroxide scavenging, antioxidant and anti-radical activity of some phenolic acids. Food Chem Toxicol 41:753–758

16.

Wang BN, Liu HF, Zheng JB, Fan MT, Cao W (2011) Distribution of phenolic acids in different tissues of jujube and their antioxidant activity. J Agric Food Chem 59(4):1288–1292

17.

Gao QH, Wu PT, Liu JR, Wu CS, Parry JW, Wang M (2011) Physicochemical properties and antioxidant capacity of different jujube (Ziziphus jujube Mill.) cultivars grown in loess plateau of China. Sci Hortic 130(1):67–72

18.

Koley TK, Kaur C, Nagal S, Walia S, Sarika SJ (2016) Antioxidant activity and phenolic content in genotypes of Indian jujube (Zizyphus mauritiana Lamk.). Arab J Chem 9:1044–1052

19.

Kou XH, Chen Q, Li XH, Li MF, Kan C, Chen BR, Zhang Y, Xue ZH (2015) Quantitative assessment of bioactive compounds and the antioxidant activity of 15 jujube cultivars. Food Chem 173:1037–1044

20.

Yu Y, Zhang S, Ren Y, Li H, Zhang X, Di J (2012) Jujube preservation using chitosan film with nano-silicon dioxide. J Food Eng 113(3):408–414

21.

Chang SC, Hsu BY, Chen BH (2010) Structural characterization of polysaccharides from Zizyphus jujuba and evaluation of antioxidant activity. Int J Biol Macromol 47(4):445–453

22.

Antonio VG, Kong AH, Marcelo C (2012) Effect of temperature and air velocity on drying kinetics, antioxidant capacity, total phenolic content, colour, texture and microstructure of apple (var. granny smith) slices. Food Chem 132(132):51–59

23.

Wojdyło A, Carbonell-Barrachina AA, Legua P, Hernández F (2016) Phenolic composition, ascorbic acid content, and antioxidant capacity of Spanish jujube (Ziziphus jujube Mill.) fruits. Food Chem 201:307–314

24.

Carmona-Jiménez Y, García-Moreno MV, García-Barroso C (2018) Effect of drying on the phenolic content and antioxidant activity of red grape Pomace. Plant Foods Hum Nutr 73:74–81

25.

Beata U-M, Wesolowsk M (2019) Total phenolic contents and antioxidant potential of herbs used for medical and culinary purposes. Plant Foods Hum Nutr 74:61–67
Acknowledgements
This work was supported by the "National Natural Science Foundation of China" (Grant No. 31101325, 31771973), "China Postdoctoral Science Foundation Funded Project" (2017 M613055), "Postdoctoral Science Foundation Funded Project of Shaanxi Province" (2017BSHYDZZ46).
Additional information
Publisher's Note
Springer Nature remains neutral with regard to jurisdictional claims in published maps and institutional affiliations.
About this article
Cite this article
Wang, B., Liu, L., Huang, Q. et al. Quantitative Assessment of Phenolic Acids, Flavonoids and Antioxidant Activities of Sixteen Jujube Cultivars from China. Plant Foods Hum Nutr (2020). https://doi.org/10.1007/s11130-020-00796-1
Keywords
Jujube

Polyphenols

Flavonoids

Antioxidant activity