For antagonists and mutualists: the paradox of insect toxic secondary metabolites in nectar and pollen
Abstract
The plant kingdom produces an extraordinary diversity of secondary metabolites and the majority of the literature supports a defensive ecological role for them, particularly against invertebrate herbivores (antagonists). Plants also produce secondary compounds in floral nectar and pollen and these are often similar to those produced for defense against invertebrates elsewhere in the plant. This is largely because the chemical armoury within a single plant species is typically restricted to a few biochemical pathways and limited chemical products but how their occurrence in floral rewards is regulated to mediate both defence and enhanced pollination is not well understood. Several phytochemicals are reviewed here comparing the defensive function alongside their benefit to flower visiting mutualists. These include caffeine, aconitine, nicotine, thymol, linalool, lupanine and grayanotoxins comparing the evidence for their defensive function with their impacts on pollinators, their behaviour and well-being. Drivers of adaptation and the evolution of floral traits are discussed in the context of recent studies. Ultimately more research is required that helps determine the impacts of floral chemicals in free flying bees, and how compounds are metabolized, sequestered or excreted by flower feeding insects to understand how they may then affect the pollinators or their parasites. More work is also required on how plants regulate nectar and pollen chemistry to better understand how secondary metabolites and their defensive and pollinator supporting functions are controlled, evolve and adapt.
Keywords
Bombus 
Nectar chemicals 
Bee pathogens 
Crithidia bombi
Caffeine 
Nicotine 
Pollinator specialization 
Introduction
Animals and plants show adaptive selection for physical traits that optimize the efficiency of pollen transfer. Typically, adaptations augment greater fidelity or attention from flower visitors to a plant species that optimises pollen transfer between conspecific flowers; typically referred to as specialization (Brosi 2016). One of the most frequently cited examples of pollinator specialization is a physical adaptation; the extraordinarily long nectar spur of the moon orchid, Angraecum sesquipedale (Orchidaceae). This flower was predicted by Charles Darwin in 1862 to be pollinated by a moth with an equally long proboscis and 40 years later turned out to be the case with the discovery of Darwin's Sphinx moth Xanthopan morganii praedicta (Lepidotpera: Sphingidae) (Arditti et al. 2012). Numerous other examples exist where flower morphology has adapted to restrict nectar access to specialist taxa for example, Aconitum spp. (Ranunculaceae) (Thøstesen et al. 1996) and so garner greater pollinator focus and increase pollen transfer.
Phytochemicals also optimise pollination service in many plant species. For example, naïve honeybees show innate attraction to blue colours (Giurfa et al. 1995) which, in flowers, are produced by anthocyanins such as delphinidins (Katsumoto et al. 2007) or more stable metal chelated floral pigments such as commelinin from Commelina communis (Commelinacae) (Kondo et al. 1992). In some cases, the capacity to produce blue has driven highly specialised interactions based on mimicry and pseuodocopulation. The blue colour produced at the heart of the flower of Ophrys speculum (Orchidaceae) by cyanidin glycosides, predominantly the 3-O-(3″-O-malonylglucoside), is enhanced by surface structural features giving it a highly reflective quality that is much closer to the thorax of the mimicked insect (Vignolini et al. 2012).
Flower colours may even change with age or after pollination to dissuade further visitation although this may be dependent upon environmental context and is not common (Ruxton and Schaefer 2016). Pollinators are proposed to be the main selective agent driving the evolution of flower colour (Wang et al. 2013) and in concert with insect pheromone mimicry, illustrate further the extraordinary capacity of plants to mediate the services pollinators and present irresistible attraction for sexually active males. A notable example of floral odour mimicry is the production of a variety of pyrazines by hammer orchids such as Drakaea thynniphila (Orchidaceae) which very closely mimic the sex pheromone of the female Thynnid wasps (Agriomyia spp.) (Hymenoptera: Thynnidae) and prove irresistible to sexually active males (Bohman et al. 2014). So clearly floral chemistry is understood to play a significant role in optimising pollination service.
Floral phytochemistry has seen increased interest in recent years particularly around the chemistry of nectar and pollen and in part stimulated by Adler (2000) and the contemporary scientific popularity of pollination systems as standard bearers for healthy ecosystems. The most comprehensive phytochemical survey of nectar and pollen to date was published recently, analysing 31 cultivated and wild plant species from multiple sites and of different cultivars and established that pollen typically had the highest concentrations of secondary metabolites (Palmer-Young et al. 2019a, b). Since these plant compounds were typically reported to be associated with defence this finding was consistent with optimal defence theory and the importance of pollen as the male gamete but the occurrence in nectar presents an ecological paradox since this is the reward for flower visitors (Stevenson et al. 2017). And furthermore many allelochemicals occurring in plants are toxic or deterrent to bees (Detzel and Wink 1993).
One of the earliest reviews of secondary metabolites in nectar had postulated a defensive function for these compounds and noted that many of the compound groups occurring in nectar were also deterrent or toxic. Why would a flower secrete a toxin into the nectar since this is the reward for flower visitors that transfer pollen from one flower to a conspecific so provide a service to the plant (Baker
1977
)? Subsequent reviews (Adler
2000
; Irwin et al.
2014
; Stevenson et al.
2017
) have synthesised the role of nectar toxins around their various bioactivities—many of which have been convincingly argued to optimise pollen transfer between conspecific flowers. Palmer-Young et al. (
2019a
) reported that of over 100 compounds identified in pollen nectar and corolla tissue across the plant taxa, most were unique to a single species and that nectar and pollen chemistry always comprised of compounds that occurred in other plant tissues in the same species. Thus, if defence compounds occur in the foliage to protect against antagonists, they are likely to also occur in the nectar and pollen and be encountered by mutualists. While concentrations of secondary metabolites varied more in nectar than pollen the consistency with which they occur in nectar is nevertheless unexpected particularly since they are often cited as defensive against other invertebrates. Six examples are reviewed here that illustrate how plant secondary metabolites that have a reported defence function may have a dual role that is in conflict with its protective purpose (Fig.
1
; Table
1
). Existing knowledge gaps are also highlighted relevant to each compound.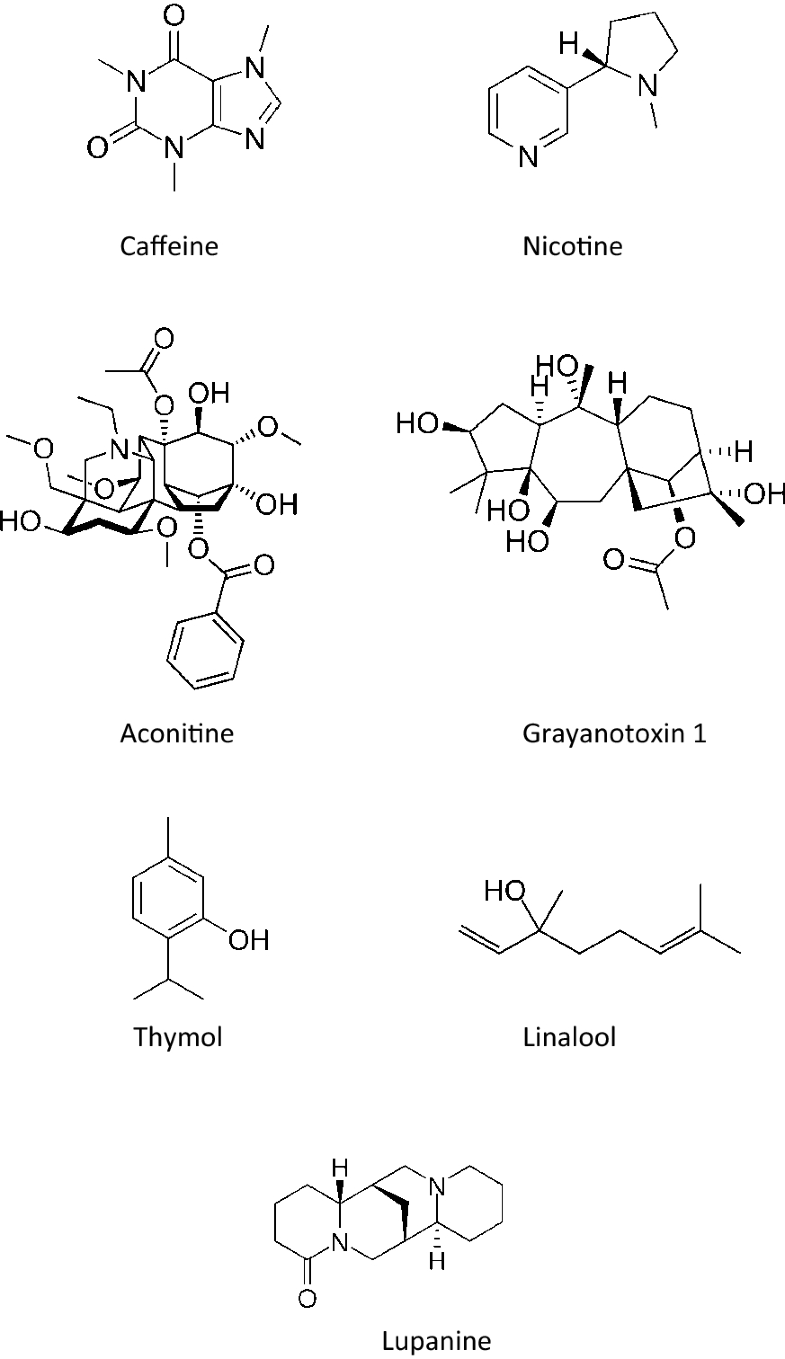 Table 1
Phytochemicals with dual ecological functions that protect against antagonists and optimise pollination services through attraction, behaviour mediation or improved pollinator health
Compounds

Defence function for plants against antagonists

Potential benefits to pollination or pollinators

References

Caffeine

Inhibition of phosphodiesterase and increase in intracellular cAMP in insects

Bioactive versus Spodotera littoralis in transformed tobacco

Toxic to honey bees

Enhances memory for cues associated with good food reward

Increases pollen deposition of Bombus spp

Improves recruitment behaviours and foraging focus

Reduces parasite load in bees

Nathanson (1984), Kim et al. (2006), Detzel and Wink (1993), Wright et al. (2013), Thomson et al. (2015), Couvillon et al. (2015), Richardson et al. (2015a, b), Bernklau et al. (2019)

Grayanotoxin 1

Provides defence against Thrips major in Rhododendron simsii

Related grayanotoxins bioactive against Lepidoptera

Toxic against honey bees and Andrena scotica

Selective toxicity to flower visitors permits preferential nectar access to Bombus spp

Scott-Brown et al. (2016), Klocke et al. (1991), Tiedeken et al. (2016), Tiedeken et al. (2016)

Aconitine

Insect repellent activity to Tribolium castaneum

Insect repellent to Leptinotarsa decemlineata

Protection against nectar robbery by Bombus terrestris with adaptation by the pollinating bee species Bombus hortorum

Ulubelen et al. (2001), González-Coloma et al. (2004), Barlow et al. (2017)

Nicotine

Reduced nectar robbery by ants

Toxic to bees

Reduced Crithidia bombi parasite loads in Bombus spp

Kessler and Baldwin (2007), Köhler et al. (2012), Richardson et al. (2015a, b)

Thymol

Toxic to Trichoplusia ni

Reduces Crithidia bombi parasite loads in Bombus impatiens

Bioactive against the parasite at ecologically relevant concentrations

Wilson and Isman (2006), Richardson et al. (2015a, b), Palmer-Young et al. (2016)

Linalool

Repellent to Nilaparvata lugens

Botanical insecticide

Attracts Thrips major to Sambucus nigra flowers for pollination service

Attracts natural enemies of herbivores

Xiao et al. (2012), Isman (2006), Scott-Brown et al. (2019), Yuan et al. (2008), Xiao et al. (2012)
Conclusions
For decades scientific evidence has strongly supported the primary adaptive function of secondary metabolites in plants for defense against herbivory—especially against invertebrates. There are countless reports of the biological activity of plant extracts and compounds against insects (Isman and Grieneisen 2014) consolidating this view but surprisingly little on the effects of phytochemicals on pollinators. Understanding how traits associated with food reward and reward chemistry would help inform the ecology and evolution of plants and pollinators (Parachnowitsch and Manson 2015).
Here, examples have been review that review ecological functions that benefit the plant through maximizing pollen transfer by repelling less preferred pollinators, supporting heathier pollinators or enhancing their behaviour to deliver more efficient pollination. This compelling evidence for ecological functions based on these biological effects raises the question of what is driving adaptation in plants for secondary metabolites and how does adaptation to herbivory and pollination interact? Ramos and Schiestl (2019) argue that pollination and herbivory are both concurrent drivers of diversity and should be studied together. They showed that plants under selection by pollinators (bees) evolved increased floral attractiveness, but this was compromised by herbivores. Plants under selection from pollinators and herbivores evolved higher degrees of self-compatibility and autonomous selfing, as well as reduced herkogamy.
A similar question is considered across large spatial scales in Egan et al. (2016) who measured levels of the entomotoxic diterpenoids grayanotoxin I (GTX I) and GTX III in leaves and nectar of Rhododendron ponticum in its native and introduced ranges. As mentioned above, high concentrations of GTX I in young Rhododendron leaves provide defense against insects (Scott-Brown et al. 2016) so its primary role appears from this evidence to be defense. But GTX I is also toxic to some pollinating species when encountered in nectar including honeybees and a solitary mining bee species, (Andrena scotica) whereas another pollinator, Bombus terrestris remains unaffected (Tiedeken et al. 2014, 2016) suggesting adaptation by Bombus permitting exclusive access to nectar for the pollinator and specialist pollinator service for the flowers. Occurrence of GTX I, the most active against bees, was significantly lower or absent from nectar in introduced plants whereas GTX III—inactive against the bees—was similar across locations. The occurrence of nectar GTX was not affected by environmental variation, and considering the specificity of change to GTX I, and its differential toxicity to some bee species, its occurrence in the plant may have been influenced during invasion by interaction with herbivores or via pollinator-mediated selection owing to local populations of pollinators in the introduced range being poorly adapted to nectar toxins which in the native range serve to filter out preferred pollinators (Egan et al. 2016). A comprehensive survey of the genus and correlation of the presence of toxic nectar and generalist pollinator syndromes or absence of toxins and specialists' flowers may provide stronger evidence that GTX I serves to filter specialists.
Crop domestication can also drive down plant defenses reducing inherent resistance to herbivory and disease so may similarly affect secondary metabolites in nectar and pollen with consequences for pollinators. In Vaccinium corymbosum (Ericaceae), domestication altered plant chemistry of nectar and pollen, and reduced pollen chemical diversity. These changes included the antimicrobial caffeic acid ester 4-O-caffeoylshikimic acid which could have implications for pollen protection because caffeic acid esters of cyclitols are established herbivore antagonists (Stevenson et al. 1993) but these compounds also protect Bombus impatiens against the gut pathogen Crithidia bombi at concentrations found in wild but not cultivated plants (Egan et al. 2018). This suggests that domestication changed floral traits with consequences for bee health and investigations of pollinator-dependent crops more generally are required to determine broader implications of domestication on floral chemistry associated with domestication (Egan et al. 2018). Further work to establish how chemical adaptation responds to pollinator needs and herbivore defense including spatially discreet studies of nectar secondary compounds to show how variation affects plant ecology is required along with a broader view of phytochemistry beyond antagonistic interactions, that integrates the consequences of chemically defended mutualist rewards. Ultimately many of the knowledge gaps would be filled with more work on free flying bees to understand in realistic ecological settings how these effects manifest (e.g., Singaravelan et al. 2005; Manson et al. 2013; Couvillon et al. 2015).
Notes
Acknowledgements
Research undertaken by the author and reviewed here was produced originally alongside others who are gratefully acknowledged including Prof Geraldine A. Wright (Oxon) supported by BBSRC BB/I000968/1, Prof Lynn Adler (U Mass), Prof Rebecca Irwin (NCSU) and Dr. Evan Palmer-Young (UC Davis) National Science Foundation (NSF DEB-1258096), United States Dept Agriculture USDA-AFRI 2013-02536, Dr. Paul Egan (SLU) and Prof Jane Stout (Trinity College) supported by the Science Foundation of Ireland and the Peter Sowerby Foundation grant to PS, and the author acknowledges the contributions of the many other collaborators.
Copyright information
© The Author(s) 2019
Open AccessThis article is distributed under the terms of the Creative Commons Attribution 4.0 International License (http://creativecommons.org/licenses/by/4.0/), which permits unrestricted use, distribution, and reproduction in any medium, provided you give appropriate credit to the original author(s) and the source, provide a link to the Creative Commons license, and indicate if changes were made.