Assessment tool for hospital admissions related to medications: development and validation in older patients
Abstract
Background Medication-related hospital admissions (MRAs) are frequently used to measure outcomes in studies involving medication reviews. The process of identifying MRAs is subjective and time-consuming, and practical, validated alternatives are required. Objective The aim of this study was to develop and validate a practical tool to identify MRAs. Setting Uppsala University Hospital, Sweden. Method We reviewed existing literature on methods to identify MRAs. The tool AT-HARM10 was developed using an iterative process including content validity and feasibility testing. The tool's inter-rater reliability (IRR) and criterion-related validity (CRV) were assessed: four pairs of either final-year undergraduate or postgraduate pharmacy students applied the tool to one of two batches of 50 older patients' hospital admissions. Assessment of the same 100 admissions by two experienced clinicians acted as gold standard. Main outcome measure Cohen's and Fleiss' kappa for IRR, and sensitivity, specificity, and positive and negative predictive value for CRV. Results AT-HARM10 consists of ten closed questions to distinguish between admissions that are unlikely to be and those that are possibly medication-related. The IRR was moderate to substantial (Cohen's kappa values were 0.45–0.75 and Fleiss' kappa values were 0.46 and 0.58). The sensitivity and specificity values were 70/86% and 74/70%, positive and negative predictive values were 73/74% and 71/83% respectively. Both AT-HARM10 and the gold standard identified approximately 50% of the admissions as MRAs. Conclusion AT-HARM10 has been developed as a practical tool to identify MRAs and the tool is valid for use in older patients by final-year undergraduate and postgraduate pharmacy students.
Keywords
Assessment tool 
Drug-related problems 
Elderly 
Hospital admissions 
Medication-related admissions 
Sweden 
Impacts on practice
The tool, ATHARM10, can be used to identify medication-related hospital admissions in older patients as a valid outcome in clinical research.

The ATHARM10 tool potentially decreases research costs as it can be used by final-year undergraduate or postgraduate pharmacy students with little involvement of clinical experts.
Introduction
Medication-related problems (MRPs) are highly prevalent among older patients taking multiple medications, and can lead to a negative impact on health outcomes and increasing healthcare costs [1]. MRPs are defined here as "undesirable patient experiences that involve medication therapy and that actually or potentially interfere with desired patient outcomes" [2]. These not only involve adverse drug reactions (ADRs) to prescribed medication, but can also involve problems such as inappropriate prescribing and non-compliance, and problems related to over-the-counter (OTC) medications. Up to 30% of older patients' hospital admissions can be attributed to MRPs [3, 4]. Over half of these medication-related admissions (MRAs) are possibly or definitely preventable [5, 6, 7, 8]. Healthcare interventions, such as medication reviews, have been introduced to promote appropriate prescribing, increase the correct use of medications and decrease the incidence of MRAs [9, 10, 11]. As such interventions primarily target medications and medication-related issues, MRAs are consequently the main admissions that they can impact. The use of the incidence of MRAs as an outcome measure has therefore recently been proposed as part of a standard core-outcome set for studies involving medication reviews in older patients taking multiple medications [12].
However, there is no validated method of identifying MRAs. The most common method is for an expert panel to assess the patient's medical record and reach a consensus [11, 13, 14]. The use of an expert panel is often viewed as the "gold standard". In medicine, a gold standard refers to a test, a treatment, or a benchmark that is the best available under reasonable conditions [15]. An expert panel assessment involves the use of senior clinicians or researchers and is often time-consuming, which makes it a costly method. To lower research costs, involvement of under- or postgraduate students should be considered in academic research [16]. However, the identification of MRAs by either an expert panel or students will inevitably introduce a degree of subjectivism. The use of standardized methods that have been tested for reliability and validity can minimize this subjectivism [15, 17, 18]. Validated tools for determining the association between ADRs and hospital admissions, such as the Naranjo algorithm, are often used [19, 20, 21, 22, 23]. Unfortunately, none of these tools have been developed to identify the full range of MRPs that can result in hospital admissions, leading to the risk of underestimating the incidence of MRAs. In fact, non-compliance has been found to be one of the largest contributors to MRAs [5, 24, 25]. One standardized method to identify the full range of MRAs in older people has recently been developed [26]. However, the performance of this method in terms of predictive validity, sensitivity and specificity has not yet been validated and it also uses an expert panel for the assessment.
Our research group is currently carrying out a cluster-randomized controlled trial [the Medication Reviews Bridging Healthcare (MedBridge) study] which aims to evaluate the effects of comprehensive medication reviews in hospitalized older patients [27]. One of the outcome measures is the incidence of MRAs, and more than 5000 readmissions are expected during the 12-month follow-up period. There is thus a need for a practical assessment tool, defined as being possible to use by under- or postgraduate pharmacy students, within a limited time frame and without the need for an expert panel.
Aim of the study
The aim of this study was to develop and validate a practical tool to identify MRAs.
Ethics approval
This study is part of the MedBridge study, which has received ethical approval from the Swedish Central Ethical Review Board (CEPN Ö21-2016). Additional approval for the medical record screening of non-MedBridge study participants was received from Uppsala University Hospital, in compliance with local regulations.
Results
Clarification: all results in this section relate to the testing of the final tool, AT-HARM10, not to the work done on earlier versions of the tool as this was covered in the Methods section above.
Content validity
After the development phase resulting in the final tool, AT-HARM10, the question that was used most often when assessing the admissions was question U1 (148/400), followed by questions P8 (75/400), P4 (68/400) and P5 (47/400), see Fig. 
1
. All the questions were used at least twice. In all cases, at least one question was answered with "Yes", hence no expert panel was needed.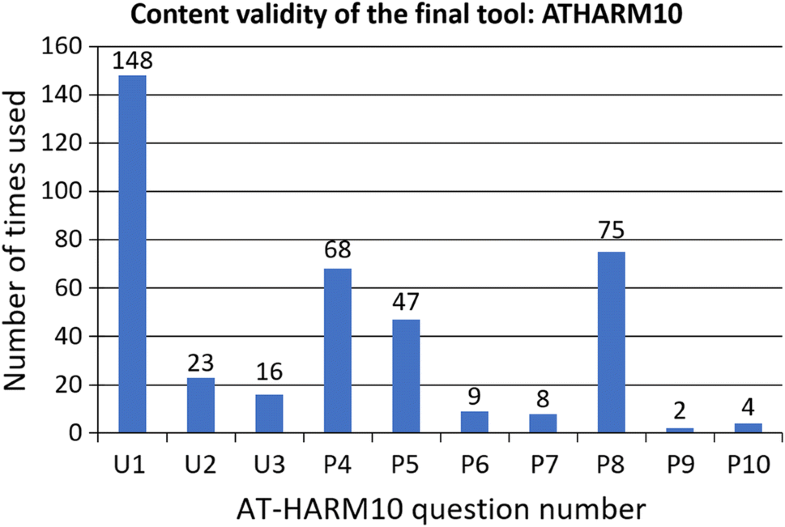 Clinical utility
According to the fifteen assessing clinical pharmacists, AT-HARM10 was sufficiently relevant and user-friendly and was easy to use; no further changes were suggested. The limited data obtained from the example patients were deemed sufficient to answer the questions in the tool. The time used to assess each admission was on average 5.7 (range 2.5–14) min.
Inter-rater reliability
The strength of agreement was substantial for one pair of study assessors (Cohen's kappa 0.75) and moderate for the other three (Cohen's kappa 0.45–0.57), see Table 
4
. The strength of agreement among all assessors was moderate (Fleiss' kappa 0.58 and 0.46 for the two batches of data).
Table 4
Inter-rater reliability between assessors using AT-HARM10
| Pairs | Admissions assessed | Cohen's kappa | Fleiss' kappa |
| --- | --- | --- | --- |
| 1 | 1–50 | 0.75 | 0.58 |
| 2a | 1–50 | 0.45 |   |
| 3 | 51–100 | 0.52 | 0.46 |
| 4 | 51–100 | 0.57 |   |
Criterion-related validity
The gold standard experts reached consensus for all 100 assessments, which resulted in 50% of the 100 admissions being classified as
unlikely
to be and 50% as
possibly
a MRA. Pairs 1 + 3 and 2 + 4 assigned 52% and 42%, respectively, to
unlikely, and
48% and 58%, respectively, to
possibly.
The sensitivity was 70% and 86% for pairs 1 + 3 and 2 + 4, respectively. The specificity was 70% and 74% for 1 + 3 and 2 + 4, respectively. The PPV and NPV were 73%/74% for 1 + 3/2 + 4 and 71%/83% for 1 + 3/2 + 4, respectively (Table 
5
).
Table 5
Criterion-related validity of AT-HARM10
 

Gold standard

Total pairs

Sens. (%)

Spec. (%)

PPV (%)

NPV (%)

Unlikely

Possibly

Pair 1 + 3

Unlikely

37

15

52 (52%)

70

74

73

71

Possibly

13

35

48 (48%)

 
 
 
 

Pair 2 + 4

Unlikely

35

7

42 (42%)

86

70

74

83

Possibly

15

33

58 (58%)

 
 
 
 

Total gold standard

50 (50%)

50 (50%)

 
 
 
 
 
Discussion
We have developed a tool for identifying MRAs, AT-HARM10, and validated the tool for use in older patients by final-year undergraduate or postgraduate pharmacy students. The IRR, with Cohen's kappa values ranging from 0.45 to 0.75 and Fleiss' kappa values of 0.46 and 0.58, was moderate to substantial, and the CRV, with values ranging from 70 to 86%, was moderate to high [15]. No expert panel was needed for the assessments using AT-HARM10. An assessment took on average 6 (range 2.5–14) min, meaning that the expected 5000 readmissions in the MedBridge study can be assessed in 500 h. The recently published method by Thevelin et al. [26] had similar IRR (Cohen's kappa values from 0.33 to 0.86 and a Fleiss' kappa of 0.41), but the mean time needed to assess an admission was considerably longer (23 ± 6 min) and the method involves the use of experts in geriatric medicine.
Approximately half of all admissions in this study were considered possibly medication-related, according to both the gold standard experts (50%) and the AT-HARM10 assessments (48–58%). These figures are higher than anything we have identified in the literature (the highest was 30% [3, 4]). There are several possible explanations for this: we included all types of MRPs in our assessments and we did not assess the degree of certainty (i.e. we had the pragmatic view that for some chronic diseases, typically diabetes mellitus and congestive heart failure, it is hard to rule out the possibility that suboptimal therapy had contributed to the admission).
Another way of looking at the results is that, with ATHARM10, researchers can quickly rule out 50% of the admissions as unlikely to be medication-related. Hence, should one wish to elaborate on preventability or degree of certainty, for example using an expert panel, only half of the hospital admissions need to be evaluated in more depth.
The tool was developed in close collaboration with the intended future users, which helped to keep the process on track. Also, since AT-HARM10 has been developed and tested over a period of nearly 2 years, we feel that all possible aspects of the tool and its use have been carefully considered. All ten questions were based on criteria from previous studies or existing tools, and the tool takes into consideration all possible MRP categories. A broad range of relevant validation parameters have successfully been tested and all of these are standard parameters in validation studies [15, 17, 48, 49].
One aspect that was deemed important throughout the study was the care taken to thoroughly introduce and demonstrate the use of the tool before starting any assessments. The tool is therefore not just the ten questions, it also includes the whole package of instructions and examples ("Supplementary material"), relying on thorough elaboration and group discussion before starting the assessments.
There are several limitations to this study. First, AT-HARM10 does not assess the degree of certainty or the preventability of MRAs. This was deliberate, as we wanted to keep the tool simple and straightforward, specifically for measuring the incidence of MRAs as a research outcome. Second, the study would perhaps have benefitted from more input from the medical profession; i.e. by including experts in diagnostics. The gold standard may not necessarily be totally reliable; however, an expert panel with full access to the patient data is the best we currently have. Third, we did not perform a comprehensive systematic review of the literature. We may have missed relevant studies in our literature review. However, no validated methods were found in a recent more structured literature review either [26]. We consider AT-HARM10 a valid and practical tool to identify MRAs in older patients and a valuable addition to already existing research methods. It is however, at this moment, unclear if the tool can be used as it is in patients younger than 65 years, by other healthcare students (e.g. medical students) and in other countries. The information sources used for the assessment may need to be adjusted for the local situation. To confirm the results of this study, AT-HARM10 would benefit from further validation performed by independent, national and international research groups with different patient populations.
Conclusion
AT-HARM10 has been developed as a practical tool to identify MRAs and the tool is valid for use in older patients by final-year undergraduate and postgraduate pharmacy students.
Notes
Acknowledgements
We are sincerely grateful to Dr. Christina Grzechnik Mörk for her contribution as one of the gold standard experts. We would also like to thank all the participating final-year pharmacy students at Uppsala University and the clinical pharmacists at Uppsala University Hospital for their time and valuable input in the development and validation of AT-HARM10.
Funding
This study is part of the MedBridge study which has received governmental research funding from the Uppsala-Örebro Regional Research Council [Grant Numbers RFR-555601, RFR-641791 and RFR-735911], Region Uppsala [Grant Numbers LUL-527721, LUL-614061 and LUL-716201], Region Gävleborg [Grant Numbers CFUG-658451 and CFUG-698771] and Region Västmanland [Grant Numbers LTV-675921, LTV-712341 and LTV-736641]. The study has also received funding from the Swedish Pharmacists Association [Sveriges Farmaceuter], the Thuréus Fund for Geriatric Research [Thuréus stiftelse för främjande av geriatrisk forskning], the Geriatric Fund [Geriatriska fonden] and the Swedish Heart and Lung Association [Riksförbundet HjärtLung; Grant Number FA 2017:38].
Conflicts of interest
All authors declare that they have no conflicts of interest.
Copyright information
© The Author(s) 2018
Open AccessThis article is distributed under the terms of the Creative Commons Attribution 4.0 International License (http://creativecommons.org/licenses/by/4.0/), which permits unrestricted use, distribution, and reproduction in any medium, provided you give appropriate credit to the original author(s) and the source, provide a link to the Creative Commons license, and indicate if changes were made.