Abstract
Purpose
We compared results of in vitro performance testing with results of therapeutic equivalence study for calcipotriol/betamethasone ointment, to evaluate their sensitivity and in vivo relevance.
Methods
Different in vitro methods were used to evaluate drug release and permeation from the test and reference ointment. Moreover, 444 psoriasis patients were randomized in the therapeutic equivalence study and the parameters of efficacy and safety were compared with in vitro results.
Results
In vitro release and permeation rate of calcipotriol and betamethasone from the test formulation was higher than from the reference product for all methods used (p ≤ 0.05 for calcipotriol and p < 0.01 for betamethasone). Observed batch-to-batch variability of reference product confirmed high sensitivity and discriminatory power of in vitro methods. Higher release and permeation rate of calcipotriol and betamethasone from test product was reflected in the efficacy assessment (mean response difference 4.78 mPASI percentage points), but the observed difference was within the equivalence margins. Systemic exposure to calcipotriol and betamethasone was similar in both treatment groups.
Conclusion
The results of in vitro experiments rank orderly correlated with the results of clinical study. In vitro methods are more sensitive and highly discriminatory when compared to in vivo performance.
This is a preview of subscription content, log in to check access.
Access options
Buy single article
Instant access to the full article PDF.
US$ 39.95
Price includes VAT for USA
Subscribe to journal
Immediate online access to all issues from 2019. Subscription will auto renew annually.
US$ 199
This is the net price. Taxes to be calculated in checkout.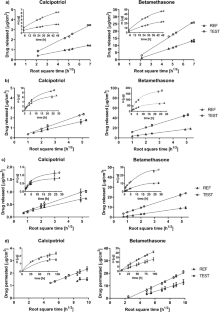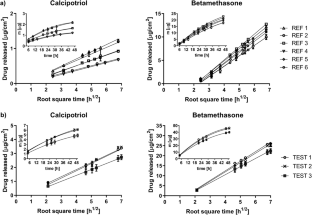 Abbreviations
BSA:

Body surface area

CI:

Confidence interval

CN:

Cellulose-nitrate

IPGA:

Investigators Psoriasis Global Assessment

MFA, MFB:

Mobile phase A/B

mPASI:

Modified Psoriasis Area and Severity Index

PPGA:

Patients Psoriasis Global Assessment

Q1:

Qualitative

Q2:

Quantitative

Q3:

Microstructure

SD:

Standard deviation

TCS:

Topical Drug Classification System

USA:

United States of America

UPLC:

Ultra Performance Liquid Chromatography

USP:

United States Pharmacopeia

UV:

Ultraviolet
References
1.

Shah VP. IV-IVC for topically applied preparations - a critical evaluation. Note Eur J Pharm Biopharm. 2005;60:309–14.

2.

Raney SG, Franz TJ, Lehman PA, Lionberger R, Chen M-L. Pharmacokinetics-based approaches for bioequivalence evaluation of topical dermatological drug products. Clin Pharmacokinet. 2015;54:1095–106.

3.

Pershing LK, Silver BS, Krueger GG, Shah VP, Skelley JP. Feasibility of measuring the bioavailability of topical betamethasone dipropionate in commercial formulations using drug content in skin and a skin blanching bioassay. Pharm Res. 1992;9:45–51.

4.

Miranda M, Sousa JJ, Veiga F, Cardoso C, Vitorino C. Bioequivalence of topical generic products. Part 1: where are we now? Eur J Pharm Sci. 2018;123:260–7.

5.

Lademann J, Jacobi U, Surber C, Weigmann H-J, Fluhr JW. The tape stripping procedure – evaluation of some critical parameters. Eur J Pharm Biopharm. 2009;72:317–23.

6.

US Department of Health and Human Services, Food and Drug Administration. Guidance for industry. Supac-SS. Non-sterile semisolid dosage forms. Scale-up and postapproval changes: chemistry, manufacturing and controls; In vitro release testing and in vivo bioequivalence documentation. 1997. https://www.fda.gov/regulatory-information/search-fda-guidance-documents/supac-ss-nonsterile-semisolid-dosage-forms-scale-and-post-approval-changes-chemistry-manufacturing

7.

Shah VP, Yacobi A, Radulescu FS, Miron DS, Lane ME. A science based approach to topical drug classification system (TCS). Int J Pharm. 2015;491:21–5.

8.

Yacobi A, Shah VP, Bashaw ED, Benfeld E, Davit B, Ganes D, et al. Current challenges in bioequivalence, quality, and novel assessment technologies for topical products. Pharm Res. 2014;31:837–46.

9.

Miranda M, Sousa JJ, Veiga F, Cardoso C, Vitorino C. Bioequivalence of topical generic products. Part 2. Paving the way to a tailored regulatory system. Eur J Pharm Sci. 2018;122:264–72.

10.

Thasler WE, Weiss TS, Schillhorn K, Stoll P-T, Irrgang B, Jauch K-W. Charitable state-controlled foundation human tissue and cell research: ethic and legal aspects in the supply of surgically removed human tissue for research in the academic and commercial sector in Germany. Cell Tissue Bank. 2003;4:49–56.

11.

Habjanic N, Koytchev R, Yankova R, Kerec-Kos M, Grabnar-Peklar D. Therapeutic equivalence of two formulations of calcipotriol-betamethasone ointment: a multi-Centre, randomized, double-blind study in adult patients with chronic plaque psoriasis. Br J Dermatol. 2018;179:1189–91.

12.

EMA. Daivobet - Article 30 referral Annex III. [Online] 2011. https://www.ema.europa.eu/en/documents/referral/daivobet-article-30-referral-annexes-i-ii-iii_en.pdf.

13.

eMC. Calcipotriol/betamethasone Sandoz 50 micrograms per g / 500 micrograms per g ointment SmPC. [Online] 2018. https://www.medicines.org.uk/emc/product/2002/smpc.

14.

The chemistry review for NDA 21–852. Daivobet Ointment, Leo Pharmaceutical Products (Leo Pharm A/S). Center for drug evaluation and research. U.S Food and Drug Administration.

15.

United States Pharmacopeial Convention. United States Pharmacopeia and National Formulary (USP 42 – NF 37 S1). Rockville, MD.

16.

EDQM. European Pharmacopoeia 9.8. Strasbourg, France.

17.

United States Pharmacopeial Convention. United States Pharmacopeia General Chapter <1724>, Semisolid Drug Products - Performance Tests. USP 37, 2014:1273–1284.

18.

Zatz JL. Drug release from semisolids: effect of membrane permeability on sensitivity to product parameters. Pharm Res. 1995;12(5):787–9.

19.

Shah VP, Elkins JS, Williams RL. Evaluation of the test system used for in vitro release of drugs for topical dermatological drug products. Pharm Dev Technol. 1999;4:377–85.

20.

Baert B, Annavarapu S, Burvenich C, De Spiegeleer B. Analytical, biopharmaceutical and regulatory evaluation of topical testosterone preparations. Eur J Pharm Biopharm. 2009;72:275–81.

21.

Baert B, Boonen J, Burvenich C, Roche N, Stillaert F, Blondeel P, et al. A new discriminative criterion for the development of Franz diffusion tests for transdermal pharmaceuticals. J Pharm Pharmaceut Sci. 2010;13(2):218–30.

22.

Simonsen L, Høy G, Didriksen E, Persson J, Melchior N, Hansen J. Development of a new formulation combining calcipotriol and betamethasone dipropionate in an ointment vehicle. Drug Dev Ind Pharm. 2004;30:1095–102.

23.

Bao O, Newman B, Wang Y, Choi S, Burgess DJ. In vitro and ex vivo correlation of drug release from ophthalmic ointments. J Control Release. 2018;276:93–101.

24.

Lin Y-K, Yang S-H, Chen C-C, Kao H-C, Fang J-Y. Using imiquimod-induced psoriasis-like skin as a model to measure the skin penetration of anti-psoriatic drugs. PLoS One. 2015. https://doi.org/10.1371/journal.pone.0137890.

25.

Sun L, Liu Z, Liu Z, Cun D, Tong HHY, Yan R, et al. Comparison of normal versus imiquimod-induced psoriatic skin in mice for penetration of drugs and nanoparticles. Int J Nanomedicine. 2018;13:5625–35.

26.

Douglas WS, Poulin Y, Decroix J, Ortonne JP, Mrowietz U, Gulliver W, et al. A new calcipotriol/betamethasone formulation with rapid onset of action was superior to monotherapy with betamethasone dipropionate or calcipotriol in psoriasis vulgaris. Acta Derm Venerol. 2002;82:131–5.

27.

Guenther L, Cambazard F, van de Kerkhof PCM, Snellman E, Kragballe K, Chu AC, et al. Efficacy and safety of a new combination of calcipotriol and betamethasone dipropionate (once or twice daily) compared to calcipotriol (twice daily) in the treatment of psoriasis vulgaris: a randomized, double-blind, vehicle-controlled clinical trial. Br J Dermatol. 2002;147:316–23.

28.

Papp KA, Guenther L, Boyden B, Larsen FG, Harvima RJ, Guilhou JJ, et al. Early onset of action and efficacy of a combination of calcipotriene and betamethasone dipropionate in the treatment of psoriasis. J Am Acad Dermatol. 2003;48:48–54.

29.

Fleming C, Ganslandt C, Leese GP. Short- and long-term safety assessment of a two-compound ointment containing calcipotriene/betamethasone dipropionate (Taclonex/Daivobet/Dovobet ointment): hypothalamic-pituitary-adrenal axis function in patients with psoriasis vulgaris. J Drugs Dermatol. 2010;9:969–74.

30.

Kragballe K, Austad J, Barnes L, Bibby A, de la Brassinne M, Cambazard F, et al. A 52-week randomized safety study of a calcipotriol/betamethasone dipropionate two-compound product (Dovobet®/Daivobet®/Taclonex®) in the treatment of psoriasis vulgaris. Br J Dermatol. 2006;154:1155–60.
Funding
The study was funded by Lek Pharmaceuticals d.d., a Sandoz company.
Additional information
Publisher's Note
Springer Nature remains neutral with regard to jurisdictional claims in published maps and institutional affiliations.
About this article
Cite this article
Habjanič, N., Kerec Kos, M. & Kristan, K. Sensitivity of Different In Vitro Performance Tests and Their In Vivo Relevance for Calcipotriol/Betamethasone Ointment. Pharm Res 37, 52 (2020). https://doi.org/10.1007/s11095-020-2766-5
Received:

Accepted:

Published:
Key Words
betamethasone

calcipotriol

permeation

release

therapeutic equivalence