Abstract
Purpose
Heat therapy is widely used for pain relief and may unintentionally be used in conjunction with pain relieving topical formulations. The purpose of this study was to evaluate the influence of heat on the permeation of diclofenac through porcine and human skin, comparing four marketed products.
Methods
In vitro permeation tests (IVPT) were performed on porcine skin from a single miniature pig and human skin from three donors. Skin temperature was maintained at either 32 ± 1°C or 42 ± 1°C to mimic normal and elevated skin temperature conditions, respectively.
Results
IVPT studies on porcine and human skin were able to demonstrate heat-induced enhancement in flux and cumulative amount of drug permeated from the four diclofenac products. The pivotal data showed the most significant heat-induced enhancement for the solution, followed by the patch and two gels in decreasing order of significance based on p values. Diclofenac solution showed the highest flux and cumulative amount permeated at both baseline and elevated skin temperature compared to the patch and gels.
Conclusions
The studies demonstrated that exposure to heat can alter drug permeation from topical formulations, but the increased levels are not expected to lead to systemic concentrations that are of concern. Formulation design and excipients can influence drug permeation at elevated skin temperature.
This is a preview of subscription content, log in to check access.
Access options
Buy single article
Instant access to the full article PDF.
US$ 39.95
Price includes VAT for USA
Subscribe to journal
Immediate online access to all issues from 2019. Subscription will auto renew annually.
US$ 199
This is the net price. Taxes to be calculated in checkout.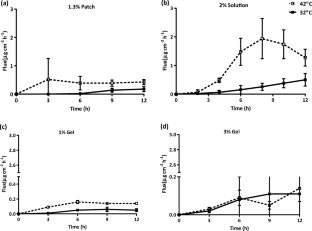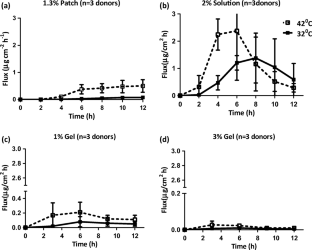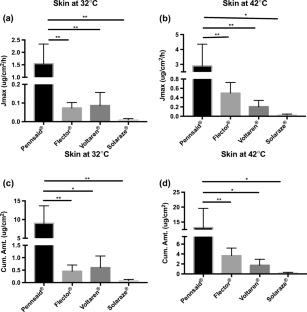 Abbreviations
ANOVA:

Analysis of variance

API:

Active pharmaceutical ingredient

CHADD:

Controlled heat-aided drug delivery

CHTN:

NCI Cooperative Human Tissue Network

Cmax :

Maximum concentration

CV:

Cardiovascular

HA:

Hyaluronic Acid

HPLC:

High-performance liquid chromatography

IVPT:

In vitro permeation test

Jmax :

Maximum flux

LLE:

Liquid-liquid extraction

LLOQ:

Lower limit of quantification

logP:

Logarithm of octanol-water partition coefficient

pKa:

Acid dissociation constant

QC:

Quality control

SC :

Stratum corneum

TEWL:

Transepidermal water loss
References
1.

Allenby AC, Fletcher JA, Schock C, Tees TFS. Effect of heat, pH and organic solvents on electrical impedance and permeability of excised human skin. Br J Dermatol. 1969;81(4):31–9.

2.

Treffel P, Muret P, Aniello PM, Coumes-Marquet S, Agache P. Effect of occlusion on percutaneous absorption of two compounds with different physiochemical properties. Skin Pharmacol. 1992;5:108–13.

3.

Grissinger M. Fentanyl transdermal patches: more protection needed for patients and their families. P T. 2009;34(7):343–90.

4.

Rose PG, Macfee MS, Boswell MV. Fentanyl transdermal system overdose secondary to cutaneous hyperthermia. Anesth Analg. 1993;77:390–1.

5.

Ashburn MA, Ogden LL, Zhang J, Love G, Basta SV. The pharmacokinetics of transdermal fentanyl delivered with and without controlled heat. J Pain. 2003;4(6):291–7.

6.

Petersen KK, Rousing ML, Jensen C, Arendt-Nielsen L, Gazerani P. Effect of local controlled heat on transdermal delivery of nicotine. Int J Physiol Pathophysiol Pharmacol. 2011;3(3):236–42.

7.

Prodduturi S, Sadrieh N, Wokovich AM, Doub WH, Westenberger BJ, Buhse L. Transdermal delivery of fentanyl from matrix and reservoir systems: effect of heat and compromised skin. J Pharm Sci. 2010;99(5):2357–66.

8.

Barkve TF, Langseth-Manrique K, Bredesen JE, Gjesdal K. Increased uptake of transdermal glyceryl trinitrate during physical exercise and during high ambient temperature. Am Heart J. 1986;112(3):537–41.

9.

Klemsdal TO, Gjesdal K, Bredesen JE. Heating and cooling of the nitroglycerin patch application area modify the plasma level of nitroglycerin. Eur J Clin Pharmacol. 1992;43(6):625–8.

10.

Shin SH, Thomas S, Raney SG, Ghosh P, Hammell DC, El-Kamary SS, et al. In vitro–in vivo correlations for nicotine transdermal delivery systems evaluated by both in vitro skin permeation (IVPT) and in vivo serum pharmacokinetics under the influence of transient heat application. J Control Release. 2018;270:76–88.

11.

Shomaker TS, Zhang J, Ashburn MA. Assessing the impact of heat on the systemic delivery of fentanyl through the transdermal fentanyl delivery system. Pain Med. 2000;1(3):225–30.

12.

Shomaker TS, Zhang J, Ashburn MA. A pilot study assessing the impact of heat on the transdermal delivery of testosterone. J Clin Pharmacol. 2001;41(6):677–82.

13.

Marriott TB, Charney MR, Stanworth S. Effects of application durations and heat on the pharmacokinetic properties of drug delivered by a lidocaine/tetracaine patch: a randomized, open-label, controlled study in healthy volunteers. Clin Ther. 2012;34(10):2174–83.

14.

Shin SH, Ghosh P, Newman B, Hammell DC, Raney SG, Hassan HE, et al. On the road to development of an in vitro permeation test (IVPT) model to compare heat effects on transdermal delivery systems: exploratory studies with nicotine and fentanyl. Pharm Res. 2017;34:1817–30.

15.

Akomeah F, Nazir T, Martin GP, Brown MB. Effect of heat on the percutaneous absorption and skin retention of three model penetrants. Eur J Pharm Sci. 2004;21:337–45.

16.

Chattaraj SC, Kanfer I. Release of acyclovir from semisolid dosage forms: a semi-automated procedure using a simple plexiglass flow-through cell. Int J Pharm. 1995;125:215–22.

17.

Voltaren(R) Gel [package insert]. Novartis, Parsipanny, NJ; 2009. [Available from: http://www.accessdata.fda.gov/drugsatfda_docs/label/2016/022122s010lbl.pdf ].

18.

Ogiso T, Hirota T, Iwaki M, Hino T, Tanino T. Effect of temperature on percutaneous absorption of terodiline, and relationship between penetration and fluidity of the stratum corneum lipids. Int J Pharm. 1998;176:63–72.

19.

Peck KD, Ghanem AH, Higuchi WI. The effect of temperature upon the permeation of polar and ionic solutes through human epidermal membrane. J Pharm Sci. 1995;84(8):975–82.

20.

McGettigan P, Henry D. Use of non-steroidal anti-inflammatory drugs that elevate cardiovascular risk: an examination of sales and essential medicines lists in low-, middle-, and high-income countries. PLoS Med. 2013;10(2):e1001388.

21.

Cordery SF, Pensado A, Chiu WS, Shewab MZ, Bunge AL, Delgdo-Charro MB, et al. Topical bioavailability of diclofenac from locally acting dermatological formulations. Int J Pharm. 2017;529:59–64.

22.

Singh P, Roberts MS. Skin permeability and local tissue concentrations of non-steroidal anti-inflammatory drugs after topical application. J Pharmacol Exp Ther. 1994;268(1):144–51.

23.

Lien EJ, Tong GL. Physicochemical properties and percutaneous absorption of drugs. J Soc Cosmet Chem. 1973;24:371–84.

24.

Chantasart D, Chootanasoontorn S, Suksiriworapong J, Li SK. Investigation of pH influence on skin permeation behavior of weak acids using nonsteroidal anti-inflammatory drugs. J Pharm Sci. 2015;104:3459–70.

25.

Trommer H, Neubert RHH. Overcoming the stratum corneum: modulation of skin permeation. Skin Pharmacol Physiol. 2006;19(2):106–21.

26.

Marra DE, Yip D, Fincher EF, Moy RL. Systemic toxicity from topically applied lidocaine in conjunction with fractional photothermolysis. Arch Dermatol. 2006;142(8):1024–6.

27.

Tsai JC, Flynn GL, Weiner ND, Ferry JJ. Effect of minoxidil concentration on the deposition of drug and vehicle into the skin. Int J Pharm. 1993;96:111–7.

28.

Chiang CM, Flynn GL, Weiner ND, Szpunar GJ. Bioavailability assessment of topical delivery systems: effect of vehicle evaporation upon in vitro delivery of minoxidil from solution formulations. Int J Pharm. 1989;55:229–36.

29.

McCarberg BH, Argoff CE. Topical Diclofenac epolamine patch 1.3% for treatment of acute pain caused by soft tissue injury. Int J Clin Pract. 2010;64(11):1546–53.

30.

Sintov AC. Cumulative evidence of the low reliability of frozen/thawed pig skin as a model for in vitro percutaneous permeation testing. Eur J Pharm Sci. 2017;102:261–3.

31.

Simon GA, Maibach HI. The pig as an experimental animal model of percutaneous permeation in man: qualitative and quantitative observations- an overview. Skin Pharmacol Appl Ski Physiol. 2000;13:229–34.

32.

Brown MB, Jones SA. Hyaluronic acid: a unique topical vehicle for localized delivery of drugs to the skin. J Eur Acad Dermatol Venereol. 2005;19(3):308–18.

33.

Suzuki I, Miyazaki Y, Uchino T, Kagawa Y. Influence of locally applied heat on the performance of transdermal diclofenac sodium plasters. Int J Pharm Pharm Sci. 2014;6(10):167–70.
ACKNOWLEDGMENTS AND DISCLOSURES
Funding for this project was made possible, in part, by the Food and Drug Administration through grant U01FD004955. The views expressed in this paper do not reflect the official policies of the Department of Health and Human Services; nor does any mention of trade names, commercial practices, or organization imply endorsement by the United States Government.
Additional information
Publisher's Note
Springer Nature remains neutral with regard to jurisdictional claims in published maps and institutional affiliations.
About this article
Cite this article
Thomas, S., Shin, S.H., Hammell, D.C. et al. Effect of Controlled Heat Application on Topical Diclofenac Formulations Evaluated by In Vitro Permeation Tests (IVPT) Using Porcine and Human Skin. Pharm Res 37, 49 (2020). https://doi.org/10.1007/s11095-019-2741-1
Received:

Accepted:

Published:
KEY WORDS
diclofenac

drug permeation

heat

temperature