Formulation of Natural Oil Nano-Emulsions for the Topical Delivery of Clofazimine, Artemisone and Decoquinate
Part of the following topical collections:
Abstract
Purpose
The aim of this study was to formulate nano-emulsions comprising natural oils and the active pharmaceutical ingredients (APIs) clofazimine (CLF), artemisone (ATM) and decoquinate (DQ) in order to determine effectiveness of the nano-emulsions for topical delivery of the APIs. The APIs alone do not possess suitable physicochemical properties for topical drug delivery.
Methods
Nano-emulsions were formulated with olive and safflower oils encapsulating the APIs. Skin diffusion and tape stripping studies were performed. By using the lactate dehydrogenase (LDH) assay, in vitro toxicity studies were carried out on immortalized human keratinocytes (HaCaT) cell line to determine cytotoxicities due to the APIs and the nano-emulsions incorporating the APIs.
Results
The nano-emulsions were effective in delivering the APIs within the stratum corneum-epidermis and the epidermis-dermis, were non-cytotoxic towards HaCaT cell lines (p < 0.05) and inhibited Mycobacterium tuberculosis in vitro.
Conclusion
Natural oil nano-emulsions successfully deliver CLF, ATM and DQ and in principle could be used as supplementary topical treatment of cutaneous tuberculosis (CTB).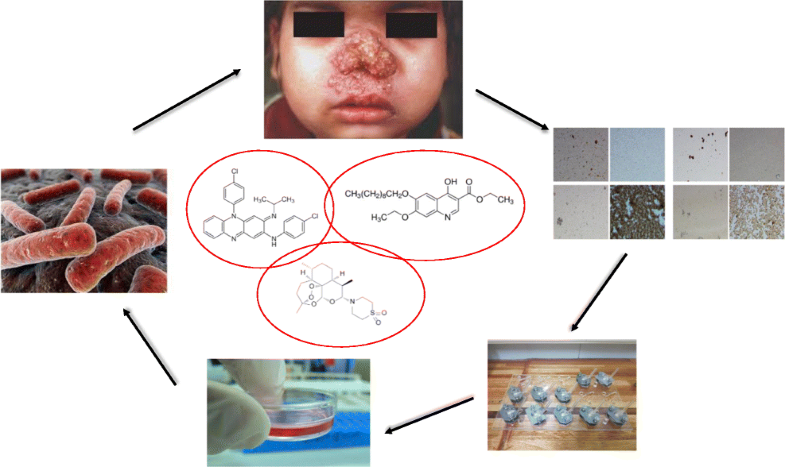 Key Words
artemisone 
clofazimine 
cutaneous tuberculosis 
decoquinate 
nano-emulsions 
Abbreviations
7H9/OADC

Middlebrook 7HP Broth Base and Middlebrook AODC growth supplement

ANOVA

Analysis of variance

API

Active pharmaceutical ingredient

ATM

Artemisone

attB

Phage attachment site

CFU

Colony-forming units

CLF

Clofazimine

CTB

Cutaneous tuberculosis

DMEM

Dulbecco's modified eagle medium

DMSO

Dimethyl sulfoxide

DQ

Decoquinate

ED

Epidermis-dermis

EDTA

Trypsin-Versene®

EE%

Entrapment efficiency

FBS

Fetal bovine serum

GAST/Fe

Glycerol-alanine-salts containing iron

GFP

Green fluorescent protein

HaCaT

Immortalized human keratinocyte cells

HPLC

High performance liquid chromatography

Hyg50

Hygromycin B resistance gene

INH

Isoniazid

LDH

Lactate dehydrogenase

LOD

Limit of detection

Log D

Octanol-water distribution coefficient

LOQ

Limit of quantitation

M.tb

Mycobacterium tuberculosis

MDR-TB

Multidrug-resistant tuberculosis

MIC90

90% Minimum inhibitory concentration

NEAA

Non-essential amino acids

O

Olive oil

O1

Olive oil nano-emulsion containing clofazimine

O2

Olive oil nano-emulsion containing artemisone

O3

Olive oil nano-emulsion containing decoquinate

O4

Olive oil nano-emulsion containing clofazimine, artemisone and decoquinate

O5

Olive oil nano-emulsion placebo

OD600

Optical density reading taken at 600 nm

PBS

Phosphate buffer solution

Pen/Strep

Penicillin/Streptomycin

PVDF

Polyvinylidene fluoride

ROS

Reactive oxygen species

S

Safflower oil

S1

Safflower oil nano-emulsion containing clofazimine

S2

Safflower oil nano-emulsion containing artemisone

S3

Safflower oil nano-emulsion containing decoquinate

S4

Safflower oil nano-emulsion containing clofazimine, artemisone and decoquinate

S5

Safflower oil nano-emulsion placebo

SCE

Stratum corneum-epidermis

TB

Tuberculosis
Notes
Acknowledgments and Disclosures
This research project was supported by the South African Medical Research Council (MRC) Flagship Project Scheme with funds from the National Treasury under its Economic Competitiveness and Support Package, The authors thank the Centre of Excellence for Pharmaceutical Sciences, Faculty of Health Sciences, North-West University, South Africa and the National Research Foundation of South Africa for their financial contribution to this project [grant number CPRR13091742482]. Marelize Pretorius of the Statistical Consultation Services is thanked for the statistical analysis of the data and Ms. A. Brümmer for the cytotoxicity studies at the North-West University, Potchefstroom Campus, South Africa. Any opinion, findings and conclusions, or recommendations expressed in this material are those of the authors and therefore the NRF does not accept any liability in regard thereto. The authors declare no conflict of interest.
Copyright information
© Springer Science+Business Media, LLC, part of Springer Nature 2018