Abstract
Longyou rock caverns were found and were out of water in June 1992, which located in a small hill near to the north bank of Qujiang River, Zhejiang province, China. A series of flat-plate collapses occurred in the roof of cavern No. 24 from 30 September to 4 October in 2010; and finally, a daylight collapse appeared in the roof with a volume of 250 m3. Site investigation and laboratory tests on the surrounding siltstone indicate that the roof collapse can be attributed to the following adverse factors: (1) large span and shallow depth, (2) rock strength reduction due to water saturation, (3) rock weathering, and (4) dynamic loading caused by the walking of a large number of visitors. In order to protect the complete caverns Nos. 1–5 which are currently open to visitors, it is suggested to adopt integrated protection system, including (1) selecting the best tour routes and monitor system, (2) surface water drainage system, (3) beam–pillar supporting system, and (4) effective measures to slow weathering.
This is a preview of subscription content, log in to check access.
Access options
Buy single article
Instant unlimited access to the full article PDF.
US$ 39.95
Price includes VAT for USA
Subscribe to journal
Immediate online access to all issues from 2019. Subscription will auto renew annually.
US$ 199
This is the net price. Taxes to be calculated in checkout.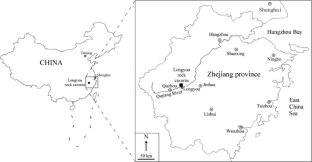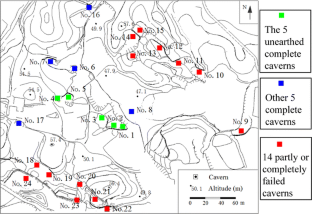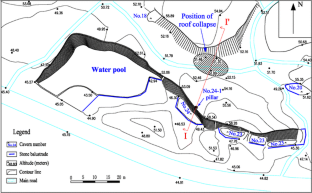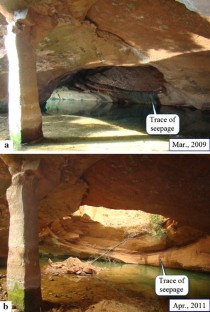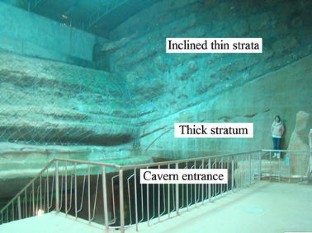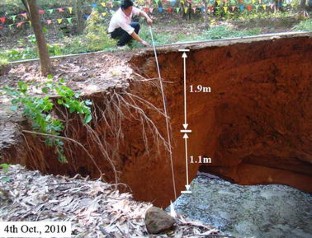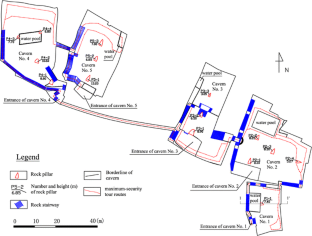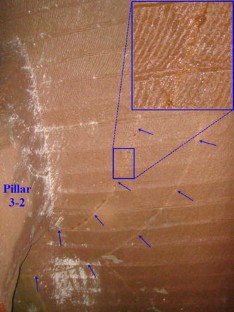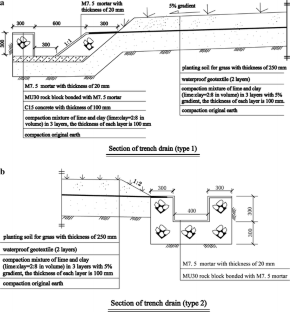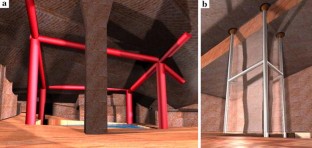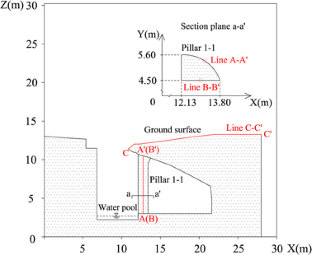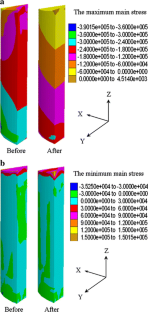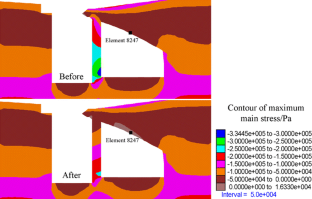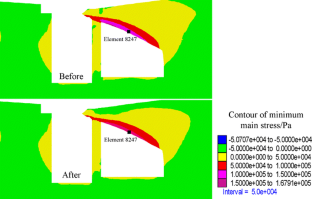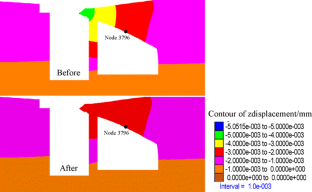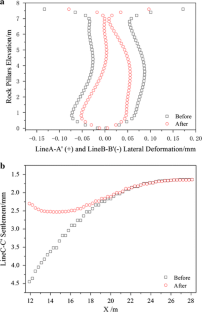 References
Canakci H (2007) Collapse of caves at shallow depth in Gaziantep city center, Turkey: a case study. Environ Geol 53:915–922

Diederichs MS, Kaiser PK (1999) Stability of large excavations in laminated hard rock masses: the voussoir analogue revisited. Int J Rock Mech Min Sci 36:97–117

Fassina V, Favaro M, Naccari A, Pigo M (2002) Evaluation of compatibility and durability of a hydraulic lime-based plasters applied on brick wall masonry of historical buildings affected by rising damp phenomena. J Cult Herit 3:45–51

Fuenkajorn K, Phueakphum D (2010) Physical model simulation of shallow openings in jointed rock mass under static and cyclic loadings. Eng Geol 113:81–89

Gao Q (2009) Stability analysis of Longyou caverns and the best tour route of the caverns Master of science in engineering thesis, Graduate School of Chinese Academy of Sciences

Gao Q, Wang J, Yang ZF, Zhang LQ, Zhu JW, Zheng J, Fu Y (2009) Stability analysis of the large ancient underground rock caverns in Longyou and the selection of maximum-security routes in the caverns. Rock Soil Mech 30(9):2713–2721

Guo GM, Li LH, Yang ZF, Tao B, Qu YX, Zheng J (2005) Weathering mechanism of the cretaceous argillaceous siltstone caverns. Bull Eng Geol Environ 64(4):397–407

Hatzor YH, Talesncik M, Tsesarsky M (2002) Continuous and discontinuous stability analysis of the bell-shaped caverns at Bet Guvrin, Israel. Int J Rock Mech Min Sci 39:867–886

Hatzor YH, Wainshtein I, Mazor DB (2010) Stability of shallow karstic caverns in blocky rock masses. Int J Rock Mech Min Sci 47:1289–1303

Hawkins AB, Mcconnell BJ (1992) Engineering Sensitivity of sandstone strength and deformability to changes in moisture content. Q J Eng Geol 25:115–130

IAEG (1979) Report of the commission on engineering geological mapping. Bull Int As Eng Geol 19:364–371

Itasca Consulting Group, Inc. (2002) Fast Lagrangian analysis of continua in 3 dimensions. Itasca Consulting Group Inc, USA

Jeng FS, Wenig MC, Lin ML, Huang TH (2004) Influence of petrographic parameters on geotechnical properties of tertiary sandstones from Taiwan. Eng Geol 73:71–91

Knöffel DK, Hoffmann D, Snethlage R (1987) Physico-chemical weathering reactions as a formulary for time-lapsing ageing test. Mater Struct 20(116):127–145

Li L, Tanimoto C (2005) Research on the argillaceous cement of sandstone at Longyou grottoes. J Eng Geol 13(2):189–194

Li LH, Yang ZF, Yue ZQ, Zhang LQ (2009) Engineering geological characteristics, failure modes and protective measures of Longyou rock caverns of 2000 years old. Tunn Undergr Space Technol 24(2):190–207

Li LH, Liu JL, Fu Y, Yang ZF, Zhang ZJ (2012) Eight years test results of weathering rates and time limit prediction of chisel imprints on pelitic siltstone inside five Longyou caverns. J Eng Geol 20(5):706–714

Mandala PK, Singha R, Maitib J, Singha AK, Kumara R, Sinha A (2008) Underpinning-based simultaneous extraction of contiguous sections of a thick coal seam under weak and laminated parting. Int J Rock Mech Min Sci 45:11–28

Maravelaki-Kalaitzaki P, Karatasios I, Bakolas A, Kilikoglou V (2005) Hydraulic lime mortars for the restoration of historic masonry in Crete. Cem Concr Res 35:1577–1586

Parise M, Lollino P (2011) A preliminary analysis of failure mechanisms in karst and man-made underground caves in Southern Italy. Geomorphology 134:132–143

Rodriguez-navarro C, Doehne E (1999) Salt weathering: influence of evaporation rate, supersaturation and crystallization pattern. Earth Surf Process Landf 24:191–209

Sebastián E, Cultrone G, Benavente D, Fernandez LL, Elert K, Rodriguez-Navarro C (2008) Swelling damage in clay-rich sandstones used in the church of San Mateo in Tarifa (Spain). J Cult Herit 9:66–76

SL264-2001 (2001) Specifications for rock test in water conservancy and hydroelectric engineering. China Water Power Press, Beijing

Sun J, Ling JM, Jia G, Zhan YP (2001) China's Longyou grottoes, Zhejiang Province. News J ISRM 6(3):44–46

Talesnick ML, Hatzor YH, Tsesarsky M (2001) The elastic deformability and strength of a high porosity, anisotropic, chalk. Int J Rock Mech Min Sci 38(4):543–555

Waltham AC (1993) Crown hole development in the sandstone caves of Nottingham. Q J Eng Geol 26:243–251

Waltham AC, Park HD (2002) Roads over lava tubes in Cheju Island, South Korea. Eng Geol 66:53–64

Xie SY, Shao JF (2006) Elastoplastic deformation of a porous rock and water interaction. Int J Plast 22:2195–2225

Yang ZF, Wang SJ, Xu B, Zhan YP, Xu JH, Guo JJ, Zhang Q (2000) Analysis of the engineering geological conditions of Longyou stone caverns and primary study on the protection strategies. J Eng Geol 8(3):291–295

Yang LD, Yang ZF, Lu M (2005) Proceedings of the international symposium on protection of Longyou grottoes in China. Cultural Relics Publishing House, Beijing

Yang ZF, Yue ZQ, Li LH (2010) Scientific and technical issues and merits of Longyou large ancient underground rock caverns. China Sci, Beijing

Yang ZF, Yue ZQ, Li LH (2011) Design, construction and mechanical behavior of relics of complete large Longyou rock caverns carved in argillaceous siltstone ground. J Rock Mech Geotech Eng 3(2):131–152

Ye JH (2012) Seismic response of poro-elastic seabed and composite breakwater under strong earthquake loading. Bull Earthq Eng 10(5):1609–1633

Ye JH, Jeng D-S, Ren W, Zhu C-Q (2013) Validation of a 2D semi-coupled numerical model for fluid–structures–seabed interaction. J Fluid Struct 42:333–357

Ye JH, Jeng D-S, Ren W, Zhu Ch-Q (2014) Breaking wave-induced response of composite breakwater and liquefaction of seabed foundation. Coast Eng 85:72–86

Young D (2008) Salt attack and rising damp. A guide to salt damp in historic and older buildings. Published by the Heritage Branch, Office of Environment and Heritage

Yue ZQ, Li LH, Yang ZF, Lu M, Xu JH, Zheng J (2007) An investigation on long-term stability and integrity of surrounding rocks in Longyou caverns caved 2000 years ago. In: Ribeiro e Sousa L, Olalla C, Grossmann N (eds) Proceedings of the 11th congress of the international society for rock mechanics (ISRM 2007). Taylor & Francis, Lisbon, pp 19–22

Yue ZQ, Fan SP, Yang ZF, Li LH, Zhang LQ, Zhang ZJ (2010) A hypothesis for crack free interior surfaces of Longyou caverns caved in argillaceous siltstone 2000 years ago. Front Archit Civ Eng China 4(2):165–177

Zhang YF, Tang CA (2010) Numerical study on properties of weak interlayer of laminated composite. Acta Mech Solida Sin 23(3):231–239
Acknowledgments
The work presented in this paper is financially supported by the Fundamental Research Funds for the Central Universities (2652013050) and National Natural Science Foundation of China (41172269, 41372322).
Electronic supplementary material
Below is the link to the electronic supplementary material.
Supplementary material 1 (AVI 7290 kb)
About this article
Cite this article
Zhang, Z., Li, L., Xu, W. et al. Flat-plate roof collapse of shallow caverns and protective measures: a case study of Longyou ancient siltstone caverns. Nat Hazards 76, 191–213 (2015) doi:10.1007/s11069-014-1481-0
Received:

Accepted:

Published:

Issue Date:
Keywords
Longyou rock cavern

Roof collapse

Argillaceous siltstone

Shallow cavern

Rock weathering

Cultural relic conservation