N-methyl-
d

-aspartate Receptors in the Prelimbic Cortex are Critical for the Maintenance of Neuropathic Pain
Abstract
The mechanisms underlying chronic and neuropathic pain pathology involve peripheral and central sensitisation. The medial prefrontal cortex (mPFC) seems to participate in pain chronification, and glutamatergic neurotransmission may be involved in this process. Thus, the aim of the present work was to investigate the participation of the prelimbic (PrL) area of the mPFC in neuropathic pain as well as the role of N-methyl d-aspartate (NMDA) glutamate receptors in neuropathic pain induced by a modified sciatic nerve chronic constriction injury (CCI) protocol in Wistar rats. Neural inputs to the PrL cortex were inactivated by intracortical treatment with the synapse blocker cobalt chloride (CoCl2, 1.0 mM/200 nL) 7, 14, 21, or 28 days after the CCI or sham procedure. The glutamatergic agonist NMDA (0.25, 1 or 4 nmol) or the selective NMDA receptor antagonist LY235959 (2, 4 or 8 nmol) was microinjected into the PrL cortex 21 days after surgery. CoCl2 administration in the PrL cortex decreased allodynia 21 and 28 days after CCI. NMDA at 1 and 4 nmol increased allodynia, whereas LY235959 decreased mechanical allodynia at the highest dose (8 nmol) microinjected into the PrL cortex. These findings suggest that NMDA receptors in the PrL cortex participate in enhancing the late phase of mechanical allodynia after NMDA-induced increases and LY235959-induced decreases in allodynia 21 days after CCI. The glutamatergic system potentiates chronic neuropathic pain by NMDA receptor activation in the PrL cortex.
Graphic Abstract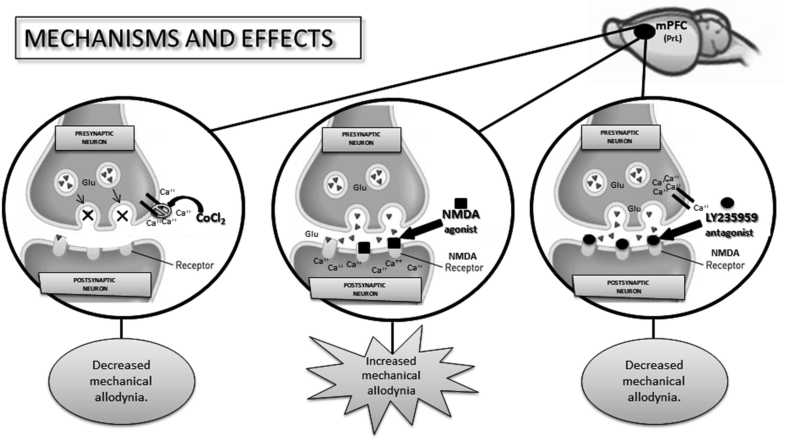 Keywords
Sciatic nerve chronic constriction injury 
Neuropathic pain 
Prelimbic cortex 
Medial prefrontal cortex 
Cobalt chloride 
NMDA glutamatergic receptor 
Notes
Acknowledgements
This research was supported by Fundação de Amparo à Pesquisa do Estado de São Paulo (FAPESP) (Research Grant 2013/12916-0 and Multi-user Equipment Grant 2014/11869-0) and Conselho Nacional de Pesquisa e Desenvolvimento Tecnológico (CNPq) (Grants 483763/2010-1, 474853/2013-6, and 427397/2018-9). Neither of these funding sources had any role in the study design; in the collection, analysis, and interpretation of the data; in the writing of the report; or in the decision to submit the paper for publication. Renato Leonardo de Freitas was supported by FAPESP (Scientific Initiation Scholarship Grant 2001/03752-6, M.Sc. Fellowship Grant 2003/05256-1, Post-doctoral Fellowship Grant 2009/17258-5, and Researcher Fellowship Grant 2014/07902-2) and CAPES (Sc.D. Fellowship Grant 001). FAPESP also supported Priscila de Medeiros (Sc.D. Fellowship Grant 2012/25167-2; Post-doctoral Fellowship Grant 2017/13560-5). Norberto Cysne Coimbra is a researcher (level 1A) from CNPq (Processes 301905/2010-0 and 301341/2015-0). Sérgio Henrique Ferreira was supported by FAPESP (Thematic Project Processes 2011/19670-0 and 2013/08216-2; Centre for Research in Inflammatory Diseases—CRID), the University of São Paulo Pro-Rectory (Process NAP-DIN 11.1.21625.01.0), the European Union Seventh Framework Programme (FP7-2007-2013; HEALTH-F4-2011-281608), and the Conselho Nacional de Desenvolvimento Científico e Tecnológico (CNPq, Brazil). Dr. Sabatino Maione was supported by Regione Campania (FarmaBioNet process FESR 2007-2013—00 2.1). The authors thank Daoud Hibrahim Elias-Filho, Ieda R. dos Santos, and Maria Rossatto for their expert technical assistance. D.H. Elias-Filho was the recipient of technician scholarships from FAPESP (TT-2, Grant. 2002/01497-1), CNPq (Grants 501858/2005-9, 372654/2006-1, 372810/2008-0, 372877/2010-9, and 372838/2018-9), and FAEPA (Grants 345/2009 and 185/2010).
Compliance with Ethical Standards
Conflict of interest
The authors declare that they have no conflicts of interest concerning the work presented herein.
Copyright information
© Springer Science+Business Media, LLC, part of Springer Nature 2019