Abstract
Purpose
The optimal treatment strategy for vestibular schwannoma (VS) is not known, and different radiation techniques and fractionation regimens are currently being used. This report aimed to assess outcomes after LINAC-based radiosurgery (SRS) and hypofractionated radiotherapy (hypo-FSRT) and identify possible differences in outcomes between hypo-FSRT delivered in 3 or 5 fractions.
Methods
From 2005 to 2017, 136 patients underwent treatment with radiotherapy for VS. Thirty-seven patients received SRS (12 Gy), and 99 received hypo-FSRT. Hypo-FSRT was delivered in 3 fractions (total 18–21 Gy, n = 39) and 5 fractions (total 25 Gy, n = 60).
Results
The median follow-up was 57 months. Eight patients had progression requiring surgery, corresponding to an overall local control rate of 93.4%, with no significant difference between the fractionation schedules. A correlation with borderline significance (p = 0.052) was detected between cystic tumors and local failure. A tendency toward a higher incidence of local failure was observed after 2015 when SRS treatment increased and included slightly larger tumors. Hearing preservation was observed in 35% of patients and 36% of patients experienced acute side effects, but persistent facial or trigeminal nerve toxicity was rare.
Conclusion
SRS and hypo-FSRT with 3 or 5 fractions provided a high rate of local control with no significant differences between treatment schedules. SRS is a well-documented radiation technique for VS and is the recommendation for small- to medium-sized tumors. This report demonstrates excellent long-term outcomes after hypo-FSRT; this regimen can be delivered safely and is an alternative for selected patients.
This is a preview of subscription content, log in to check access.
Access options
Buy single article
Instant access to the full article PDF.
US$ 39.95
Price includes VAT for USA
Subscribe to journal
Immediate online access to all issues from 2019. Subscription will auto renew annually.
US$ 199
This is the net price. Taxes to be calculated in checkout.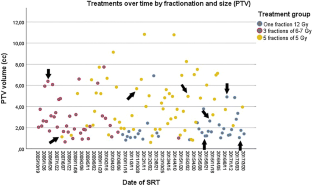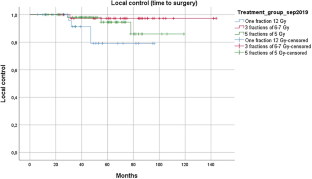 References
1.

Nguyen T, Duong C, Sheppard JP, Lee SJ, Kishan AU, Lee P, Tenn S, Chin R, Kaprealian TB, Yang I (2018) Hypo-fractionated stereotactic radiotherapy of five fractions with linear accelerator for vestibular schwannomas: a systematic review and meta-analysis. Clin Neurol Neurosurg 166:116–123. https://doi.org/10.1016/j.clineuro.2018.01.005

2.

Gauden A, Weir P, Hawthorne G, Kaye A (2011) Systematic review of quality of life in the management of vestibular schwannoma. J Clin Neurosci 18:1573–1584. https://doi.org/10.1016/j.jocn.2011.05.009

3.

Hansasuta A, Choi CY, Gibbs IC, Soltys SG, Tse VC, Lieberson RE, Hayden MG, Sakamoto GT, Harsh GRT, Adler JR, Chang SD (2011) Multisession stereotactic radiosurgery for vestibular schwannomas: single-institution experience with 383 cases. Neurosurgery 69:1200–1209. https://doi.org/10.1227/NEU.0b013e318222e451

4.

Combs SE, Engelhard C, Kopp C, Wiedenmann N, Schramm O, Prokic V, Debus J, Molls M, Grosu AL (2015) Long-term outcome after highly advanced single-dose or fractionated radiotherapy in patients with vestibular schwannomas—pooled results from 3 large German centers. Radiother Oncol 114:378–383. https://doi.org/10.1016/j.radonc.2015.01.011

5.

Elliott A, Hebb AL, Walling S, Morris DP, Bance M (2015) Hearing preservation in vestibular schwannoma management. Am J Otolaryngol 36:526–534. https://doi.org/10.1016/j.amjoto.2015.02.016

6.

Lo A, Ayre G, Ma R, Hsu F, Akagami R, McKenzie M, Valev B, Gete E, Vallieres I, Nichol A (2018) Population-based study of stereotactic radiosurgery or fractionated stereotactic radiation therapy for vestibular schwannoma: long-term outcomes and toxicities. Int J Radiat Oncol Biol Phys 100:443–451. https://doi.org/10.1016/j.ijrobp.2017.09.024

7.

Persson O, Bartek J Jr, Shalom NB, Wangerid T, Jakola AS, Forander P (2017) Stereotactic radiosurgery vs. fractionated radiotherapy for tumor control in vestibular schwannoma patients: a systematic review. Acta Neurochir (Wien) 159:1013–1021. https://doi.org/10.1007/s00701-017-3164-6

8.

Milner TD, Locke RR, Kontorinis G, Crowther JA (2018) Audiological outcomes in growing vestibular schwannomas managed either conservatively, or with stereotactic radiosurgery. Otol Neurotol 39:e143–e150. https://doi.org/10.1097/MAO.0000000000001677

9.

Chen Z, Takehana K, Mizowaki T, Uto M, Ogura K, Sakanaka K, Arakawa Y, Mineharu Y, Miyabe Y, Mukumoto N, Miyamoto S, Hiraoka M (2018) Five-year outcomes following hypofractionated stereotactic radiotherapy delivered in five fractions for acoustic neuromas: the mean cochlear dose may impact hearing preservation. Int J Clin Oncol 23:608–614. https://doi.org/10.1007/s10147-018-1267-6

10.

Slane BG, Goyal U, Grow JL, Morrison C, Hullett CR, Gordon J, Sanan A, Stea B (2017) Radiotherapeutic management of vestibular schwannomas using size- and location-adapted fractionation regimens to maximize the therapeutic ratio. Pract Radiat Oncol 7:e233–e241. https://doi.org/10.1016/j.prro.2016.10.016

11.

Kranzinger M, Zehentmayr F, Fastner G, Oberascher G, Merz F, Nairz O, Rahim H, Sedlmayer F (2014) Hypofractionated stereotactic radiotherapy of acoustic neuroma: volume changes and hearing results after 89-month median follow-up. Strahlenther Onkol 190:798–805. https://doi.org/10.1007/s00066-014-0630-4

12.

Putz F, Muller J, Wimmer C, Goerig N, Knippen S, Iro H, Grundtner P, Eyupoglu I, Rossler K, Semrau S, Fietkau R, Lettmaier S (2017) Stereotactic radiotherapy of vestibular schwannoma: hearing preservation, vestibular function, and local control following primary and salvage radiotherapy. Strahlenther Onkol 193:200–212. https://doi.org/10.1007/s00066-016-1086-5

13.

Kessel KA, Fischer H, Vogel MM, Oechsner M, Bier H, Meyer B, Combs SE (2017) Fractionated vs. single-fraction stereotactic radiotherapy in patients with vestibular schwannoma: hearing preservation and patients' self-reported outcome based on an established questionnaire. Strahlenther Onkol 193:192–199. https://doi.org/10.1007/s00066-016-1070-0

14.

Puataweepong P, Dhanachai M, Dangprasert S, Narkwong L, Sitathanee C, Sawangsilpa T, Janwityanujit T, Yongvithisatid P (2014) Linac-based stereotactic radiosurgery and fractionated stereotactic radiotherapy for vestibular schwannomas: comparative observations of 139 patients treated at a single institution. J Radiat Res 55:351–358. https://doi.org/10.1093/jrr/rrt121

15.

Collen C, Ampe B, Gevaert T, Moens M, Linthout N, De Ridder M, Verellen D, D'Haens J, Storme G (2011) Single fraction versus fractionated linac-based stereotactic radiotherapy for vestibular schwannoma: a single-institution experience. Int J Radiat Oncol Biol Phys 81:e503–509. https://doi.org/10.1016/j.ijrobp.2011.04.066

16.

Hasegawa T, Kato T, Yamamoto T, Naito T, Kato N, Torii J, Ishii K (2018) Long-term hearing outcomes after gamma knife surgery in patients with vestibular schwannoma with hearing preservation: evaluation in 92 patients with serial audiograms. J Neurooncol 138:283–290. https://doi.org/10.1007/s11060-018-2784-x

17.

Frischer JM, Gruber E, Schoffmann V, Ertl A, Hoftberger R, Mallouhi A, Wolfsberger S, Arnoldner C, Eisner W, Knosp E, Kitz K, Gatterbauer B (2018) Long-term outcome after Gamma Knife radiosurgery for acoustic neuroma of all Koos grades: a single-center study. J Neurosurg. https://doi.org/10.3171/2017.8.JNS171281

18.

Chiluwal AK, Rothman A, Svrakic M, Dehdashti AR (2018) Surgical outcome in smaller symptomatic vestibular schwannomas. Is there a role for surgery? Acta Neurochir (Wien) 160:2263–2275. https://doi.org/10.1007/s00701-018-3674-x

19.

Anderson BM, Khuntia D, Bentzen SM, Geye HM, Hayes LL, Kuo JS, Baskaya MK, Badie B, Basavatia A, Pyle GM, Tome WA, Mehta MP (2014) Single institution experience treating 104 vestibular schwannomas with fractionated stereotactic radiation therapy or stereotactic radiosurgery. J Neurooncol 116:187–193. https://doi.org/10.1007/s11060-013-1282-4

20.

Fong BM, Pezeshkian P, Nagasawa DT, De Salles A, Gopen Q, Yang I (2012) Hearing preservation after LINAC radiosurgery and LINAC radiotherapy for vestibular schwannoma. J Clin Neurosci 19:1065–1070. https://doi.org/10.1016/j.jocn.2012.01.015

21.

Lin RH, Wang TC, Lin CD, Lin HL, Chung HK, Wang CY, Tsou YA, Tsai MH (2017) Predictors of hearing outcomes following low-dose stereotactic radiosurgery in patients with vestibular schwannomas: a retrospective cohort review. Clin Neurol Neurosurg 162:16–21. https://doi.org/10.1016/j.clineuro.2017.09.001

22.

Tsai JT, Lin JW, Lin CM, Chen YH, Ma HI, Jen YM, Chen YH, Ju DT (2013) Clinical evaluation of CyberKnife in the treatment of vestibular schwannomas. Biomed Res Int 2013:297093. https://doi.org/10.1155/2013/297093

23.

Chang SD, Gibbs IC, Sakamoto GT, Lee E, Oyelese A, Adler JR Jr (2005) Staged stereotactic irradiation for acoustic neuroma. Neurosurgery 56:1254–1261. https://doi.org/10.1227/01.neu.0000159650.79833.2b. discussion 1261–1253

24.

Vivas EX, Wegner R, Conley G, Torok J, Heron DE, Kabolizadeh P, Burton S, Ozhasoglu C, Quinn A, Hirsch BE (2014) Treatment outcomes in patients treated with CyberKnife radiosurgery for vestibular schwannoma. Otol Neurotol 35:162–170. https://doi.org/10.1097/MAO.0b013e3182a435f5

25.

Breshears JD, Chang J, Molinaro AM, Sneed PK, McDermott MW, Tward A, Theodosopoulos PV (2019) Temporal dynamics of pseudoprogression after gamma knife radiosurgery for vestibular schwannomas—a retrospective volumetric study. Neurosurgery 84:123–131. https://doi.org/10.1093/neuros/nyy019

26.

Delsanti C, Regis J (2004) Cystic vestibular schwannomas. Neurochirurgie 50:401–406

27.

Bowden G, Cavaleri J, Monaco E III, Niranjan A, Flickinger J, Lunsford LD (2017) Cystic vestibular schwannomas respond best to radiosurgery. Neurosurgery 81:490–497. https://doi.org/10.1093/neuros/nyx027

28.

Andrews DW, Suarez O, Goldman HW, Downes MB, Bednarz G, Corn BW, Werner-Wasik M, Rosenstock J, Curran WJ Jr (2001) Stereotactic radiosurgery and fractionated stereotactic radiotherapy for the treatment of acoustic schwannomas: comparative observations of 125 patients treated at one institution. Int J Radiat Oncol Biol Phys 50:1265–1278. https://doi.org/10.1016/s0360-3016(01)01559-0

29.

Goldbrunner R, Weller M, Regis J, Lund-Johansen M, Stavrinou P, Reuss D, Evans DG, Lefranc F, Sallabanda K, Falini A, Axon P, Sterkers O, Fariselli L, Wick W, Tonn JC (2020) EANO guideline on the diagnosis and treatment of vestibular schwannoma. Neuro Oncol 22:31–45. https://doi.org/10.1093/neuonc/noz153
Ethics declarations
Conflict of interest
The authors declare no conflicts of interest.
Additional information
Publisher's Note
Springer Nature remains neutral with regard to jurisdictional claims in published maps and institutional affiliations.
About this article
Cite this article
Söderlund Diaz, L., Hallqvist, A. LINAC-based stereotactic radiosurgery versus hypofractionated stereotactic radiotherapy delivered in 3 or 5 fractions for vestibular schwannomas: comparative assessment from a single institution. J Neurooncol (2020). https://doi.org/10.1007/s11060-020-03423-w
Received:

Accepted:

Published:
Keywords
Vestibular schwannoma

Hypofractionated radiotherapy

Stereotactic radiosurgery

Hearing preservation

Facial nerve toxicity

Cystic tumor