Abstract
Purpose
To evaluate the efficacy of gamma knife radiosurgery (GKS) for brain metastases (BMs) from small-cell lung cancer after whole-brain radiotherapy (WBRT).
Methods
We retrospectively analyzed the usefulness and safety of GKS in 163 patients from 15 institutions with 1–10 active BMs after WBRT. The usefulness and safety of GKS were evaluated using statistical methods.
Results
The median age was 66 years, and 79.1% of patients were men. The median number and largest diameter of BM were 2.0 and 1.4 cm, respectively. WBRT was administered prophylactically in 46.6% of patients. The median overall survival (OS) was 9.3 months, and the neurologic mortality was 20.0%. Crude incidences of local control failure and new lesion appearance were 36.6% and 64.9%, respectively. A BM diameter ≥ 1.0 cm was a significant risk factor for local progression (hazard ratio [HR] 2.556, P = 0.039) and neurologic death (HR 4.940, P = 0.031). Leukoencephalopathy at the final follow-up was more prevalent in the therapeutic WBRT group than in the prophylactic group (P = 0.019). The symptom improvement rate was 61.3%, and neurological function was preserved for a median of 7.6 months. Therapeutic WBRT was not a significant risk factor for OS, neurological death, local control, or functional deterioration (P = 0.273, 0.490, 0.779, and 0.560, respectively). Symptomatic radiation-related adverse effects occurred in 7.4% of patients.
Conclusions
GKS can safely preserve neurological function and prevent neurologic death in patients with 1–10 small, active BMs after prophylactic and therapeutic WBRT.
This is a preview of subscription content, log in to check access.
Access options
Buy single article
Instant unlimited access to the full article PDF.
US$ 39.95
Price includes VAT for USA
Subscribe to journal
Immediate online access to all issues from 2019. Subscription will auto renew annually.
US$ 199
This is the net price. Taxes to be calculated in checkout.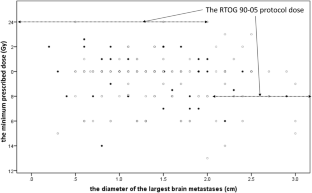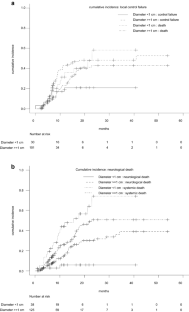 Acknowledgements
We are grateful to Kana Inoue and Tomoko Fukushima at the Brain Attack Ota Memorial Hospital for their help with managing the database.
Funding
This study did not receive financial support.
Ethics declarations
Conflict of interest
The authors report no conflicts of interest concerning the materials or methods used in this study or the findings specified in this paper.
Research involving human participants and/or animals
All procedures performed in studies involving human participants were in accordance with the ethical standards of the institutional research committee (Brain Attack Center Ota Memorial Hospital institutional review board [approval number 133]) and with the 1964 Helsinki declaration and its later amendments or comparable ethical standards."
Informed consent
Informed consent was obtained from all individual participants included in the study.
Additional information
Publisher's Note
Springer Nature remains neutral with regard to jurisdictional claims in published maps and institutional affiliations.
About this article
Cite this article
Nakazaki, K., Yomo, S., Kondoh, T. et al. Salvage gamma knife radiosurgery for active brain metastases from small-cell lung cancer after whole-brain radiation therapy: a retrospective multi-institutional study (JLGK1701). J Neurooncol (2020). https://doi.org/10.1007/s11060-020-03397-9
Received:

Accepted:

Published:
Keywords
Gamma knife radiosurgery

Brain metastases

Small-cell lung cancer

Whole-brain radiation therapy

Leukoencephalopathy