A novel finding of an IDH2 mutation in an interesting adult Sonic Hedgehog mutated medulloblastoma
To the Editor,
We report the case of a 29-year-old female who presented with headaches and papilledema and found to have a right cerebellar T2/FLAIR hyperintense mass with restricted diffusion and minimal patchy enhancement resulting in fourth ventricular effacement and right transverse sinus stenosis (Fig.
1
). She underwent an uncomplicated right retrosigmoid suboccipital craniectomy with neuro-monitoring and intraoperative MRI for gross total resection. The patient was discharged home four days after surgery, neurologically intact. Pathology was consistent with a WNT-negative, GFAP/synaptophysin positive tumor comprised of clusters and sheets of ovoid irregular pleiomorphic nuclei with retained INI1 and elevated Ki67 (10–15%), consistent with classic World Health Organization (WHO) Grade IV medulloblastoma (MB). Postoperative MRI of the neuroaxis showed no evidence of disease.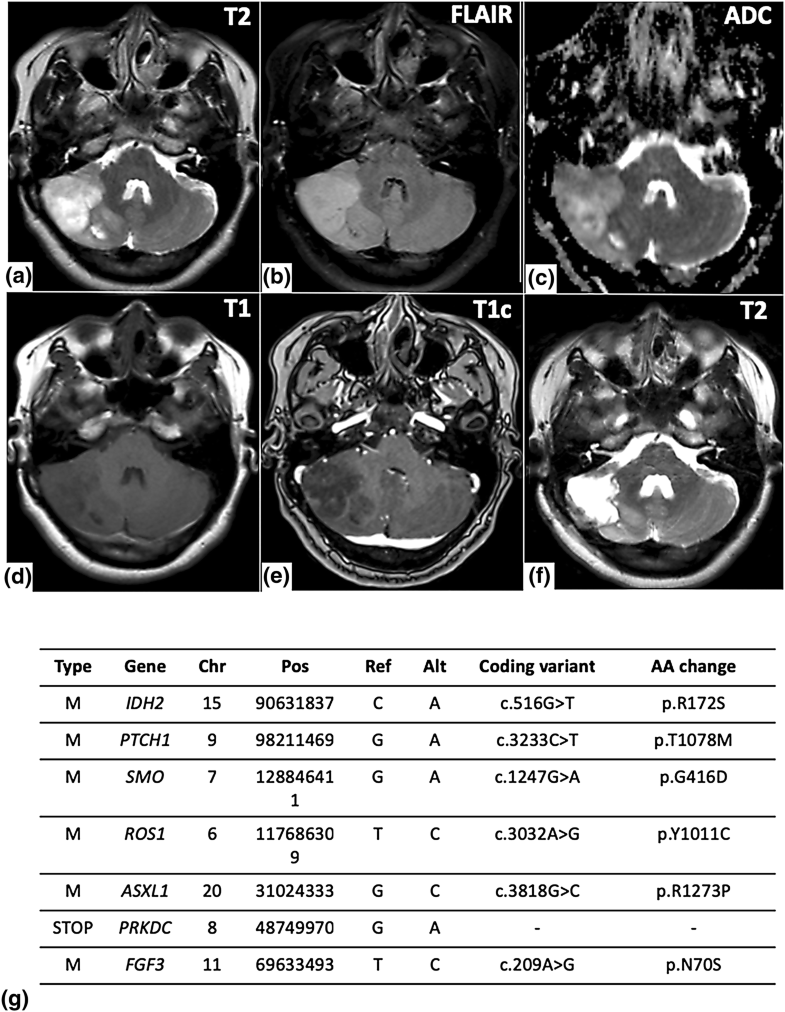 Notes
Acknowledgements
The authors wish to acknowledge Drs. Anita Huttner, Zachary Corbin and Robert Fulbright for their contribution for their expertise and care for this patient.
Compliance with ethical standards
Conflict of interest
The authors report no pertinent disclosures, and no conflict of interest concerning the materials or methods used in this study, or findings described in this paper.
Copyright information
© Springer Science+Business Media, LLC, part of Springer Nature 2019