Abstract
Ependymomas are rare neuroepithelial tumors which may arise anywhere along the ventricular system. Tumors arising in the fourth ventricle present unique challenges. Complete tumor resection favors prolonged survival, but may result in inadvertent injury of surrounding neural structures—such as cranial nerve (CN) nuclei. Here, our institutional experience with surgical resection of fourth ventricular ependymomas is described. A single institution, retrospective analysis of consecutive case series of adult surgically resected fourth ventricular ependymomas with the bilateral telovelar approach. Extent of resection, outcomes and postoperative complications are statistically analyzed. From January 2000 to April 2016, 22 fourth ventricular ependymomas underwent surgical resection. Gross total resection was achieved in 18 of 22 cases (82 %). There were six postoperative CN palsies—3 lower CN palsies (IX, X, or XI), 1 CN VII palsy, 1 CN IV palsy, and 1 CN VI palsy. No deaths or cerebellar mutism occurred. Two of 6 CN deficits resolved and the rate of permanent neurologic deficit was 18 %. A CN deficit was not statistically associated with prolonged hospital stay or functional outcome. With exception of one patient, all patients functionally improved or remained unchanged following surgery. Postoperative complications included one wound infection (4.5 %) and four pseudomeningoceles (18 %). The rate of shunt-dependent hydrocephalus was 18 %. Tumors adherence to the fourth ventricular floor is not an absolute contraindication for complete resection. Intraoperative neuro-monitoring is essential, and the development of sustained, but not transient CN activity, and/or hemodynamically significant bradycardia should limit the extent of resection.
This is a preview of subscription content, log in to check access.
Access options
Buy single article
Instant unlimited access to the full article PDF.
US$ 39.95
Price includes VAT for USA
Subscribe to journal
Immediate online access to all issues from 2019. Subscription will auto renew annually.
US$ 199
This is the net price. Taxes to be calculated in checkout.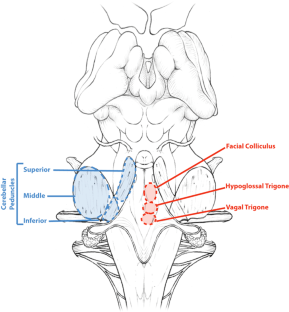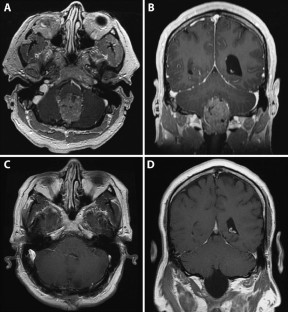 References
1.

Asaid M, Preece PD, Rosenthal MA, Drummond KJ (2015) Ependymoma in adults: Local experience with an uncommon tumour. J Clin Neurosci 22:1392–1396. doi:10.1016/j.jocn.2015.03.020

2.

Louis DN, Perry A, Reifenberger G, von Deimling A, Figarella-Branger D, Cavenee WK, Ohgaki H, Wiestler OD, Kleihues P, Ellison DW (2016) The 2016 World Health Organization classification of tumors of the central nervous system: a summary. Acta Neuropathol 131:803–820. doi:10.1007/s00401-016-1545-1

3.

McGuire CS, Sainani KL, Fisher PG (2009) Incidence patterns for ependymoma: a surveillance, epidemiology, and end results study. J Neurosurg 110:725–729. doi:10.3171/2008.9.JNS08117

4.

Ostrom QT, Gittleman H, Liao P, Rouse C, Chen Y, Dowling J, Wolinsky Y, Kruchko C, Barnholtz-Sloan J (2014) CBTRUS statistical report: primary brain and central nervous system tumors diagnosed in the United States in 2007–2011. Neuro Oncol 16(Suppl 4):iv1–iv63. doi:10.1093/neuonc/nou223

5.

Spagnoli D, Tomei G, Ceccarelli G, Grimoldi N, Lanterna A, Bello L, Sinisi MM, De Santis A, Villani RM (2000) Combined treatment of fourth ventricle ependymomas: report of 26 cases. Surg Neurol 54:19–26; discussion 26

6.

Wu J, Armstrong TS, Gilbert MR (2016) Biology and management of ependymomas. Neuro Oncol. doi:10.1093/neuonc/now016

7.

Healey EA, Barnes PD, Kupsky WJ, Scott RM, Sallan SE, Black PM, Tarbell NJ (1991) The prognostic significance of postoperative residual tumor in ependymoma. Neurosurgery 28:666–671

8.

Lyons MK, Kelly PJ (1991) Posterior fossa ependymomas: report of 30 cases and review of the literature. Neurosurgery 28:659–664

9.

Nazar GB, Hoffman HJ, Becker LE, Jenkin D, Humphreys RP, Hendrick EB (1990) Infratentorial ependymomas in childhood: prognostic factors and treatment. J Neurosurg 72:408–417. doi:10.3171/jns.1990.72.3.0408

10.

Perilongo G, Massimino M, Sotti G, Belfontali T, Masiero L, Rigobello L, Garre L, Carli M, Lombardi F, Solero C, Sainati L, Canale V, del Prever AB, Giangaspero F, Andreussi L, Mazza C, Madon E (1997) Analyses of prognostic factors in a retrospective review of 92 children with ependymoma: Italian Pediatric Neuro-oncology Group. Med Pediatr Oncol 29:79–85

11.

El-Bahy K (2005) Telovelar approach to the fourth ventricle: operative findings and results in 16 cases. Acta Neurochir 147:137–142. doi:10.1007/s00701-004-0407-0

12.

Gok A, Alptekin M, Erkutlu I (2004) Surgical approach to the fourth ventricle cavity through the cerebellomedullary fissure. Neurosurg Rev 27:50–54. doi:10.1007/s10143-003-0286-5

13.

Han S, Wang Z, Wang Y, Wu A (2013) Transcerebellomedullary fissure approach to lesions of the fourth ventricle: less is more? Acta Neurochir 155:1011–1016. doi:10.1007/s00701-013-1689-x

14.

Liu R, Kasper EM (2014) Bilateral telovelar approach: A safe route revisited for resections of various large fourth ventricle tumors. Surg Neurol Int 5:16. doi:10.4103/2152-7806.126081

15.

Rajesh BJ, Rao BR, Menon G, Abraham M, Easwer HV, Nair S (2007) Telovelar approach: technical issues for large fourth ventricle tumors. Childs Nerv Syst 23:555–558. doi:10.1007/s00381-006-0295-0

16.

Shimoji K, Miyajima M, Karagiozov K, Yatomi K, Matsushima T, Arai H (2009) Surgical considerations in fourth ventricular ependymoma with the transcerebellomedullary fissure approach in focus. Childs Nerv Syst 25:1221–1228. doi:10.1007/s00381-009-0835-5

17.

Tomasello F, Conti A, Cardali S, La Torre D, Angileri FF (2015) Telovelar approach to fourth ventricle tumors: highlights and limitations. World Neurosurg 83:1141–1147 doi:10.1016/j.wneu.2015.01.039

18.

Zaheer SN, Wood M (2010) Experiences with the telovelar approach to fourth ventricular tumors in children. Pediatr Neurosurg 46:340–343. doi:10.1159/000321539

19.

Matsushima T, Fukui M, Inoue T, Natori Y, Baba T, Fujii K (1992) Microsurgical and magnetic resonance imaging anatomy of the cerebello-medullary fissure and its application during fourth ventricle surgery. Neurosurgery 30:325–330

20.

Rhoton AL Jr (2000) Cerebellum and fourth ventricle. Neurosurgery 47:S7–S27

21.

Deshmukh VR, Figueiredo EG, Deshmukh P, Crawford NR, Preul MC, Spetzler RF (2006) Quantification and comparison of telovelar and transvermian approaches to the fourth ventricle. Neurosurgery 58:ONS-202–206. doi:10.1227/01.NEU.0000207373.26614.BF

22.

Jean WC, Abdel Aziz KM, Keller JT, van Loveren HR (2003) Subtonsillar approach to the foramen of Luschka: an anatomic and clinical study. Neurosurgery 52:860–866

23.

Matsushima T, Inoue T, Inamura T, Natori Y, Ikezaki K, Fukui M (2001) Transcerebellomedullary fissure approach with special reference to methods of dissecting the fissure. J Neurosurg 94:257–264. doi:10.3171/jns.2001.94.2.0257

24.

Mussi AC, Rhoton AL Jr (2000) Telovelar approach to the fourth ventricle: microsurgical anatomy. J Neurosurg 92:812–823. doi:10.3171/jns.2000.92.5.0812

25.

Rekate HL, Grubb RL, Aram DM, Hahn JF, Ratcheson RA (1985) Muteness of cerebellar origin. Arch Neurol 42:697–698

26.

Grabb PA, Albright AL, Sclabassi RJ, Pollack IF (1997) Continuous intraoperative electromyographic monitoring of cranial nerves during resection of fourth ventricular tumors in children. J Neurosurg 86:1–4. doi:10.3171/jns.1997.86.1.0001

27.

Hollon T, Nguyen V, Smith BW, Lewis S, Junck L, Orringer DA (2016) Supratentorial hemispheric ependymomas: an analysis of 109 adults for survival and prognostic factors. J Neurosurg: 1–9 doi:10.3171/2015.7.JNS151187

28.

Green RM, Cloughesy TF, Stupp R, DeAngelis LM, Woyshner EA, Ney DE, Lassman AB (2009) Bevacizumab for recurrent ependymoma. Neurology 73:1677–1680. doi:10.1212/WNL.0b013e3181c1df34

29.

Macdonald DR, Cascino TL, Schold SC Jr, Cairncross JG (1990) Response criteria for phase II studies of supratentorial malignant glioma. J Clin Oncol 8:1277–1280

30.

Ikezaki K, Matsushima T, Inoue T, Yokoyama N, Kaneko Y, Fukui M (1993) Correlation of microanatomical localization with postoperative survival in posterior fossa ependymomas. Neurosurgery 32:38–44

31.

Yuh EL, Barkovich AJ, Gupta N (2009) Imaging of ependymomas: MRI and CT. Childs Nerv Syst 25:1203–1213. doi:10.1007/s00381-009-0878-7

32.

Iqbal MS, Lewis J (2013) An overview of the management of adult ependymomas with emphasis on relapsed disease. Clin Oncol 25:726–733. doi:10.1016/j.clon.2013.07.009

33.

Abdullah KG, Attiah MA, Olsen AS, Richardson A, Lucas TH (2015) Reducing surgical site infections following craniotomy: examination of the use of topical vancomycin. J Neurosurg 123:1600–1604. doi:10.3171/2014.12.JNS142092

34.

Patel KS, Goldenberg B, Schwartz TH (2014) Betadine irrigation and post-craniotomy wound infection. Clin Neurol Neurosurg 118:49–52. doi:10.1016/j.clineuro.2013.12.015
Acknowledgments
We acknowledge Kenneth Probst for providing us with the illustration of the floor of the fourth ventricle.
Electronic supplementary material
Below is the link to the electronic supplementary material.
Supplementary material 1 (M4V 127645 KB)
About this article
Cite this article
Winkler, E.A., Birk, H., Safaee, M. et al. Surgical resection of fourth ventricular ependymomas: case series and technical nuances. J Neurooncol 130, 341–349 (2016). https://doi.org/10.1007/s11060-016-2198-6
Received:

Accepted:

Published:

Issue Date:
Keywords
Ependymoma

Tumors

Fourth ventricle

Surgical resection

Telovelar approach