DFT study of adsorption of glyphosate pesticide on Pt-Cu decorated pyridine-like nitrogen-doped graphene
Abstract
Density functional theory (DFT) studies have been performed on the unprecedented adsorption of glyphosate pesticide on modified pyridine-like nitrogen-doped graphene (PNG) for the purpose of water remediation. The interaction of glyphosate on the PNG sheet, as well as on Pt-Cu decorated PNG substrates, is investigated. The Pt4-nCun (n = 0–4) clusters, such as Pt4, Pt3Cu1, Pt2Cu2, Pt1Cu3, and Cu4, have been decorated on the PNG surface to increase the reactivity of the adsorbent toward glyphosate. The adsorption of glyphosate on the PNG surface is physisorption, indicated by the low adsorption energy and negligible charge transfer. The mixed metal (Pt-Cu) clusters play a significant role in enhancing the interactions between the adsorbate and adsorbent, leading to better results for the adsorption of glyphosate. Exothermic chemisorption is shown by all Pt4-nCun clusters decorated PNG substrates, and chemical bond formation takes place between the adsorbate and adsorbent. Various electronic properties, like electron density difference plots, give information about the adsorption behavior of glyphosate, and density of states (DOS) plots reveal that on decorating with the cluster, the substrates start exhibiting magnetic character.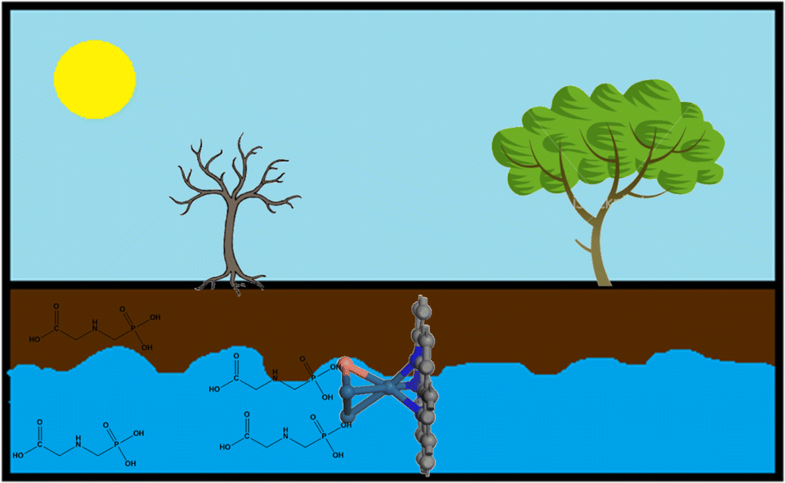 Keywords
Adsorption 
PNG 
Mixed metal cluster (Pt and cu) 
Glyphosate 
DFT 
Nanostructure 
Notes
Funding information
Mandeep acknowledges Council of Scientific and Industrial Research (CSIR), New Delhi, India, for providing financial assistance in form of Senior Research Fellowship (SRF) (CSIR Award No. 09/045(1341)/2014-EMR-I). Archa Gulati acknowledges University Grants Commission (UGC), New Delhi, India, for providing financial assistance in form of Junior Research Fellowship (JRF) (UGC-Ref. No. 111/(CSIR-UGC NET DEC. 2016)).
Compliance with ethical standards
Conflict of interest
The authors declare that they have no conflict of interest.
Copyright information
© Springer Nature B.V. 2020