In situ preparation of Ag3VO4/MOFs composites with enhanced visible-light-driven catalytic activity
Abstract
In this work, we have fabricated a novel Ag3VO4/MIL-125(Ti) photocatalyst by in situ deposition method, which is characterized by XRD, SEM, TEM, FT-IR, XPS, TG, BET, UV-Vis DRS, and PL. The photocatalytic degradation activity of as-prepared materials was studied via decomposing Rh B, and the possible mechanism of photocatalytic degradation was put forward. The result displayed that the specific surface area of a series of composites is larger than that of the single Ag3VO4 (SBET = 9.374 m2/g), and the photocatalytic efficiency is much higher than that of pure Ag3VO4 and MIL-125(Ti). Among them, the photocatalytic activity of AM-3 composite (SBET = 89.734 m2/g, Eg = 2.13 eV) is the highest, about 3.7 times and 13.1 times of pure Ag3VO4 and MIL-125(Ti), respectively. At the same time, the Ag3VO4/MIL-125(Ti) composite can maintain a stable photocatalytic activity and structure after four cycles.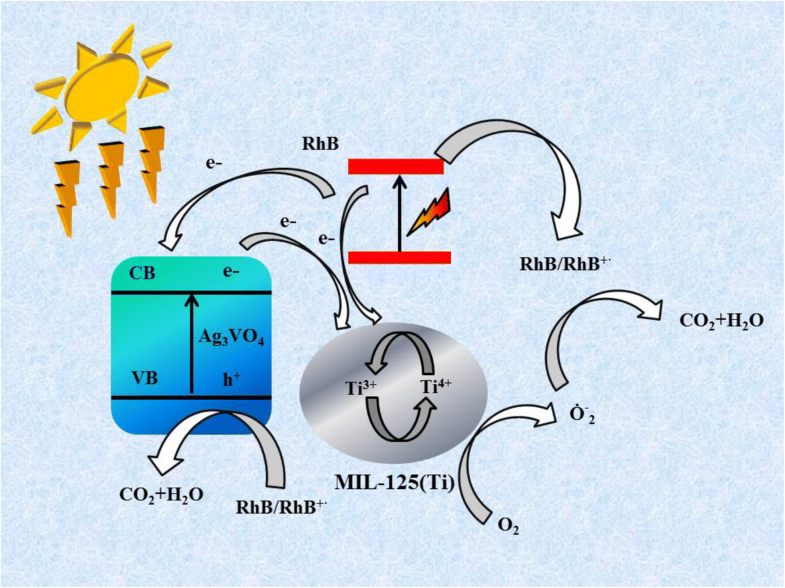 Keywords
Ag3VO4 
MIL-125(Ti) 
Nanostructured catalyst 
Photocatalytic activity 
Photodegration mechanism 
Notes
Funding information
This work received financial support from the National Natural Science Foundation of China (grant number 51146008).
Compliance with ethical standards
Conflict of interest
The authors declare that they have no conflict of interest.
Copyright information
© Springer Nature B.V. 2019