Myristic acid as surface modifier of calcium carbonate hydrophobic nanoparticles
Abstract
Several papers describe the treatment of calcium carbonate (CaCO3) with stearic acid acting as a surface modifier, in order to avoid particle coalescence and, at the same time, enhancing filler hydrophobic properties. However, there is still a lack of data relating the efficiency of a traditional modifier used, stearic acid, in the synthesis of CaCO3 nanofiller with other modifiers in terms of inhibition of the agglomeration process during the synthesis. Thus, the present work evaluates the stability of CaCO3 nanoparticles obtained by a carbonation reaction, considering the contents of the crystallization inhibitor (trisodium phosphate-Na3PO4) and the surface modifier (myristic acid) applied. In order to achieve an efficient carbonation process, a bubbling system was used. The results showed that higher surface modifier and crystallization inhibitor contents lead to a narrower particle size distribution and a lower particle size. Comparing the CaCO3 nanoparticles coated with myristic acid (CaCO3-MA) and with stearic acid (CaCO3-SA), it was observed that CaCO3-MA has a higher thermal stability and a lower particle size in relation to CaCO3-SA. Besides this, a more spherical geometry was achieved for CaCO3-MA nanoparticles due to the bubbling system applied during the carbonation reaction.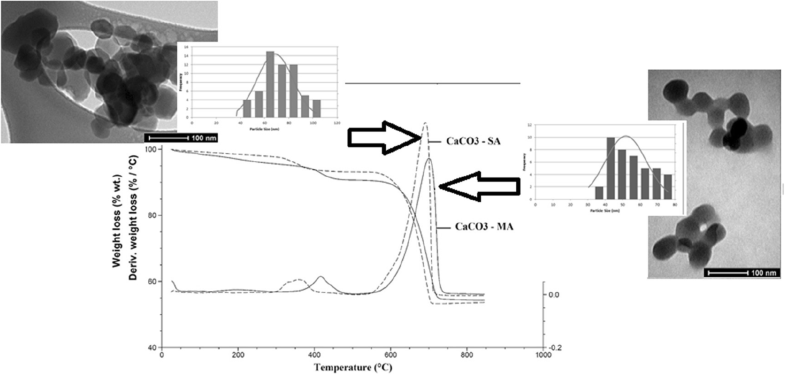 Keywords
Calcium carbonate 
Nanoparticles 
Synthesis 
Surface modifiers 
Myristic acid 
Stearic acid 
Notes
Acknowledgments
The authors thank LAGOS company for CaCO3-SA donation.
Funding information
This work was financed by Conselho Nacional de Desenvolvimento Cientı́fico e Tecnológico (CNPq), Fundação de Amparo à Pesquisa do Estado do Rio de Janeiro, FAPERJ, and Coordenação de Aperfeiçoamento de Pessoal de Nı́vel Superior (CAPES).
Compliance with ethical standards
Conflict of interest
The authors declare that they have no conflict of interest
Copyright information
© Springer Nature B.V. 2019