Quantum mechanical study of chemical reactivity of graphene doped with iron in aqueous medium for applications in biomedicine
Abstract
This work was made using the density functional theory (DFT) computational method, applying it to a graphene-doped theoretical structure with iron atoms, studied as an isolated molecular system in aqueous medium, using the functional GGA PW91, under Material Studio computational platform, to get the chemical reactivity properties of graphene doped with iron (called Fe-G) that can provide knowledge of binding of biomolecules such as peptides, enzymes, and lipids. We present some electrochemistry properties such electron affinity (EA) and ionization potential (IP). The chemical reactivity was characterized by global indicators such as, chemical potential, chemical hardness, and chemical electrophilicity index. In order to find the zones most prone to nucleophilic, electrophilic, and radical attacks, the calculation of the HOMO-LUMO boundary orbital was carried out, and the corresponding energies were obtained. Local reactivity was studied by using local selectivity descriptors such as Fukui indices.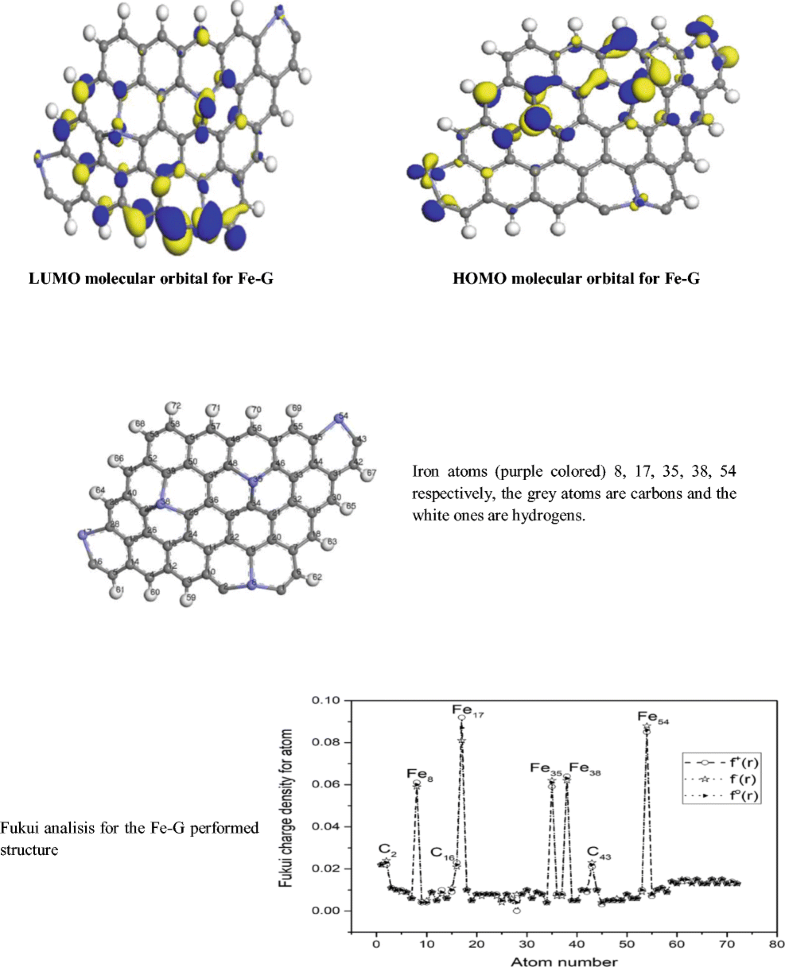 Keywords
Graphene properties 
Biomolecules 
Interaction graphene-biomolecule 
Density functional theory 
Reactivity 
Biomedical relevance 
Modeling and simulation 
Notes
Acknowledgments
The authors are grateful for the support received from the National System of Researchers, SNI, of the National Council of Science and Technology of Mexico, CONACYT, the Universidad Autónoma de la Ciudad de México, UACM, and Instituto Politécnico Nacional, IPN, of Mexico.
Compliance with ethical standards
Conflict of interest
The authors declare that they have no conflict of interest.
Copyright information
© Springer Nature B.V. 2019