Exploring 1-butanol as a potential liquid precursor for graphene synthesis via chemical vapour deposition and enhanced catalyzed growth methodology
Abstract
In this study, 1-butanol (C4H9OH) was used as a potential precursor for atmospheric pressure chemical vapour deposition grown graphene. While graphene were obtainable at moderate to high precursor flow rate, they were of double to multilayer as evident from Raman and ultra-violet visible spectroscopy. Here, a simple yet novel growth procedure was implemented to obtain monolayer graphene at much lower precursor flow rate. The procedure utilized additional copper which enable a richer flux of carbonaceous radicals to be produced through catalytic decomposition, leading to high-quality monolayer graphene to be grown on copper substrate. This type of graphene was characterized with Raman of two excitation sources, and the results were consistent with each other. It was found that it exhibited highest I2D/IG intensity ratio (~ 4.85), largest average crystallite size (La, ~ 188 nm), and smallest defect level among other samples. Due to the latter, it possessed lowest sheet resistance compared with other samples (~ 7.75 kΩ/sq). Lastly, the graphene samples were characterized using x-ray photoelectron spectroscopy, where the deconvoluted spectra reveal sub-components of sp2 and sp3 states of carbon, which could provide insights on the reaction mechanics about the transformation of butanol to graphene.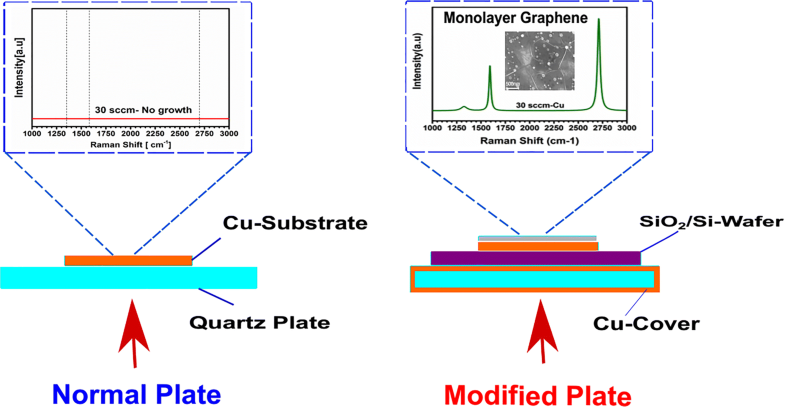 Keywords
APCVD grown graphene; 1-butanol; copper substrate 
Precursors flow rates 
Enhanced catalytic growth 
Nanostructured catalysts 
Notes
Acknowledgements
All supports from Universiti Sains Malaysia and various parties are gratefully acknowledged.
Funding information
This work is funded by the grant "Clad (Topological Insulators and Transition Metal Dichalcogenides) Planar Photonic Devices" (203/PFIZIK/6770002), which is under the LRGS grant "Graphene and Other 2-Dimensional Nanomaterial" (grant no. LRGS (2015)/NGOD/UM/KPT) from Ministry of Higher Education (MOHE) of Malaysia.
Compliance with ethical standards
Conflict of interest
The authors declare that they have no conflict in interest.
Copyright information
© Springer Nature B.V. 2019