Characterization of physicochemical and biological properties of type II collagen targeted nanosomes
Abstract
The bioavailability of a drug at the target site is vital to repair the degenerated cartilage following trauma or osteoarthritis (OA). Previously, we developed targeted nanosomes with anti-type II collagen monoclonal antibody (MabCII) on their surface that can bind to the damaged cartilage. The efficiency of nanosomes is highly dependent on their physicochemical nature. Therefore, in this study, we presented a rigorous method for examining the physicochemical characteristics and biological efficacy of nanosomes. Nanosomes were characterized by transmission electron microscopy (TEM), dynamic light scattering (DLS), and thin-layer chromatography (TLC). Specificity of nanosomes for type II collagen was evaluated by enzyme-linked immunosorbent assay (ELISA). Release kinetics of nanosomes was determined by dialysis method using fluorescein isothiocyanate (FITC) dye. The biological efficacy of targeted nanosomes encapsulating TGF-β3 was determined in porcine chondrocytes (pChon). Moreover, the binding specificity of targeted nanosomes to the damaged cartilage was confirmed onto the cartilage explants and in a mouse model of spontaneous osteoarthritis (OA). The synthetic targeted nanosomes were unilamellar with a mean diameter of 200 nm. Retention factor (Rf) values for all the lipids were in accordance with the standards with a mean 1,2-dioleoyl-sn-glycero-3-phosphocholine (DOPC) concentration of 3.22 nM. It was found that nanosomes release approximately 50% the encapsulated product at 37 °C within 24 h. TGF-β3-targeted nanosomes found to reduce the expression of inflammatory marker matrix metalloproteinases (MMP-1) in chondrocytes stimulated with TNFα. In brief, in this study, we present a comprehensive approach to characterize the physicochemical and biological characteristics of nanosomes. Furthermore, this approach can be utilized to deliver the drug or molecule of interest to the diseased or damaged tissues.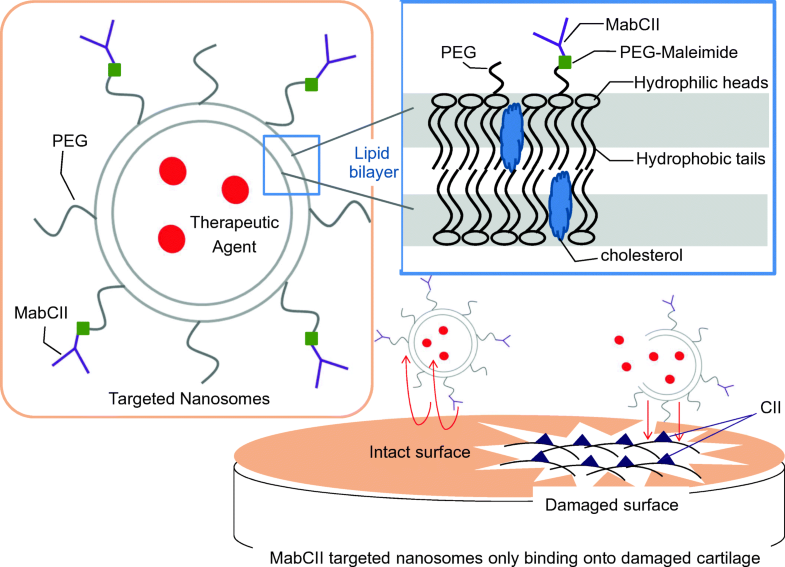 Keywords
Nanosomes 
Cartilage 
Drug delivery 
Osteoarthritis 
Chondrocytes 
Antibody 
Notes
Acknowledgments
The authors would like to thank Christy Patterson, the technical director, at the University of Tennessee Health Science Center. Her assistance with this study deserves invaluable comments.
Funding information
This work was supported by grants from the Arthritis Foundation (Discovery award; H. Cho) and Oxnard Foundation (Medical Research; H. Cho). This research also supported by a VA Merit Review award and VA Research Career Scientist Award (K. Hasty) from the Department of Veterans Affairs.
Compliance with ethical standards
All animal experiments were performed according to approved protocols by the Institutional Animal Care and Use Committee (IACUC) at the University of Tennessee Health Science Center.
Conflict of interest
The authors declare that they have no conflict of interest.
Copyright information
© Springer Nature B.V. 2019