Mixture toxicity of metal oxide nanoparticles and silver ions on Daphnia magna
Abstract
Because of the ubiquitous production and use of silver nanoparticles (AgNPs), silver ions (Ag+) released from AgNPs can not only singly pose significant toxicity to aquatic ecosystems but can also mix with other coexisting metal oxide nanoparticles (MONPs), such as ZnO NPs and TiO2 NPs to provoke combined toxicity. However, information regarding the combined impact of MONPs on aquatic organisms is limited. In this study, the impact of exposure to mixtures composed of Ag+ and two different MONPs (i.e., ZnO NPs and TiO2 NPs) on Daphnia magna was examined. The toxicity of the mixtures containing Ag+ concentrations exceeding 0.5–1.5 μg/L and two different MONPs (Ag+-two different MONP mixture) was higher than that of the intrinsic toxicity of each component, indicating a synergistic effect. However, the concentrations of the two different MONPs did not have a strong relationship with the occurrence of the synergistic or antagonistic effect between components in the mixtures. Moreover, the combined risk of the Ag+-two different MONP mixture estimated based on a whole-value risk for the mixture (VaR:192–198) was up to eight times higher than that estimated using a component-based value risk (VaR:736–1623) considering the predicted environmental concentration of Ag+ (20 μg/L). These results imply that the component-based approach could not determine the synergistic effect between the components in the Ag+-two different MONP mixtures. Additionally, when mixed with two different MONPs, Ag+ as a major toxicant induced synergistic effects among the components in the mixture. Therefore, to evaluate the interactive effects and for environmental risk assessment of mixtures, a whole-mixture approach is recommended rather than a component-based approach.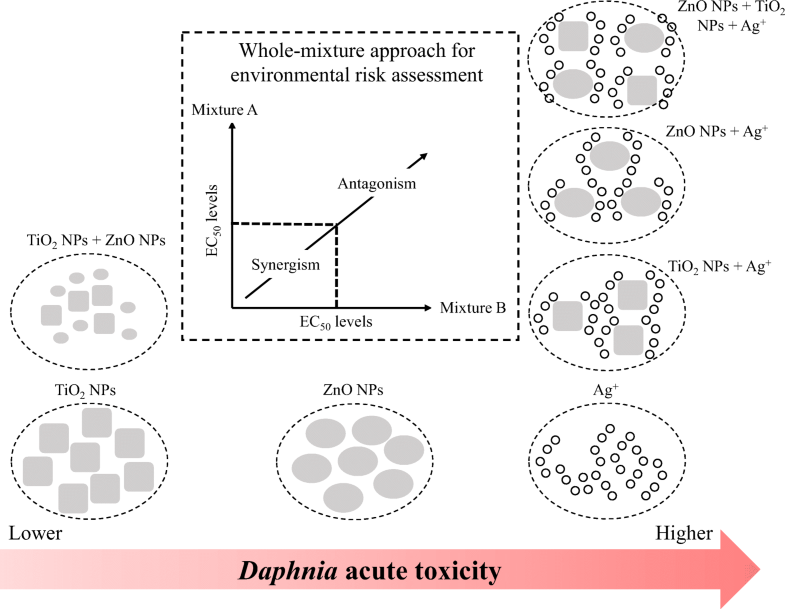 Keywords
Environmental risk assessment 
Metal oxide nanoparticle 
Silver ion 
Antagonism 
Synergistic effect 
Whole mixture approach 
Abbreviations
AgNPs

silver nanoparticles

Ag+

silver ion

ECx

effective concentration values

ECxmix

total effective concentration estimated from binary mixtures

HQs

hazard quotients

MONPs

metal oxide nanoparticles

OECD

Organization for Econocmic Co-operation and Development

PEC

predicted environmental concentration

PNEC

predicted no effect concentration

STU

the sum of toxic unit
Notes
Author contributions
All authors contributed equally to this study. The final version of the manuscript has been approved by all authors.
Funding information
This research was supported by the National Research Council of Science & Technology (NST) grant by the South Korean government (MSIP) (No. CAP-17-01-KIST Europe) and Project 11911.
Compliance with ethical standards
Conflict of interest
The authors declare that they have no conflict of interest.
Copyright information
© Springer Nature B.V. 2019