Nitrogen-doped carbon nanotubes self-catalytically grown on desert sands towards water purification
Abstract
This paper describes a facile method for the preparation of three-dimensional entangled nitrogen-doped carbon nanotubes (N-CNTs) on sand via a chemical vapor deposition method without the need of additional catalyst. The EDS mapping and XPS characterization confirm that the sand from the desert of Inner Mongolia in our study contains Fe, Al, Ca, Mg, and Si elements and/or their based oxides, which are natural catalysts even supports enabling the growth of CNTs. Rhodamine 6G as a dye pollution in water was employed to confirm N-CNTs@Sand composite's absorbability by UV-vis spectroscopy. In view of the hierarchical structure and nitrogen doping, the N-CNTs@Sand could adsorb contaminants from water much more effectively than the natural sand. This study provides a new route for designing carbon coated materials for water filter.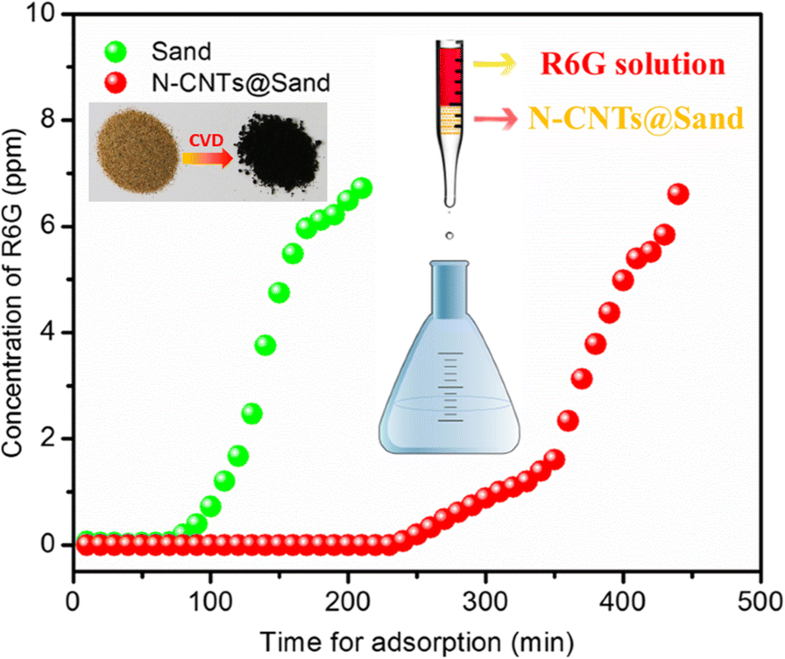 Keywords
Sand 
Nitrogen-doped carbon nanotubes 
Water purification 
Chemical vapor deposition 
Notes
Funding information
This work was financially supported by the "1000 Talents Recruitment Program" of Chinese government, the Fundamental Research Funds for the Central Universities (No. FRF-TP-16-070A1) and the China Postdoctoral Science Foundation (No. 2017M610764). Siriguleng acknowledges the support from the Ph.D. Candidate Research Innovation Fund of Inner Mongolia Autonomous Region (B20161012).
Compliance with ethical standards
Conflict of interest
The authors declare that they have no conflict of interest.
Copyright information
© Springer Nature B.V. 2019