"Pure" silver hydrosol: nanoparticles and stabilizing carbonate ions
Abstract
A method for the preparation of a pure colloidal solution of silver (silver hydrosol) containing only small metal nanoparticles and carbonate ions stabilizing them was developed. For this purpose, a solution containing silver and oxalic acid salts was exposed to UV radiation of a low-pressure pulsed xenon lamp. The irradiation initiated Ag+ reduction with oxalate ions to give metal nanoparticles and carbonate ions. The latter ensure the electrostatic protection of nanoparticles via the formation of an electric double layer. Variation of the process conditions (silver and oxalate concentrations, UV irradiation conditions, the presence of air, and so on) allows the preparation of silver hydrosols with nanoparticle size ranging from 5 to 30 nm. The hydrosol is aggregatively stable for several months.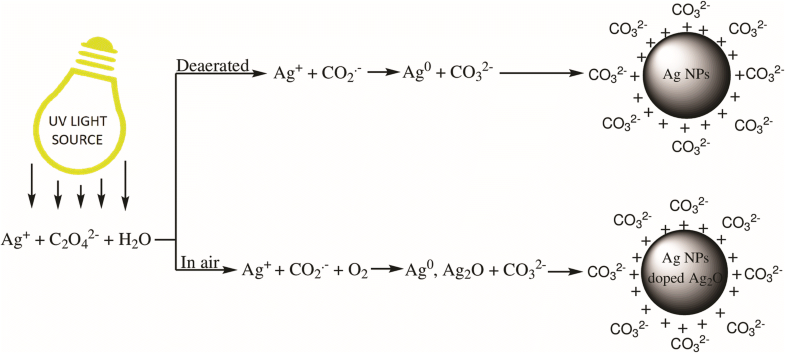 Keywords
Colloidal solution 
Silver 
Nanoparticles 
Oxalate ions 
Photochemical synthesis 
Carbonate ions 
Notes
Acknowledgements
We sincerely thank A.A. Timofeev for carrying out the TEM analysis of the nanoparticles and valuable discussions.
The study was supported by the Ministry of Science and Higher Education of the Russian Federation (project no. АААА-А16-116121410087-6).
Compliance with ethical standards
Conflict of interest
The authors declare that they have no conflict of interest.
Copyright information
© Springer Nature B.V. 2019