Facile synthesis of flower-like Ag nanocube@mesoporous SiO2 and their sensitive SERS performance
Abstract
Developing facile strategy to synthesize novel nanostructure substrate with superior surface enhanced Raman scattering (SERS) efficiency and identifying the optimal geometry parameter for high enhancement factor (EF) and perfect absorption status of molecules are significant aspects for the intended application of SERS. In the present work, flower-like Ag nanocube@mesoporous SiO2 (AgNC@MSiO2) nanostructure with highly rough surface was designed and prepared by restricting the nucleation region of silica on the surface of Ag nanocube modified with two different kinds of molecules (4MPAA and PAA). The novel hybrid nanostructure exhibited outstanding optical performance. Attributing to the efficient anchor of 2-naphthalenethiol (2NT) on rough silica surface and migration of the molecules through the numerous pores, a large EF of about 5.85 × 106 was achieved. It was found that the limit of detection for 2NT by the as-prepared AgNC@MSiO2 could be as low as 10−8 M with a linear dynamic region from 10−6 to 10−4 M. These results show that the AgNC@MSiO2 nanostructure presented here could be a promising candidate for classical SERS sensors.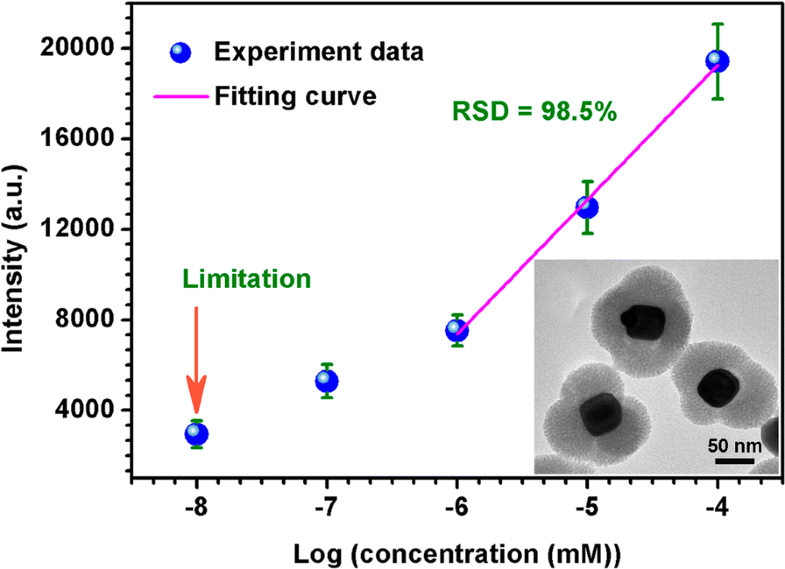 Keywords
Ag nanocube 
Silica 
Core–shell 
Rough surface 
Surface-enhanced Raman scattering 
Notes
Funding information
This work was supported by the Ningbo University of Technology (Grant No. 2017010) and the Foundation of Zhejiang Educational Commission (Grant No. Y201533586).
Compliance with ethical standards
Conflict of interest
The authors declare that they have no conflict of interest.
Copyright information
© Springer Nature B.V. 2019