Preparation and characterization of ZnO/ZnAl2O4-mixed metal oxides for dye-sensitized photodetector using Zn/Al-layered double hydroxide as precursor
Abstract
In this article, a simple new technique has been developed for the preparation of ZnO/ZnAl2O4-mixed metal oxide (MMO) as anode materials for visible light dye-sensitized (DS) photodetector using Zn/Al-layered double hydroxide (LDH) as precursor. Subsequently, a detailed correlation between the structural properties of the prepared samples and the photo-responsive behavior of the fabricated DS photodetectors was elucidated. Specifically, it is evidenced that a high surface area of the prepared mesoporous MMO anode materials exhibit excellent dye absorptivity and thus facilitate free electron transfer and increase the photocurrent in the fabricated DS photodetector. A significant bathochromic shift was observed in the optical energy of the prepared MMO samples under the increment of molar ratio, providing a short electron transfer pathway in the optimized Z7A DS photodetector, which in turn demonstrated photo-responsivity and photo-detectivity of 6 mA/W and 1.7 × 10+10 Jones, respectively. This work presents an alternative approach for the design of an eco-friendly MMO-based DS photodetector.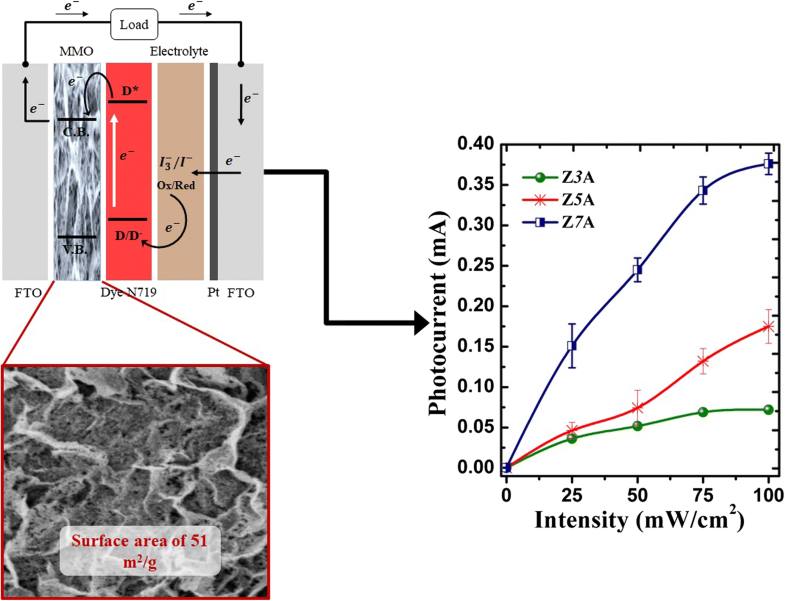 Keywords
Mixed metal oxide 
Layered double hydroxide 
Dye-sensitized photodetector 
Photo-responsivity 
Nanostructures 
Notes
Acknowledgements
The authors would like to sincerely acknowledge the Ministry of Higher Education, and the University of Malaya, Malaysia, for their support of the current study through Postgraduate Research Grants (PG030-2015B), and (PG041-2015B) and Fundamental Research Grant Scheme (FRGS) FP064-2016.
Compliance with ethical standards
Conflict of interest
The authors declare that they have no conflict of interest.
Copyright information
© Springer Nature B.V. 2019