Toxicity evaluation of CdSe nanorods on macrophages and the protective effect of resveratrol
Abstract
Cadmium selenide (CdSe) nanomaterials (NMs) easily access to organism due to the applications in photocatalysis, gene therapy, and cell labeling, while the increasing environmental release and accumulating in lungs tend to pose threat to humans and the incidence of cytotoxicity largely compromises their application. Resveratrol is recognized as antioxidant and has protective effects on oxidative stress, depending on its special structure of scavenging free radicals. Herein, we demonstrated that CdSe nanorods induced apoptosis to macrophages and resveratrol exhibited an excellent ability to prevent cells from damage. CdSe nanorods with the average length of 70–100 nm caused an increasing reactive oxygen species (ROS) and disrupted the cellular antioxidant system. The cellular organelles including mitochondria, endoplasmic reticulum, and nuclei were both interfered by the oxidative stress. Notably, pretreatment of resveratrol could largely alleviate the apoptosis. Macrophages recovered the normal morphology and reinforced antioxidant system in the presence of resveratrol, which showed a selective protection towards the changes of mitochondrial function.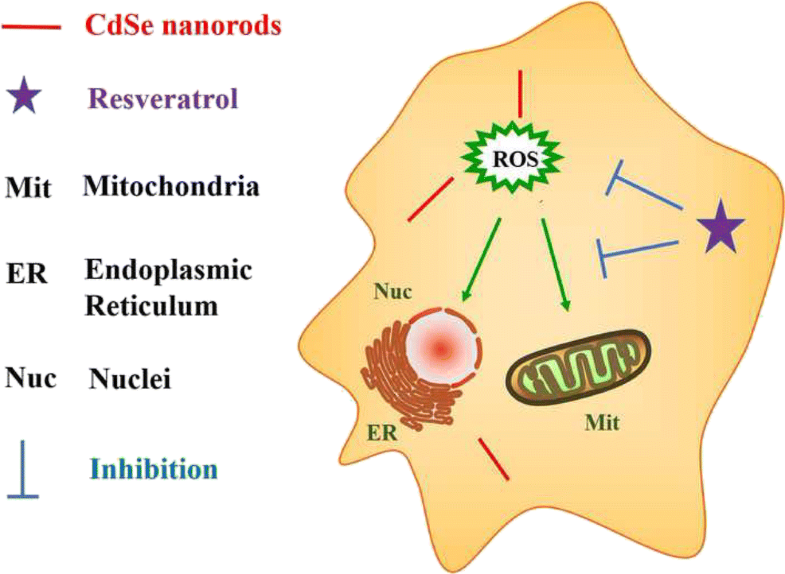 Keywords
Cadmium selenide nanorods 
Resveratrol 
Apoptosis 
Reactive oxygen species 
Mitochondria 
Cell damage by nanomaterials 
Health effects 
Notes
Funding information
This work was funded by Tianjin Municipal Science and Technology Commission (Grant nos. 15JCZDJC40500, 15JCADJC40000, and 14JCYBJC29700), the Key Project of Chinese National Programs for Fundamental Research and Development (973 Program) (Grant no. 2014CB932001), the National Special S&T Project on Water Pollution Control and Treatment (2017ZX07107002), and Young Scholars (Grant no. 21425729).
Compliance with ethical standards
Conflict of interest
The authors declare that they have no conflicts of interest.
Copyright information
© Springer Nature B.V. 2019