Preparation and capacitive performance of modified carbon black-doped porous carbon nanofibers
Abstract
Porous carbon nanofiber webs were prepared by electrospinning and one-step carbonization using modified carbon black (MCB)/PVP as carbon source without template removal and activation treatment. The MCB addition amount was adjusted and the maximum mass ratio of MCB/PVP reached 1.5:1. The MCB-based carbon nanofibers (MCNFs) were mainly composed of micropores and small mesopores. When the addition ratio of MCB/PVP was 1.5:1, the MCNFs showed specific surface area of 624 m2 g−1, high carbon yield of 54%, 10.39 at.% of surface oxygen, and 6.05 at.% of surface nitrogen. The MCNFs were directly cut into electrodes for supercapacitors, and the electrochemical performances of the MCNFs were evaluated in 6 M KOH in three-electrode configuration. The MCNFs showed a maximum specific capacitance of 166 F g−1 and high rate performance (maintaining 54% from 0.1 to 10 A g−1). In view of simple process, high carbon yield, and self-standing nature, the MCNFs may find potential application in supercapacitors.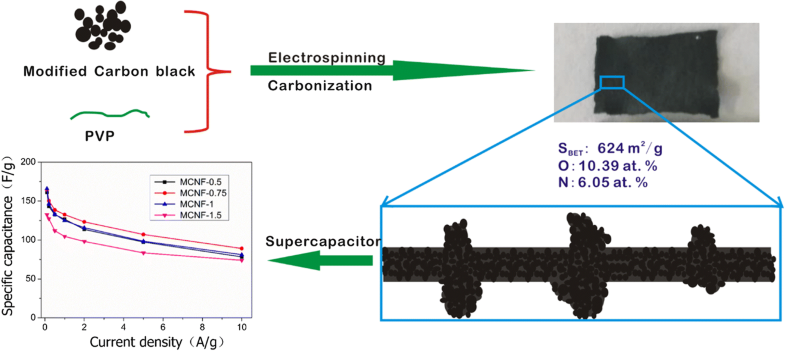 Keywords
Modified carbon black 
Electrospinning 
Carbon nanofibers 
Supercapacitor 
Notes
Author contributions
The manuscript was written through the contributions of all authors. All authors have given approval to the final version of the manuscript.
Funding information
This work was financially supported by the Natural Science Foundation of Tianjin Province (Grant No. 16JCQNJC06300), National Nature Science Foundation of China (Grant No. 51502201, 51508385), the University of Science and Technology Development Fund Planning Project of Tianjin (2017KJ072), and the CAS Key Laboratory of Carbon Materials (No. KLCMKFJJ1708).
Compliance with ethical standards
Conflict of interest
The authors declare that they have no competing interests.
Copyright information
© Springer Nature B.V. 2019